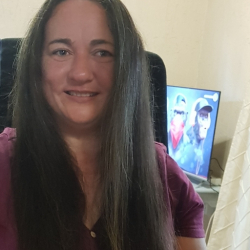 Latest posts by Caroline Lambert
(see all)
The Egyptian Tarot Deck Ideas I'll share show you how the mythological culture is strongly connected to modern tarot decks. One of the first cultures to wear makeup (even the men) also inspired many symbols and styles hidden within tarot cards. The most striking influence was likely their preference for order and form.
The Egyptians weren't obsessed with creativity or artistic architecture, which seems ironic considering how their pyramids, sphinxes, and tombs are world heritage sites today. They were godly people who lived by order and traditional rules, and their belief systems and ancient divination rituals partly inspired tarot cards.
Egyptian Tarot Decks are deeply set in cartomancy and guided by gods and goddesses. I'm a spiritual diviner who practices daily and weekly readings, and the best connection to my decks is through my spirit guides. Working with divine beings allows me to open myself and my outcomes to greater possibilities.
The Egyptian Tarot Deck is one of many favorites I use when I want meaningful, spiritual, and clear answers about my intentions or the situation I face. I have numerous Egyptian-inspired decks because the truth is that you'll soon realize how much the ancient culture inspired many decks, even those without Egyptian names.
The Truth About Tarot Symbolism and Egyptian Influence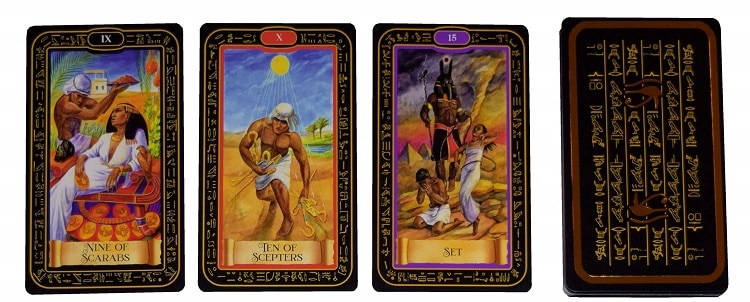 Ancient Egyptian mythology includes mysticism, divination, astrology, alchemy, ritualistic magic, numerology, and Gnosticism. The connections to the gods and goddesses are just the beginning of how this incredible culture influenced tarot cards. Tarot decks speak the language of symbols and archetypes.
Ancient Egyptians were a deeply symbolic culture, with each number and symbol of a tarot card being connected to astrological signs and alchemical correspondence. Christians shunned the use of tarot cards in ancient times, calling it the "Devil's Picture Book." The cards were first used as games to avoid criticism.
Ancient Egypt strongly guided what we know as modern tarot divination, according to historians, writers, and practitioners who connected the practice to ancient rituals, such as scarab divination. Famously known as the Egyptian Scarab Oracle, a goddess-like woman would appear in dreams to guide people with cartomancy.
The oracle would carry a bag of 30 scarabs, uniquely marked to represent various career, relationship, love, financial, family, and health revelations. She'd tie them in a net and swing them before throwing them onto the floor. You'd have to choose a scarab and bring it to her for interpretation based on the markings.
Ancient Egyptians and their symbols inspired many modern tarot decks. Some scarabs contained a sphinx, and others displayed basts. Advanced tarot readers, including myself, believe that tarot decks have a strong esoteric connection to ancient cultures like the Egyptians, Indian Tantra, and the Kabbalah.
Egyptian Connections to Other Decks
Tarot cards are full of Ancient Egyptian symbols, and it's believed the word itself was derived from the Egyptian word Ta Rosh. The legendary "Book of Thoth" has inspired much Major Arcana in decks like the Rider Waite-Smith, a classic used by many readers.
The book was engraved on loose tablets by the god Thoth, who oversaw learning and writing. Aracana translates to "profound secret," and the Major Arcana corresponds to specific Egyptian mythology. Ancient Egyptians always sought the profound secrets behind human existence, much like we still do today.
The Sun, The Moon, and The Star correspond to the creation of Heliopolis or the universe.
The World corresponds to the creation of the world.
The Lovers and The Chariot correspond to the gods descending to earth and creating man.
The Devil, The Hermit, The Magician, The Hierophant, The Emperor, The Empress, The Hanged Man, The Fool, and The High Priestess correspond to humanity.
Strength, Justice, and Temperance correspond to the spiritual development of humankind.
Judgment, The Tower, and The Wheel of Fortune correspond to humanity's evaluation of life.
Death corresponds to transformation or entering a new cycle.
This explains how Ancient Egyptian mythology relates to each of the Major Arcana. Some Rider Waite-Smith cards also specifically display Egyptian symbolism. The High Priestess, Temperance, Knight of Wands, Page of Wands, Wheel of Fortune, and The World have Egyptian symbols and archetypes.
Most notably, The Chariot is drawn by two sphinxes rather than horses. The Rider Waite-Smith Deck is the most commonly used tarot divination tool, and various connections to the Ancient Egyptians are blatantly visible. Undoubtedly, Egyptian Tarot Decks offer a path to something deeper if you learn about Egyptian mythology.
What to Look for in Tarot Decks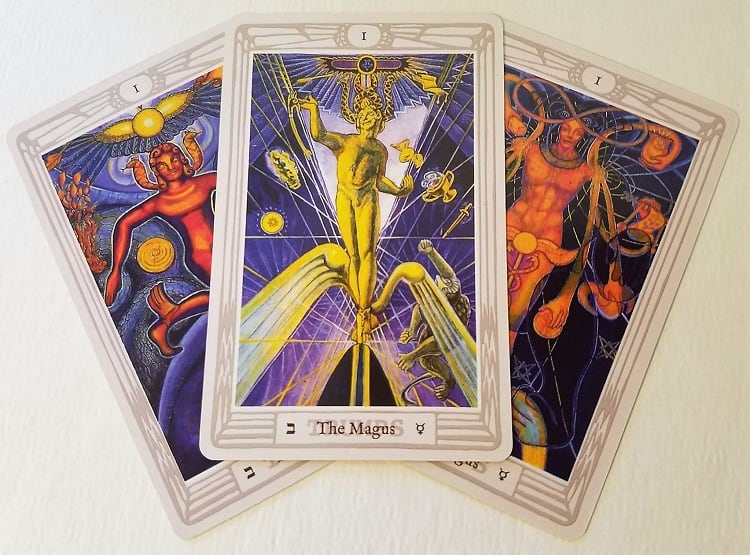 I've been reading tarot cards and seeking answers since I was 16, but Egyptian Tarot Decks allowed me to look deeper into the existence and purpose of humankind. My readings aren't always about personal troubles or finding answers to situations I face. I also consider humanity as a whole because everyone is connected.
Just as everything in the universe is connected, divine or not, I also need to understand how my situation or path fits into the greater scheme of things. I have three Egyptian decks, and I chose them because of the intricate symbolism and divine guidance to practice fortune-telling.
I have experience with other Egyptian decks, and I'll share them with you. My greatest reason for choosing the decks is that they must resonate with me. I also need to understand Egyptian mythology a little to know the potential of the cards. I've read numerous books, some of which I'll share with you soon.
Overall, I'm someone who reads my cards multiple times daily, and the Egyptian decks are part of my regular choices. They allow me to interpret deeper meanings now that I know some mythology behind the culture. You don't need to learn hieroglyphics, but knowing some of the gods who inspired archetypes can work.
Knowing the symbols and their universally divine meanings can also help you see previously unseen answers. When choosing an Egyptian deck, the most important rule is to allow your intuition to guide you. You'll feel the energy of the deck when you spend time with it.
Egyptian Tarot Decks You Must Try
It's no surprise how many Egyptian decks are available. Still, I'll stick to purely Egyptian decks focused on the divine symbols and archetypes known to the culture and mythology.
Egyptian Tarot Deck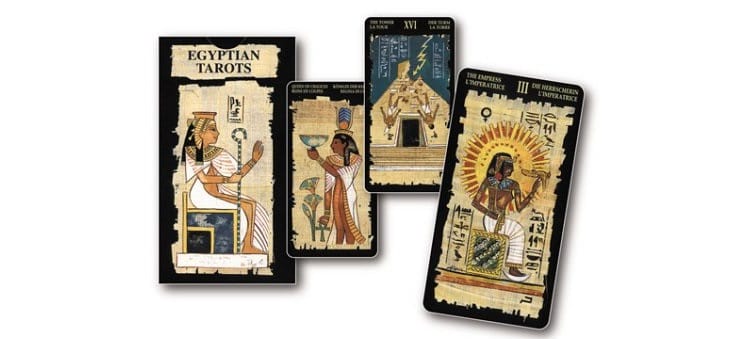 The Egyptian Tarot Deck by Lo Scarabeo is my first choice and most loved deck among the African pile. The connection between myself and the deck was one of the most energetic, and it happened instantly. Sure, I didn't know much about the symbols yet, but we're encouraged to learn more in seeking answers.
What also makes this deck stand out is the straightforward illustrations. For example, the Seven of Swords is literally just that. The Three of Chalices has exactly that. It's a great deck for advanced readers. The symbols are simple to see on the papyri-style illustrations, but simplicity can confuse beginners.
The replacement stock is a little thin, but the original deck comes with the Lo Scarabeo book called The Egyptian Tarot Kit and is much thicker.
Pros
Easy to bond with
Simplified illustrations for advanced readers
Based on Egyptian mythology
The companion book comes in five languages (Spanish, English, German, Italian, and French)
Exudes a fiery energy
Cons
Not easy for beginners
Replacement stock is too thin
The Kemetic Tarot Deck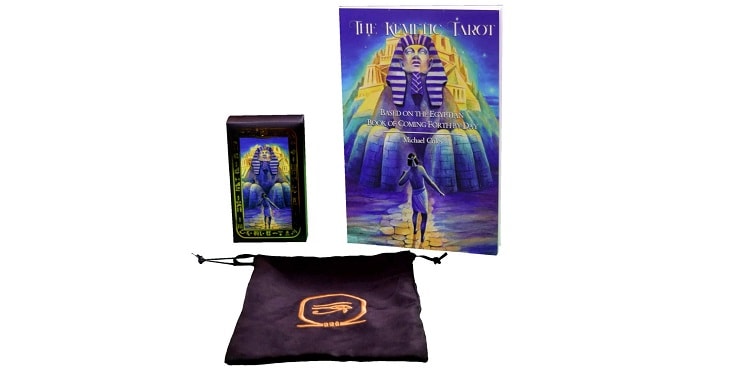 The Kemetic Tarot Deck, designed by Anna Dorzhieva and authored by Michael Coles, is a brightly illustrated Egyptian deck based on the ancient culture's alchemy and magical roots. This deck isn't just gorgeous and energetic; it's also filled with Egyptian hieroglyphs on the back and frame of each card.
The deck was inspired by a popular Egyptian book of magic and spells called The Book of Coming Forth by Day. It uses traditional tarot archetypes surrounded by richly detailed Egyptian symbolism. The Fool is based on the scribe Ani, and the deck tells a story of his journey through the stages of existence.
The Minor Arcana suits are scarabs, scepters, ankhs, and swords, directly introducing the ancient Egyptian divination rituals.
Pros
It comes with a 164-page detailed booklet
Beautiful illustrations unmatched by most decks
It can be used by advanced readers and beginners
Very accurate
Has neutral energy to avoid misconceptions
Cons
It's more expensive than most decks at $38.99
The packaging leaves much to desire
Tarot Nefertari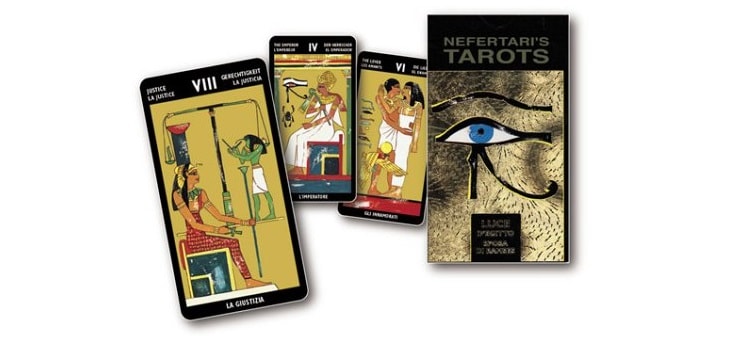 The Tarot Nefertari Deck by Lo Scarabeo is another gorgeously illustrated deck with deep Egyptian roots. The deck is inspired by Nefertari, who was the wife of Ramses II in Egypt. She was a devoted wife who thrived on seeing the country grow and the people flourish. The deck has the same energy as Nefertari.
This is a deck I'm yet to own, but my attraction to it is undeniable! It promotes healing, growth, and gentle energy that works well for people who want to seek growth in their own lives. The rich gold-foiled background opens your mindful intentions to the beautiful world of Ancient Egyptian culture.
Pros
Beautiful gold-foiled illustrations
Good stock
Positive energy
The deck ties into recorded Egyptian history
It works for beginners and advanced readers
Cons
The deck is pricy at $34.86
The booklet isn't detailed enough and only has 15 English pages
Thoth Tarot Deck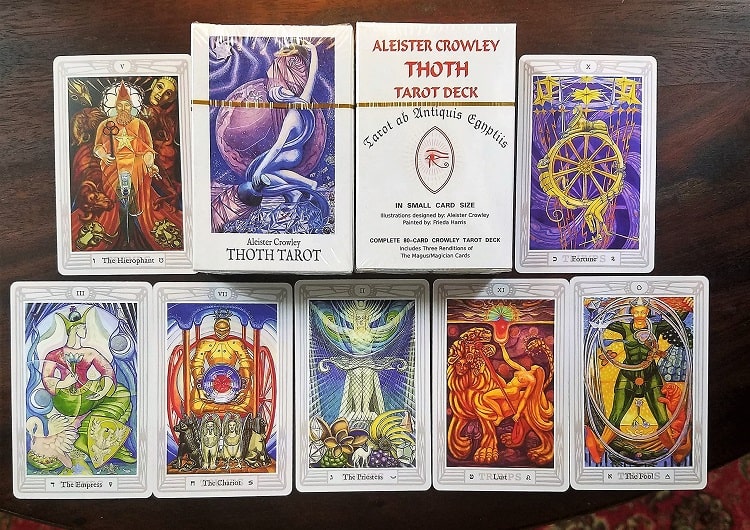 Aleister Crowley and Frieda Harris authored the Thoth Tarot Deck and booklet, and it's based directly on the Book of Thoth. This is a magical deck with immense potential as it has three magicians, making it one of the only 80-card decks available. It's one of the most popular decks remade in a retro style.
This is a complex and visionary deck that needs some understanding of the Thoth mythology. The pocket-sized deck has vivid colors and beautiful illustrations that include the symbols famously used in the original deck. The energy of the deck is alive, with the three mages spreading their magic.
Pros
Inviting aura
Great stock for pocket-sized cards
Gorgeous illustrations
Based on the main source of Egyptian mythology and divination
Works for beginners who learn about Thoth mythology and advanced readers looking for more
Cons
Having three mages in one deck is controversial to some people
It doesn't come with a booklet
Cleopatra Tarot
Lo Scarabeo's Cleopatra Tarot is another beautifully designed deck inspired by an Egyptian queen who later became a lover of Julius Caesar, bringing Greek and Egyptian mythology to one deck. However, the deck is based on Egyptian mythology and symbolism. Cleopatra was a goddess of love and all things beautiful.
The deck's energy exudes Cleopatra's passion. Still, it's also inspired by the divine beings capable of changing human density and experience, known as the Astral Spirits of the Zodiac of Denderah. Divination with this deck comes on a whole other level. I'm a sap for Cleopatra's aura, so I'm easily attracted to this deck.
Pros
Beautiful papyri-style illustrations with simple symbolism
Archetypes are based on gods and goddesses
It comes with a booklet in five languages (Spanish, English, French, Italian, and German)
Exudes a passionate and divine energy
Based on astrology and mythology
Cons
Not for beginners
The booklet isn't as detailed as other decks
Brotherhood of Light Egyptian Tarot Cards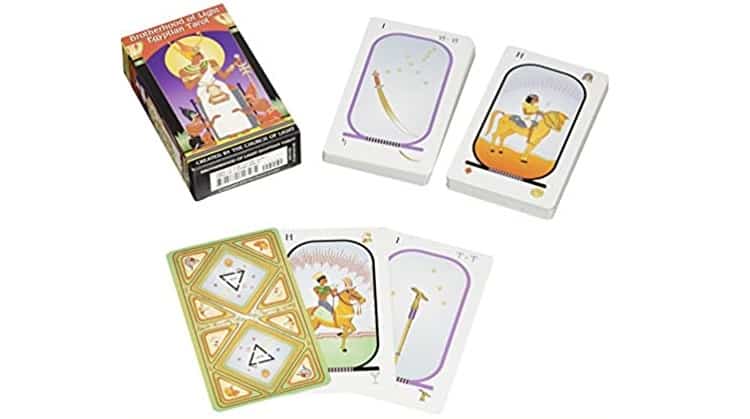 Vicki Brewer created the Brotherhood of Light Egyptian Tarot Cards Deck, elaborated in The Sacred Tarot. The deck explores how astrology, mythology, numerology, and tarot combine to create intricate and clear divination. The illustrations were black and white but were recreated in color in 2010.
The illustrations aren't elaborate, and the symbols can be hard to read for beginners. Always know that more detailed cards work better for beginners. The deck is also complex to understand without the booklet. However, it's a wonderful deck to interpret on the odd occasion if you want to see something other decks don't show.
Pros
Recreating the deck in color makes it more attractive
Sacred rituals inspired the cards
Combines multiple divination principles
Exudes a serious energy
Can bond easily to advanced readers
Cons
The booklet doesn't contain much detail for such a complex deck
Not for beginners
Ramses Tarot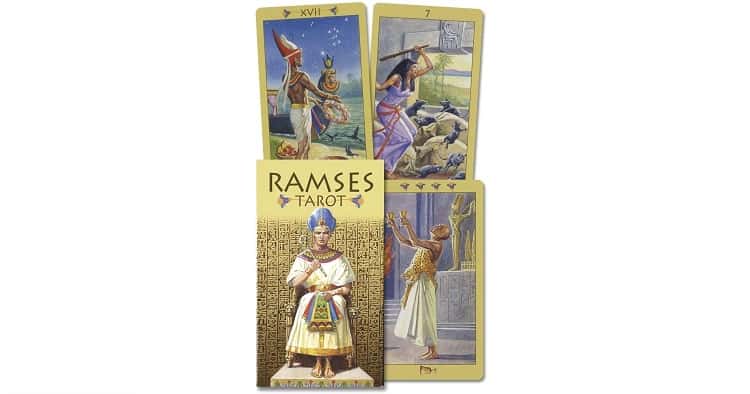 Giordano Berti and Severino Baraldi created Ramses Tarot. The illustrations are magically beautiful. The deck is attractive enough and has a vibrant energy to bond easily with you. The creators used historical research to design the illustrations and symbols based on the Pharoah Ramses.
The esoteric formulas of the illustrations allow you to step into a past space to seek answers to a future direction. Ancient rituals and mythology were used to give meaning to each archetype and symbol. The booklet is detailed and authored by the famous Lo Scarabeo.
Pros
Lovely illustrations with enough detail
Inspired by Ancient Egyptian divination rituals
Exudes neutral energy for positive and realistic readings
Bonds easily and works for beginners and advanced readers
It comes with a detailed booklet
Cons
The card stock is flimsy
Some oracle cards don't look like they belong where they're placed
Egyptian Tarot Grand Trumps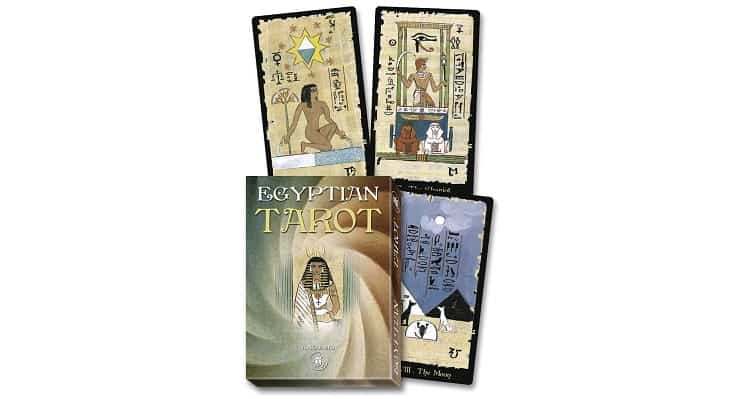 The Egyptian Tarot Grand Trumps Deck created by Lo Scarabeo is what I call an in-between deck for this ancient culture. The illustrations are detailed and simple, making it a great deck for beginners and advanced readers. However, it's not the most attractive deck, in my opinion.
It took time for me to bond with it. I'll admit, though, that the cards have a positive energy about them. The symbols, archetypes, and illustrations are based on the mysteries of Egyptian magic. The biggest issue with this deck is that it's not a deck. It's only the Major Arcana suit.
Pros
The illustrations are simple to interpret
It comes with a companion booklet
Exudes a positive energy
Good card stock
Rich symbolism
Cons
It's only the Major Arcana suit
Some cards have too many symbols, which can confuse readers
Tarot Egyptiens: Anima Antiqua
French occultist Etteilla created the Tarot Egyptiens: Anima Antiqua Deck, combining French and Egyptian symbolism, archetypes, and inspirations. The deck is a limited edition co-created by Lo Scarabeo, Julius Lasne, and Lorambert. It's also called the Tarot of Princesses and has a European/African blend of divination potential.
The cards mainly depict French royalty and archetypes with the odd Egyptian figure here and there. The simplicity of the deck can complicate the interpretations, and the symbols are hard to notice. I never bonded well with this deck, but I know someone who did.
Pros
Classic illustrations
Combined mythology and inspiration
It comes with a booklet
Four authors for deeper meanings
Great for advanced readers to dive deeper
Cons
It won't work for beginners
The card stock feels flimsy
Isis Oracle Deck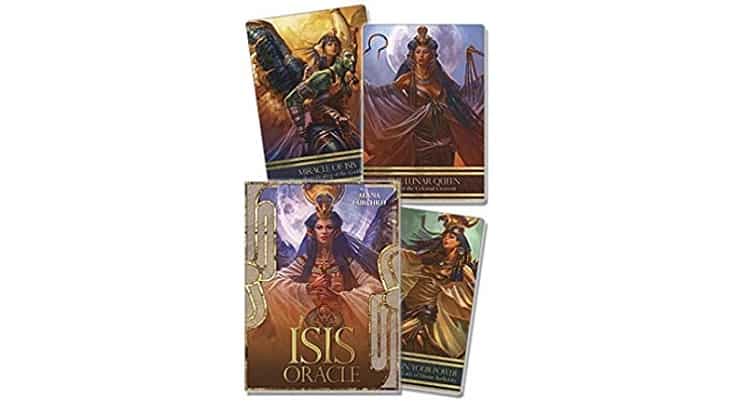 Alana Fairchild and Jimmy Manton created the Isis Oracle Deck, and it's loosely based on Egyptian mythology. I don't like oracle decks much as they don't have a set number of cards. The possibilities of accurate interpretations with full tarot decks are much greater.
However, this deck is beautifully designed, and it has serious energy. Many archetypes are seen in Egyptian style, but the symbolism isn't as clear as you'd like it to be. I feel oddly attracted to this deck, but I haven't had much success in completing a reading.
Pros
Amazing illustrations (albeit not symbols)
Touches Egyptian mythology
Exudes a powerful energy
Promotes healing messages
Cons
It's an oracle deck
The symbols are hard to spot
These are the 10 decks I've experienced, but I happily own three of them: The Egyptian, Kermetic, and Thoth tarot decks. I suppose I expect a deep session with cards inspired by ancient cultures, so not all the decks meet my Egyptian standards.
Readable Sources to Understand Egyptian Tarot Better
Egyptian mythology is just as complicated as Chinese and Hindu cultures, so you must read about the tarot cards connected to the ancient culture. These books have broadened my understanding a lot, and I've been able to use my tarot decks for divine and mythological intentions.
The Book of Thoth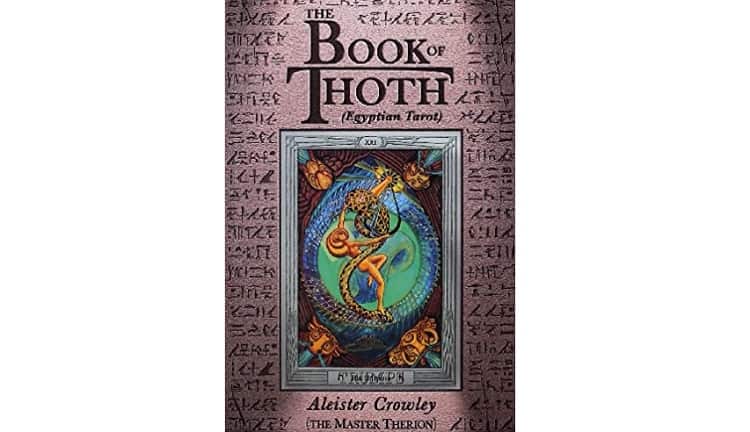 Obviously, it's not the original book engraved on tablets, but The Book of Thoth: A Short Essay on the Tarot of the Egyptians, Being the Equinox Vol. III No. V is a must-read if you want to use Crowley's deck. It's written by Crowley, Frieda Harris, and The Master Therion. The book explains the complexities of the deck.
It also breaks down the mythology behind Thoth the god and helps you recognize the symbols for what they intend to show you. It's a detailed study of Egyptian decks, particularly the Crowley deck.
The Book of Doors Divination Deck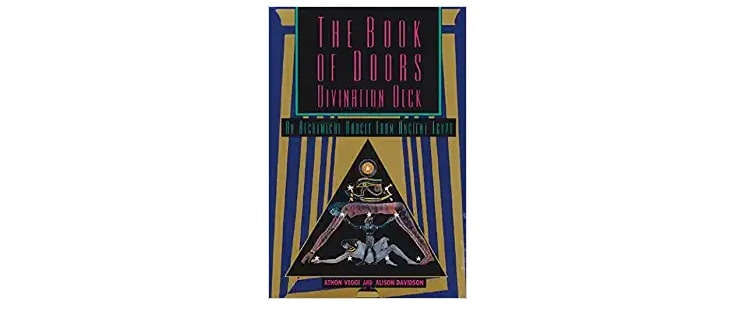 The Book of Doors Divination Deck: An Alchemical Oracle From Ancient Egypt was written by Anthon Veggi and Alison Davidson. This interesting book teaches you how to use deities or spirit guides to unlock the mysteries behind Ancient Egyptian symbolism, using your intuition.
The Egyptian Tarot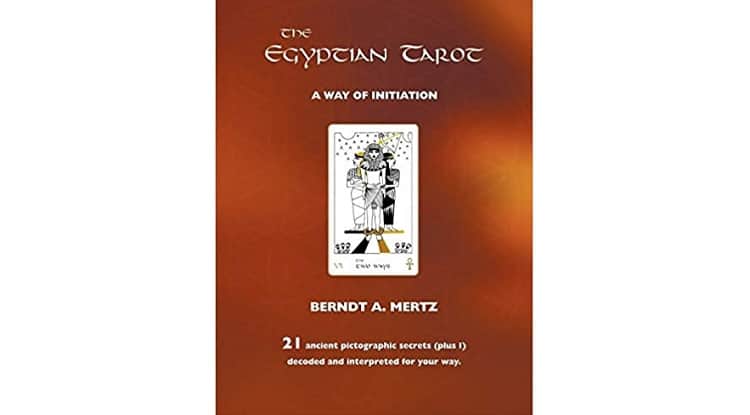 The Egyptian Tarot: A Way of Initiation was written by Berndt Mertz, and it explores the astrology and psychology of Egyptian culture and mythology. Mertz even traveled to Egypt to expand his knowledge about the culture, and he sought extensive answers in global libraries.
The Sacred Tarot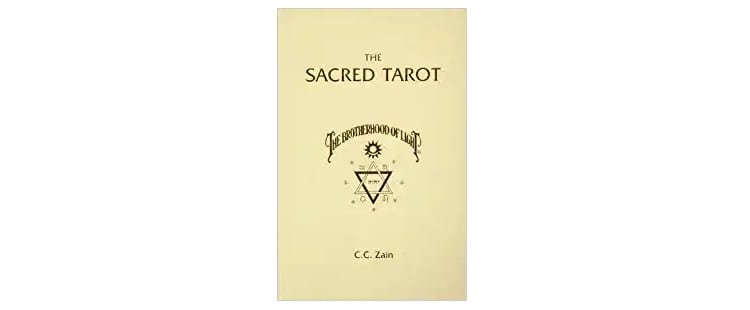 The Sacred Tarot is another must-have book for many of the decks on my list. It delves deep into the symbolism behind Egyptian cards and how astrology, numerology, mysticism, mythology, alchemy, and the Kabbalah play a role in each depiction. As a bonus, the book shares 12 spreads that work well for Egyptian decks.
Shamanic Mysteries of Egypt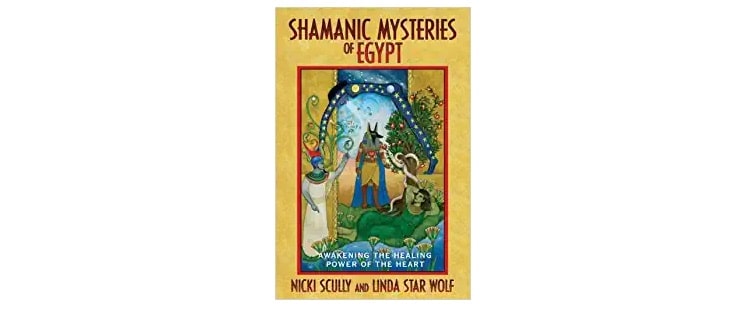 Shamanic Mysteries of Egypt: Awakening the Healing Power of the Heart was written by Nicki Scully and Linda Wolf, P.h.D. This book focuses more on the ancient culture's deities and how they helped humans transcend their consciousness or become enlightened. It's a great read that helps you understand the cards better.
Personal Secret for Egyptian Decks
I've always been a deeply spiritual person. My energy interflows with the Egyptian decks because I'm intently focused on using the divine forces behind the ancient culture to guide my wisdom, decisions, and strategies. Realizing how connected the divine beings are to this deck, you can do much more than you think.
Perhaps you already use spirit guides to show you the cards and interpretations. That's awesome! I also encourage you to tap into the deep-seated roots of the gods and goddesses from Ancient Egypt when you bond with your Egyptian deck. Take time to close your eyes and focus on welcoming divine guidance.
I don't know if you meditate, but I've been meditating transcendentally for many years. It's a form of meditation that helps clarify your intentions while allowing you to rise above yourself. Transcendental meditation utilizes mantras to reach a higher conscious plane, but you can switch your focus to the deck in your hands.
It has nothing to do with clearing your mind. You need to be focused enough to bond with your deck, and in the process, you'll rise above your consciousness, coming closer to the deities you need to guide you. This is probably the reason the Egyptian decks are some of my favorites.
I can connect on a divine level, transcending my human existence and experience before shuffling my deck.
Alternative Divination Options
Some alternatives offer similar benefits if you don't resonate with any of the amazing Egyptian decks I've shared. If you're like me, you own about 38 decks. Sure, let's say I just thumb-sucked that figure. It's also possible to resonate with certain decks depending on your mood. That's my excuse for my collection.
These decks are another option (and yes, I own them):
If you're looking for a similar spiritual attraction to divination through tarot, the Spiritsong Tarot Deck will work wonders. It's a beautiful deck that uses spirit and animal guides to help you find what you seek.
The Hermetic Tarot Deck is another wonderful option if you want to be guided by ancient secrets and finely detailed symbolism. It's a better deck for advanced readers, but it's one of my favorites.
If you find yourself magnetically drawn to the beautiful artwork of most Egyptian decks, you might also feel attracted to the myriad of Anime decks available. Don't be fooled by the animation aspect. A culture also inspires the decks with ancient roots and deep spiritual connections.
Frequently Asked Questions
Question: Who is Thoth?
Answer: Thoth is the Egyptian moon god, but he also oversees learning, writing, and reckoning. Some mythology corresponds him to wisdom as well. He's one of the most influential figures to inspire Egyptian tarot cards. Thoth is also an intermediary for the sun god called Re.
Question: What Symbol Represents Thoth?
Answer: Thoth is most commonly depicted as the head of an Ibis, a bird, and that's due to the beak of the Ibis resembling a crescent moon. He's also depicted in symbols corresponding to his representation, such as a writing palette, a stylus, scales, a papyrus scroll, and a moon disk.
Question: What Other Egyptian Symbol is Commonly Depicted in the Decks?
Answer: A common symbolic depiction is an ankh, which represents the key to life, the way to eternal life, or the famous Nile River that runs through Egypt. It's a hieroglyphic symbol, often called the first cross, eve existing before the Jesus cross. Scarabs are also little dung beetles commonly seen in the cards.
These symbols are also often found in other decks unrelated to Egyptian mythology.
Egyptian Tarot Deck Ideas: Final Thoughts
The Egyptians were always pursuing the knowledge that unlocks the truth behind human existence, something we're all still seeking. They were deeply spiritual people with dedicated gods, myths, and rituals. Whether the Egyptians originally established tarot cards or divination remains debatable, but the connection is real.
I find myself lost in my Egyptian decks because they're an intermediary between me and the divine beings I wish to guide me. Divination and even cartomancy aren't just about reading cards for fun. Sure, people play with tarot cards, but I'm quite serious about my daily and weekly rituals.
As a bonus, the Egyptian decks I own are also easily read for friends and family. If you don't own an Egyptian tarot deck yet, I implore you to add one today. The Egyptian Tarot Deck is the one I'd recommend, hands down.
For Awesome Spread Ideas:
Horseshoe Tarot Spread Explained: How to Read the Horseshoe Spread – Tarot Technique
Beginners Guide to Tarot Spreads – Tarot Technique
Full Moon Tarot Spread Explained: What is a Full Moon Tarot Spread? – Tarot Technique