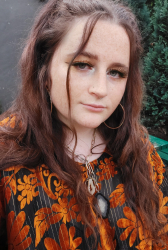 Latest posts by Lou Siday
(see all)
For me, nature is really important to my spirituality. I grew up in the countryside and deeply love animals, plants, and trees. When I connect with nature, I am able to learn about myself and my place in the universe. I think that nature and the Tarot are linked, with many Tarot decks and cards asking us to meditate with mother nature and find meaning and understanding in the world around us.
Because of this, I was pretty excited to try out the Forest of Enchantment Tarot deck! It uses wildlife, nature, and mythical beings to explain the Tarot and the different meanings of the cards.
In this article, I will go over what I love about the Forest of Enchantment Tarot deck and some of the issues that the deck has. I've also included some alternatives to check out if this deck doesn't suite your fancy. 
Let's get on with the Forest of Enchantment Tarot deck review. I normally like to stick to simple Tarot decks that follow the traditional Rider-Waite imagery. However, even though the Forest of Enchantment Tarot deck is quite different from the Rider-Waite, I was pretty excited about the deck!
Because I grew up in the English countryside, there is a nostalgic feel to this deck. I grew up on folktales about fairies and witches, exploring woodlands and forests. These aspects of my childhood are scattered throughout the deck, and so I was excited to dive deep into the forest.
It was created by Lunaea Weatherstone, illustrated by Meraylah Allwood, and published by Llewellyn Publications.
Initial Thoughts
I had ordered the Forest of Enchantment Tarot deck online, so really had no idea what it was going to look like when it arrived. I was pretty impressed straight away. I definitely got the feeling that the deck is a high-quality product, with thought going into every detail.
The deck and guidebook are kept in an A5-sized box. It is a strong and sturdy box with a magnetic fastening that you open with a ribbon. On the front is an image of the twentieth card in the deck, 'The Council of Animals,' framed in gold.
I love the art style of the deck already, with a fairytale book feel to the imagery. I immediately thought of the Wind in The Willows when I saw the deck for the first time, a children's book I used to love when I was young that follows the life of a group of wild animals in the English countryside.
On the back of the box, we are asked to step into the enchanted forest, where we can meet elves and pixies and learn magic from the ancient trees. This blurb sets the scene for the deck and hints that working with the deck will be a journey.
The Guidebook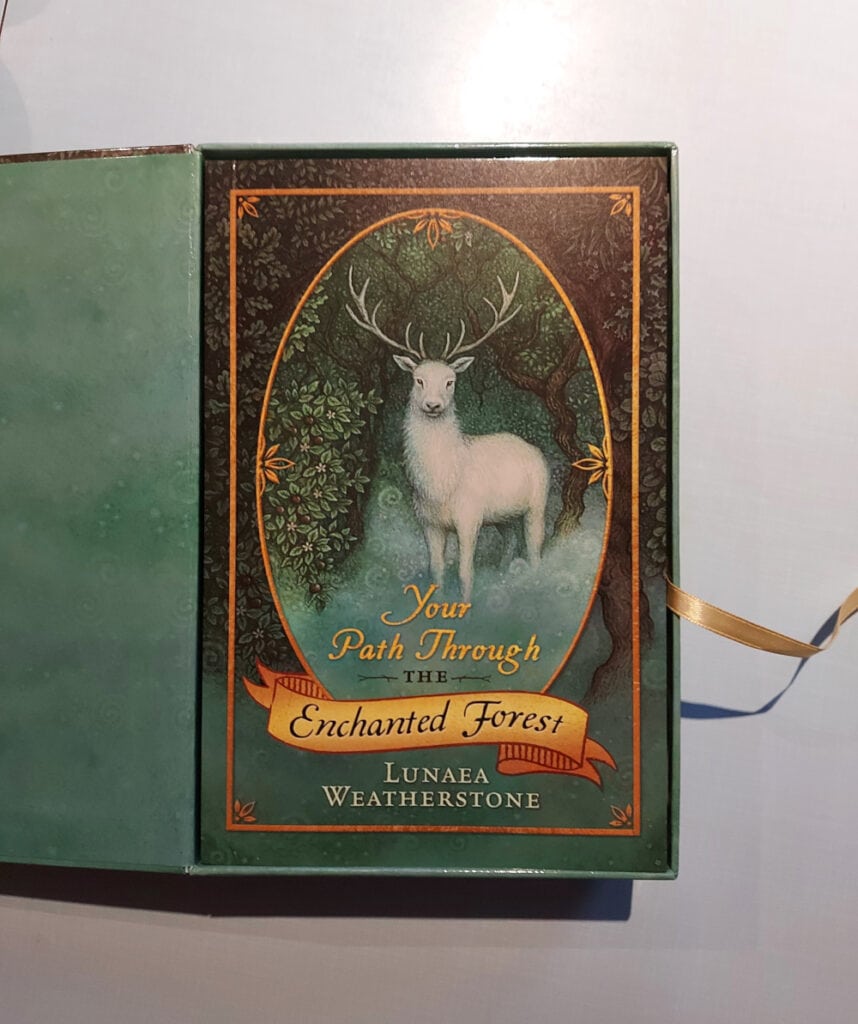 Like most Tarot decks available, the Forest of Enchantment comes with a guidebook called 'Your Path Through The Enchanted Forest.' It is a pretty thick book with colored images packed full of information and guidance.
It is honestly one of the best books I have received with a Tarot deck and feels much more than a guidebook. There are stories to be told and an adventure to go on, and each card description is beautifully written.
We learn about the major arcana and the minor arcana in detail, with the minor arcana being categorized by numbers. I like this as it allows you to understand the importance of the numbers in a Tarot deck, which are often forgotten.
The guidebook has a wonderful introduction to the deck that explains the basics of Tarot and what names of cards are changed in the deck (more on that later). There is a fun section on how to use the cards, how to shuffle them, and a guide to spreads. The book also contains a Tarot journal where you can write down your own readings!
It is a really helpful guidebook that is great for beginners but also fascinating for more expert Tarot readers. I actually sat down and read it all front to back in one go and immersed myself in the vibes of the Enchanted Forest!
The Cards
The cards are of medium thickness and feel nice to hold straight away. I didn't really have to 'get used to them' and shuffled them easily from the get-go. They are shiny, not bordered, and full of earthly browns and greens. I really liked flicking through the cards and looking at the different imagery and symbolism.
The Forest of Enchantment Tarot deck differs quite a bit from the traditional Rider-Waite deck in a few ways. Firstly, most of the major arcana cards have different names. The Fool becomes the White Hart, and the Hierophant becomes The Oldest One. These changes do feel natural as they keep the meaning of the traditional cards but with a fresh spin. They are all themed around wildlife and the forest.
The four different suits are changed, too. Wands become Spells, Cups become Visions, Swords become Challenges, and Pentacles become Boons. Again, these changes do feel in line with the theme of the deck while still keeping their traditional meaning.
The imagery and symbolism in the deck differ from the traditional depictions of the cards. I do think that a lot of the cards you can read pretty intuitively, but I did find some a little confusing and needed to consult the guidebook.
The artwork on the cards is really beautiful. The people depicted all are wearing medieval-style clothing, suggesting that this deck is based on the medieval era, similar to Rider Waite Tarot. There are woodland creatures and mythical beings scattered through the deck.
The cards have such a strong magical feel to them and remind us of our connection with nature. They make me think of the secrets of nature and the folktales from long ago that tell us that magic is often hidden deep within the forests. We can learn from wildlife and become wiser with nature.
The old gnarled trees lining twisting woodland paths, thorns, and depictions of witches, wizards, elves, faeries, and forest beasts really help bring out the magical enchanted feel in these cards, along with a lovely color pallet of dark greens, browns, and muted blues. 
Key Cards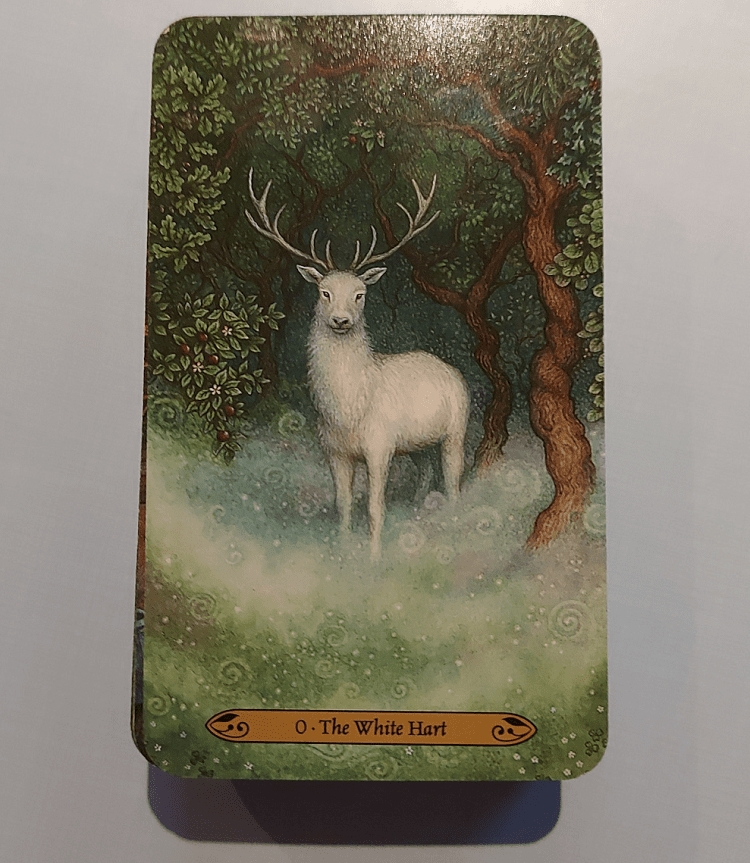 When I get a new Tarot deck, I like to look at how it portrays my favorite cards. I also spend time flicking through the deck and seeing what cards stand out for me.
Let's take a look at the White Hart. This is the deck's version of the Fool and carries the same meanings. The White Hart is calling you into the Forest of Enchantment, and you need to take a leap of faith.
This card really sets the scene for the deck and reminds you that reading Tarot cards sometimes feels as if you are walking into the unknown! It is a beautiful card depicting a white deer in a swirl of mist.
When flicking through the Forest of Enchantment Tarot deck for the first time, the Black Shuck card stuck out to me. I have a keen interest in English folklore, and the Black Shuck is a ghostly black dog that is seen in the countryside of East Anglia. Ghostly black dogs are often seen as an omen of death.
In the Tarot deck, the Black Shuck card takes the place of Death. In the guidebook, we are told not to fear him. Instead, we should see him as a reminder that death is always there and so life should not be wasted.
This does differ from the traditional interpretation of Death in Tarot, as it is less about rebirth and more about living the life that we have. I do like the message of the card and how folklore is entwined in the deck.
Another card that stood out to me when I first explored the deck was the Four of Spells (or the Four of Wands). It depicts four sprites making their way to a party on a fairy mound while surrounded by glowing blossoms. 
The Four of Wands typically represents celebrations and homecomings, so I really love this interpretation of the card and how its magical imagery invokes feelings of happiness and excitement.
Reading with the Enchanted Forest Tarot Deck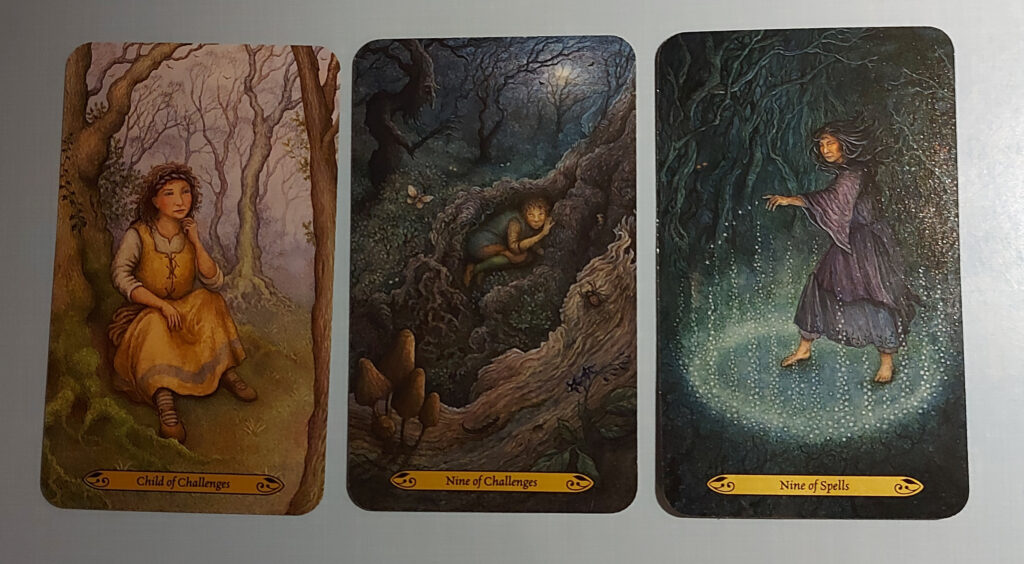 So far, I have enjoyed the artwork and themes of the Enchanted Forest Tarot deck and have been pretty excited to use it in reading to see how it worked with my Tarot skills. Now, I have been practicing Tarot for years, but I am no expert. Because of this, I have often been hesitant to work with decks that differ vastly from the traditional Rider-Waite. But how was the Enchanted Forest Tarot deck in a simple three-card reading?
I chose to perform a general, self-reflective reading that shows me my strengths, weaknesses, and areas for growth.
For the first card that represents my strengths, I got the Child of Challenges (or the Page of Swords). According to the guidebook, the Child of Challenges is lost in the woods and sits to think about what she should do. I am often pragmatic and try to think rationally when it comes to problems, so I relate to this card.
For the second card, I received the Nine of Challenges (or the Nine of Swords). As someone who has suffered from anxiety, this doesn't surprise me at all! The image on the card is of a boy hiding amongst the tree roots, scared of everything. I definitely have been in this kind of place before, and I know that this is a weakness I have.
For the third card, which shows me areas for growth, I received the Nine of Spells (or the Nine of Wands). I absolutely love the imagery on this card, showing a witch casting a spell at night. The card represents courage and resistance and suggests that I have everything I need to cast my spell. When applied to the reading, I feel as if it is telling me that I need to be more sure of myself and what I have.
I enjoyed reading the Forest of Enchantment Tarot deck, and it was easier to read than I thought! The imagery is pretty intuitive, and you get a feeling of the cards and their meanings when exploring them.
Overall Thoughts of Forest of Enchantment Tarot Deck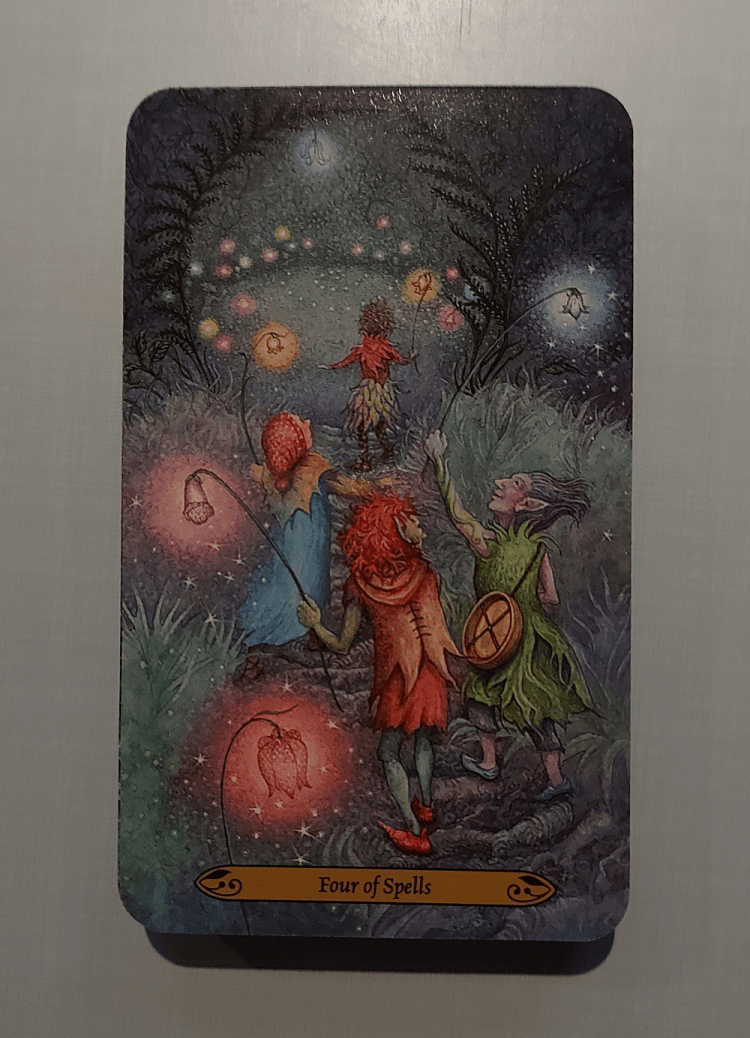 This magical Tarot deck was so fun to work with, with beautiful artwork and a nostalgic, fairytale feel. It's easier to read with than I originally thought it would be. I normally don't use decks with original artwork preferring the traditional Rider Waite deck, but this deck is so captivating I couldn't wait to give it a try. This deck offers a refreshingly cute look at Tarot and its meanings. Overall I wouldn't recommend this deck to a beginner, but for someone who has been using Tarot for a while, it makes an adorable addition to your Tarot collection. 
Pros of the Forest of Enchantment Tarot Deck
High quality
Uses folklore and mythology
Affordable
Depicts animals and nature
Cons of the Forest of Enchantment Tarot Deck
Doesn't follow the traditional Tarot names and suits
Meanings of cards might differ from their common meanings
How to Pick a Tarot Deck
While I love the Forest of Enchantment Tarot Deck, it might not strike your fancy. I've included a few alternatives to check out down below, along with some tips on how to pick the perfect Tarot deck for your needs. 
Your Ability
Where you are on your Tarot journey is a big factor when buying a new deck. There is a huge range of Tarot decks out there, from traditional Rider-Waite style ones to more experimental modern decks. I absolutely love this about Tarot and love seeing all the wonderful art. There are so many fantastic creators doing amazing stuff!
However, because of the wide range of Tarot decks, there is a variety of styles and content. This is something to consider when buying a Tarot deck because some more experimental decks might not be great for someone that is new to Tarot. This is because more traditional decks that follow similar imagery and content of the Rider-Waite are easier to read intuitively, as they will reflect the meaning of the card.
Certain decks change the names of cards and suits, and this might mean they are harder to learn Tarot with.
Your Needs
It can be useful to think about what your needs are from a Tarot deck. Do you want to find a deck that focuses on self-love? If so, there are some great positivity decks available out there!
Similarly, you may love the natural world and therefore wish to find a deck that incorporates animals and wildlife in their themes and meanings. If so, decks like the Ostara Tarot deck or the Forest of Enchantment deck will definitely be up your street!
Your Intuition
When you are wanting to buy a Tarot deck, it is really important to listen to your intuition! Follow what your gut is telling you when looking at different decks. Sometimes, we are inexplicably drawn to the imagery or colors or a certain deck, and this is because the deck is speaking to us.
Look at Tarot deck flip-through videos online and see if the cards speak to you. If you can, go into a shop and pick up different decks to get a feel for them.
Alternatives We Reccomend
If the Forest of Enchantment Tarot deck isn't for you, there are still some great decks available that focus on nature and wildlife!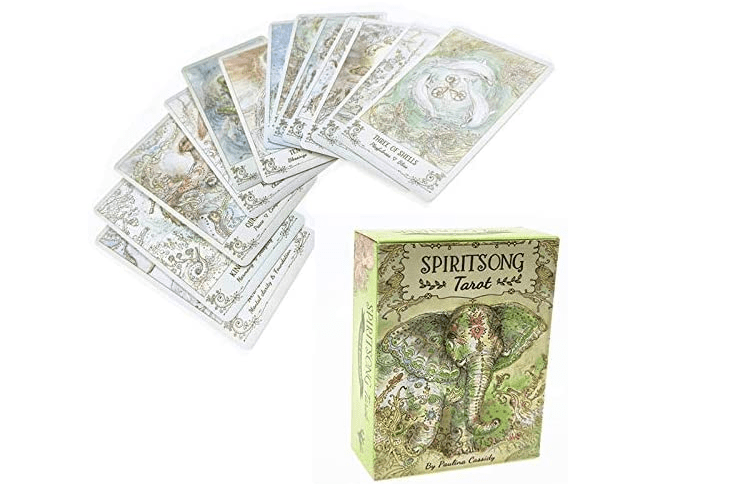 The Spiritsong Tarot deck merges Tarot magic with animal guides, allowing us to use the wisdom of wildlife to guide our life. This is a really beautiful deck with fantastic artwork. I would definitely check it out!
The Ostara Tarot Deck
I recently reviewed the Ostara Tarot deck and was really impressed with it! I loved its magical artwork and use of wildlife.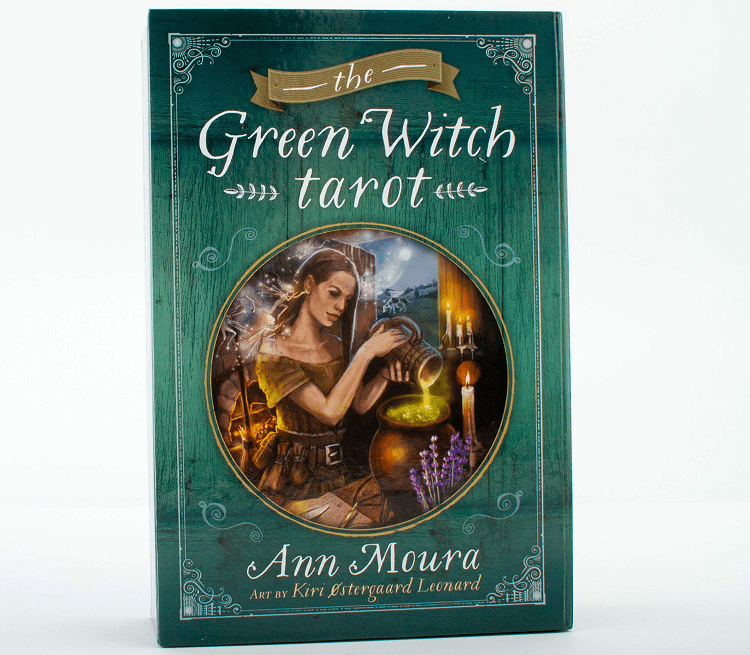 Another deck that puts our connection with the natural world at the forefront of magic, the Green Witch Tarot deck, is a beautiful interpretation of Tarot. There is an old-timey feel to this deck, too, with stunning artwork of days gone by.
Top Tarot Decks we recommend
FAQs
Let's look at some FAQs you might have about the Forest of Enchantment Tarot deck.
Question: Is the Forest of Enchantment Tarot Deck Suitable for Beginners?
Answer: I wouldn't recommend this deck if you are new to Tarot as the names of certain cards and the suits are changed. Some meanings of the cards also differ.
Question: What is the Forest of Enchantment Tarot Deck Best Used For?
Answer: This Tarot deck is great to connect with nature and learn about folklore and mythology.
Question: Where Can I Buy the Forest of Enchantment Tarot Deck?
Answer: The deck is available on lots of online bookstores, including Amazon.
Discover the Magic of the Natural World with the Forest of Enchantment Tarot Deck
I enjoyed this Tarot deck, with beautiful artwork and an incredibly interesting guidebook. It really feels as if you are going on an adventure into the forest with all the mythical beings and animals!
This definitely is a deck that I will come back to and use in my practices. There is obviously so much more to discover, and I am excited to work with it more.
Find more beautiful tarot decks below: