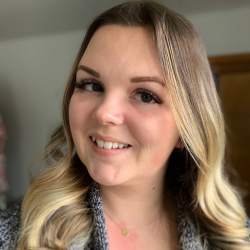 Latest posts by Brittany Rogers
(see all)
Online Tarot Classes
Arguably one of the best and most effective ways to learn how to read tarot cards is by visiting your local occult shop and seeing if they offer classes. Many readers can recommend teachers- maybe even the person who taught them. However, more and more is being done online making it accessible to everyone.
This article will look at both free training and paid courses that can be taken to help someone learn how to read tarot cards. It's important to note that only consistent study and practice will help someone truly understand the cards; as a Reader of nearly 20 years, I'm still learning.
Free Courses
Biddy Tarot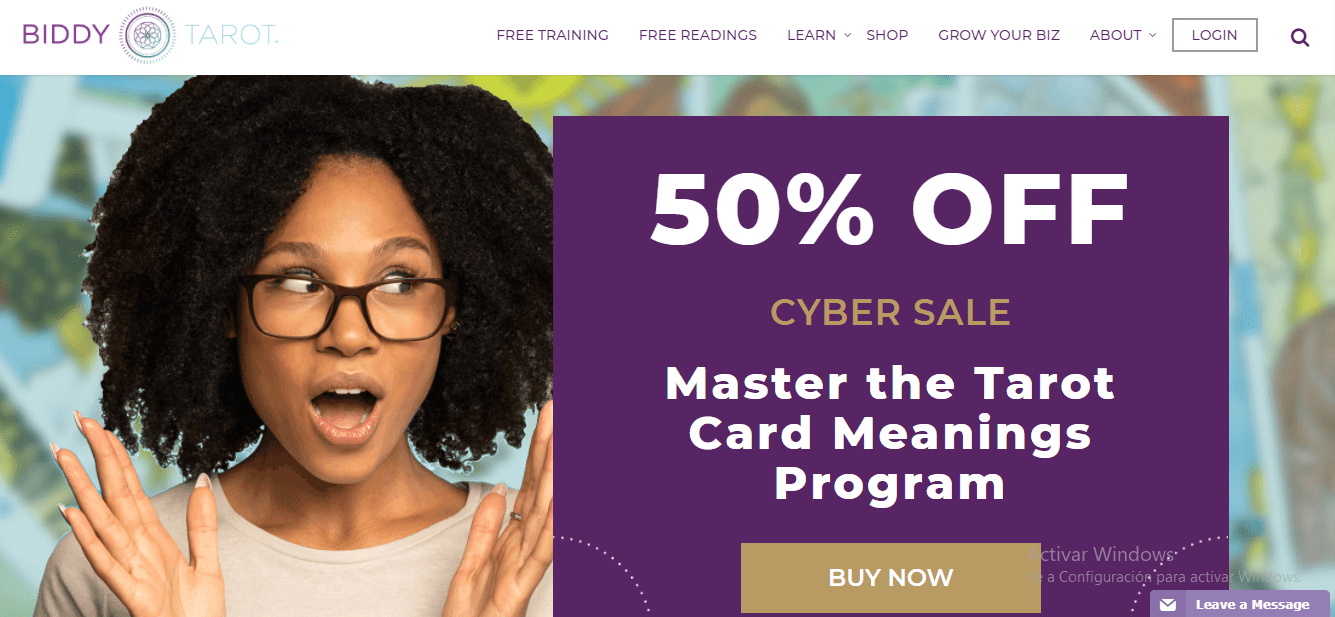 The website biddytarot.com run by Brigit Esselmont offers a lot of useful resources for the new tarot reader. According to her bio, Brigit has been reading tarot for over 20 years and aims to enhance the potential reader's intuition when reading the cards.
On her site, she offers 3 different resources for free.
The first is a printable "quick reference" guide to tarot cards. Your name and e-mail are required to access the guide as well there are three options to choose from to describe your tarot journey. They are "tarot beginner", "aspirating tarot reader", or "tarot professional".  The guide is organized and thoughtful as it contains keywords for each of the 78 cards in a standard deck and has both upright and reversed meanings listed. Included too is what she calls "DIY keywords". These are blank sheets with the names of each card and spaced where the beginner, aspiring reader, or professional can write their keywords or phrases for each card. It is quite interactive compared to other "sit and study" methods.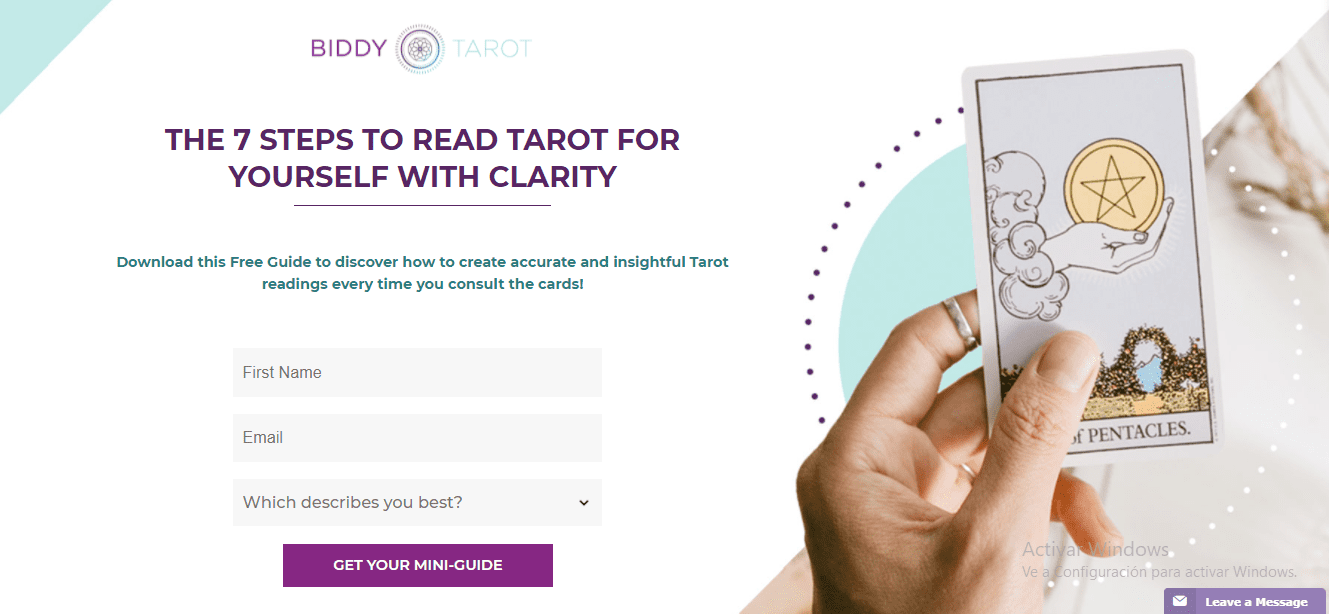 Secondly, Brigit offers a guide called "7 Steps to Read Tarot for Yourself with Clarity". Again, interested parties must submit their name and an email address, and a PDF guide is sent. The guide talks about the importance of creating space, choosing a layout, shuffling the cards, and reflecting on the question asked. Each of the 7 steps is explained in detail and she even includes suggested layouts to choose from when practicing.
Lastly, a 1-hour webinar called "How to Read Any Tarot Card Intuitively Without Memorizing All 78 Cards" can be claimed. According to the website, this webinar is geared toward training your intuition to read the cards, keys to mastering reading the cards, and how to stop doubting your interpretations of the cards or relying on books.
Important to Note
Reading tarot cards is a journey and this reader would argue that there is never a level of "mastery" that happens. It's important to become comfortable and confident with a chosen deck, but even after 20 years of reading tarot cards, it is possible to still learn new things about them. It is a note of caution than to any aspiring readers out there: there isn't an easy trick to learning tarot.
YouTube
There are hundreds of videos on YouTube showing how to read tarot cards. Channels like Gem Goddess or Bobbie Long offer short videos on how to read them. Both creators explain that what they are doing is "their way" and may differ for others. This is incredibly useful for the new practitioner as it can help take away some of the stress of reading tarot "the right way".
Important to note
Not every video on YouTube will be useful or truthful. Avoid videos that encourage you to "memorize" the cards or that claim to teach you everything you need to know in a set time frame. These videos may have some useful information in them, but as a whole, could be a waste of time.
Check out the Tarot Technique YouTube Channel! 
Our very own Tarot Technique YouTube Channel is a treasure trove for both budding and seasoned tarot enthusiasts. With a passion that mirrors our dedication to the art of tarot reading, our channel dives deep into the mysteries of the cards, offering insights, tutorials, and discussions that resonate with the heart of every tarot lover.
From the foundational meanings of each card to the intricate spreads that offer profound insights, our videos are crafted with love. We believe in the power of tarot to guide, heal, and inspire. And through our channel, we aim to share this magic with the world. Whether you're just starting your tarot journey or have been on this path for years, our channel promises enriching content that speaks to your soul.
Join us, as we explore the depths of tarot, one card at a time. Subscribe and be part of our ever-growing community of tarot lovers! 
Paid Courses
Biddy Tarot
Again we visit Brigit Esselmont and her website, biddytarot.com. As before with the free products offered on her site, Brigit includes 3 resources that can be used upon purchase.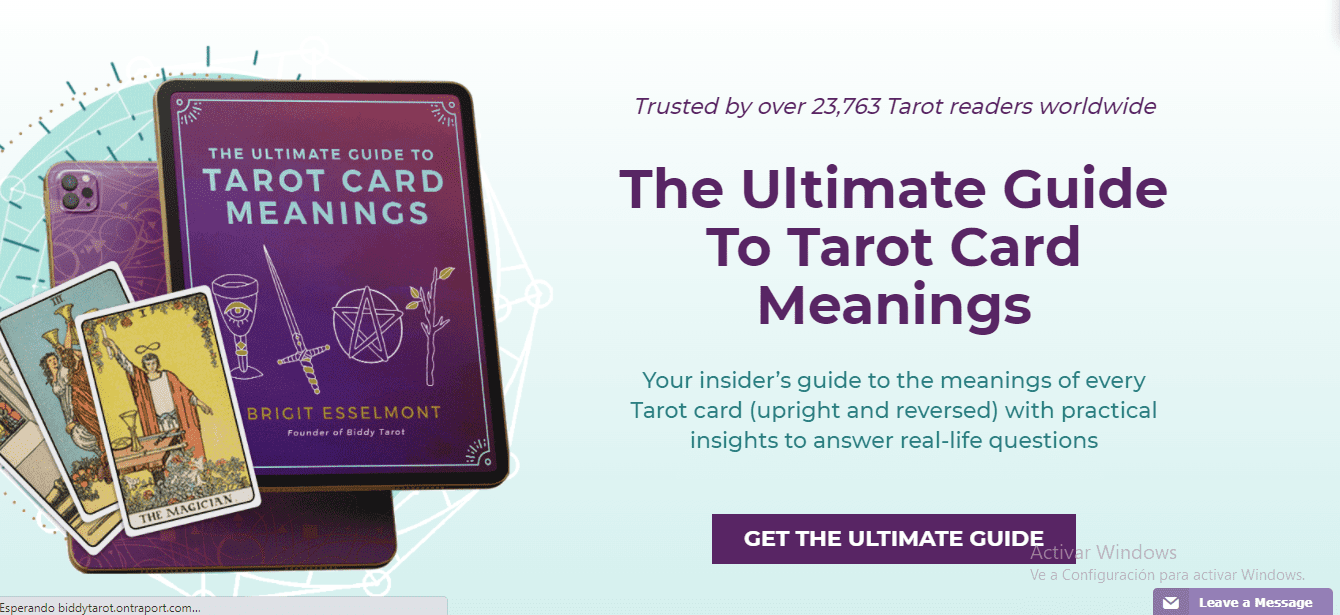 The first is a book called "The Ultimate Guide to Tarot Card Readings". Offered in digital format, the book claims to offer clear descriptions of the cards, how they relate to each other, and how cards can be connected to answer, in her words, "real-life questions".  The price is listed as $33 (USD) but a bundle can be purchased for $69 (USD) which offers two additional books, "Intuitive Tarot" and a workbook titled "Tarot Card Meanings Workbook".
Brigit also has a book called "Everyday Tarot: Unlock Your Inner Wisdom and Manifest Your Future". This book can be purchased through a few different retailers: Amazon, Wal-Mart, and Barnes & Noble. A digital copy of this book is also available. Repeating the theme of intuition, readers of this book will learn the quickest and easiest way to read the tarot, how to connect with your soul's purpose, and how to bring intention and purpose into your everyday life. Depending on the format of the book (print or digital), it ranges in price.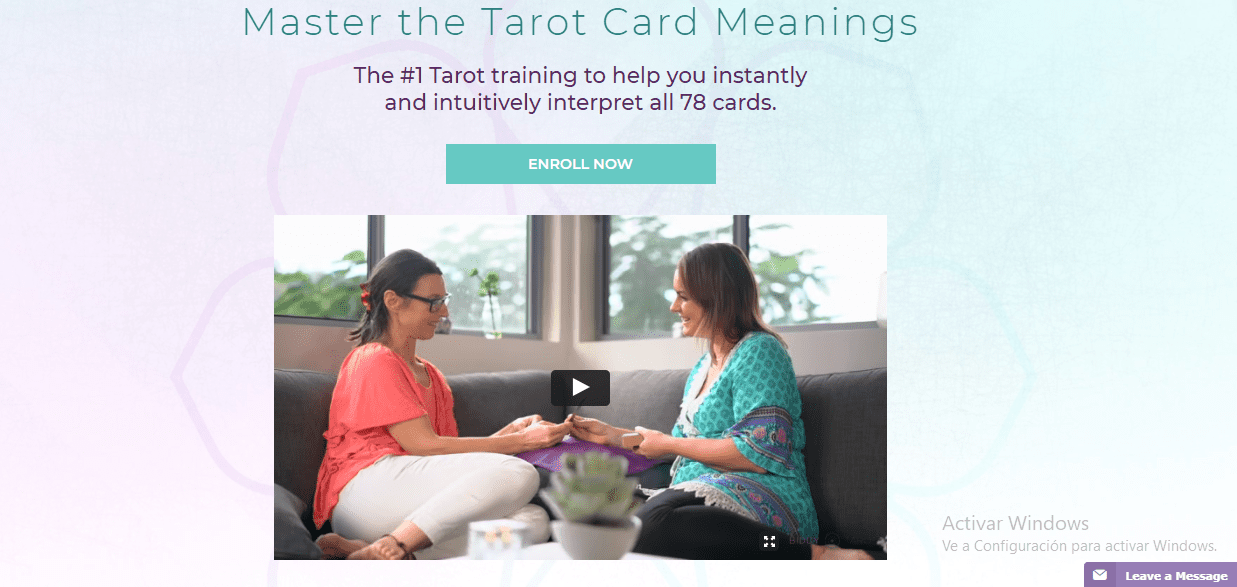 The final product offered on the site is a course that includes 7 modules. This is titled "Master the Tarot Card Meanings". There are two payment options for this course: one-time payment of $297 (USD) or 7 weekly payments of $49 a week (which totals USD 343). Within the 7 modules of the course, participants will learn the systems of the Major and Minor Arcana, how to read reversals, the workings of the Court cards, and how to decipher card combinations quickly, to name a few. Each module is broken down into smaller sections and comes with bonus material that can be completed along with each one.
Shaw Academy
The website Shaw Academy offers an online tarot reading course. The course takes place over 12 weeks and 3 modules. Each module is broken down into different lessons; there are 24 in total and assessments for each. Module 1 is all about familiarizing yourself with your deck, the ethics of card reading, as well as how to turn tarot reading into a business. Module 2 digs into the Major Arcana and its meanings, while Module 3 breaks down the Minor Arcana. Module 1 can be accessed for free, but 2 and 3 require a subscription.
According to the course overview, participants will learn how to intuitively read tarot cards, understand how to use tarot to heal others (and yourself), and create their own spreads among other useful tools.
At the bottom of the page, there are reviews of the course and what participants can claim after the course is completed.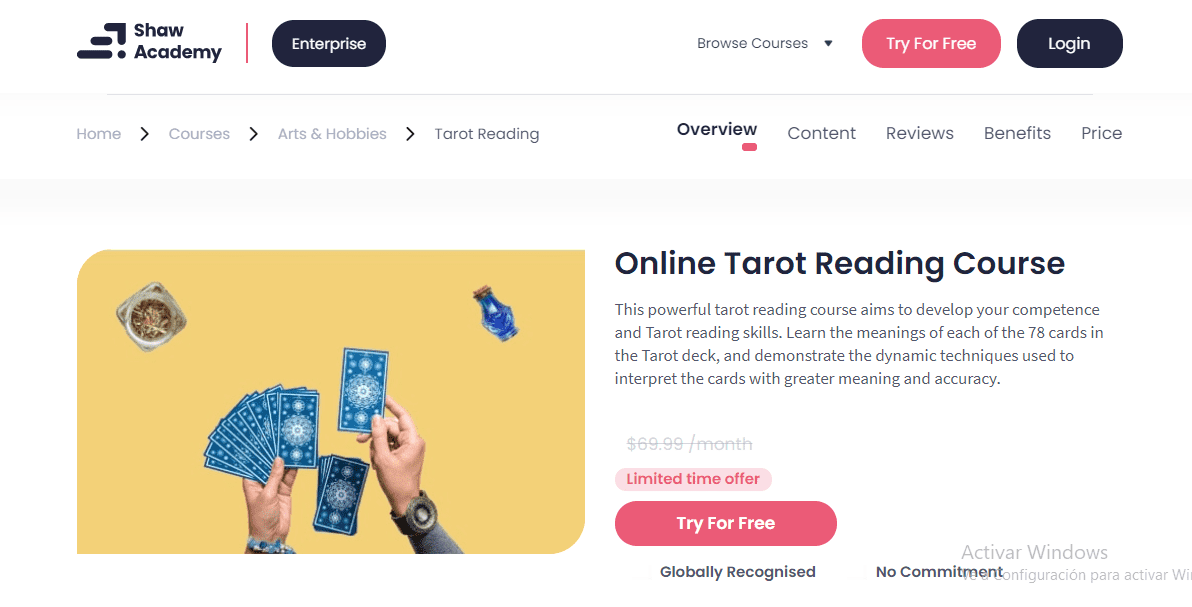 Important to note
Unlike the Biddy Tarot courses and materials, there is no one person linked to this course material. It is important to know who you will be learning from and as no specific teacher is listed, more research should be done.
Udemy
Courses from Udemy are becoming more and more popular; their results show up as advertisements at the top of most searches. This course offered by the site is called "Master Tarot Reading for Newbies & Start Selling Online". It boasts a 4.5-star rating and has been completed by over 4000 students. The price of this course is $27.99 (CAD) through the website states that this is a deal and is normally priced at $150 (CAD).
The description of the course states that practitioners will learn to build confidence as a tarot reader, avoid non-paying clients, and allow you to perfect their business skills (ironically) without spending money. Included in the description is the promise that practitioners will be able to answer the hard questions asked by Seekers such as "is he cheating?" or "Is he lying?"
What is different about this course, compared to the others, is that it comes with a materials list including the Rider-Waite deck, a notebook, and a printer (which is listed as optional).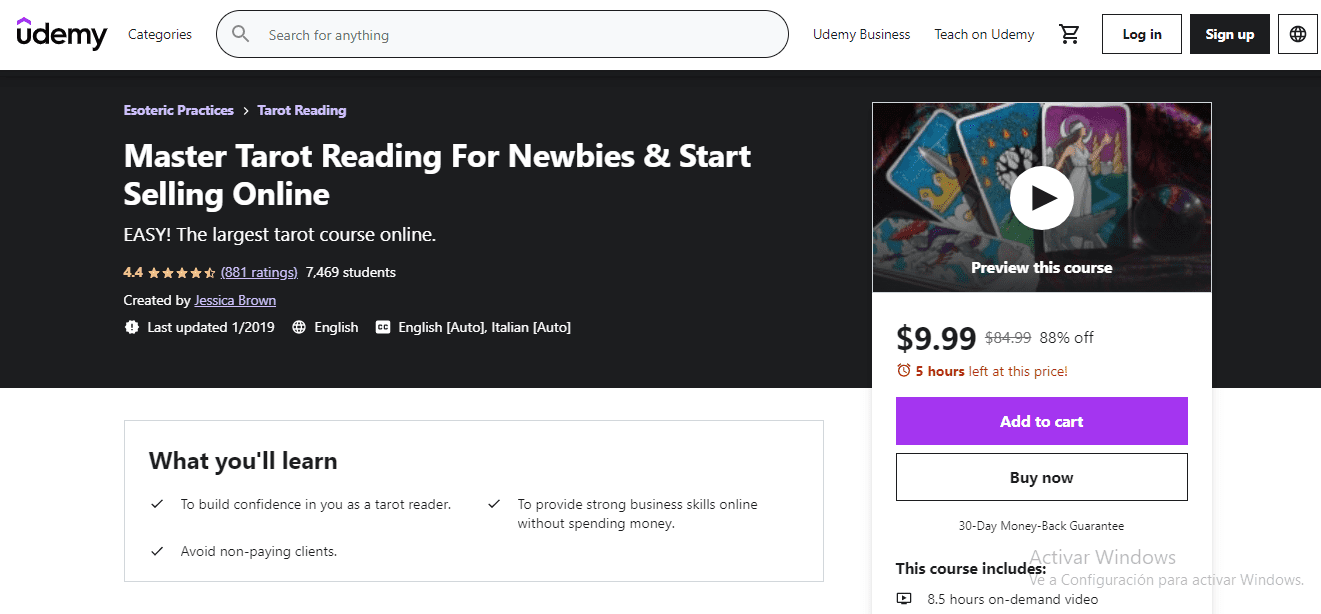 Important to Note
This course is marketed very much for someone interested in creating a business out of tarot reading. If your interests lie simply with learning how to read tarot cards, this course may not be the one to choose.
While tarot cards are useful for many things, it needs to be said that the questions posed are strictly about relationships. This may be some indication of how the course material is framed in which case if you're wanting to use tarot cards for other purposes too (work, social life, family), then perhaps this may require more research.
SkillShare
The last course to be mentioned is hosted on SkillShare.com. This site has many different options when it comes to tarot card courses, from beginner to advanced. They also offer courses that mix crystals and tarot, or palmistry and tarot. For this article, the focus will be on the course "Learn Tarot Cards – Beginner Level".
Of the courses mentioned so far, this one from SkillShare offers the least amount of information. While there is a specific teacher attached to the course, the description is lacking coming in at only a few sentences long.
There are 9 lessons within this course, some are 1/2 hour in length, others less than 1 minute. To access any of the lessons, potential buyers can sign up through Facebook, Apple, or Google. There is a 7-day free trial offered with SkillShare, however, after that, it's $216 (CAD) billed annually.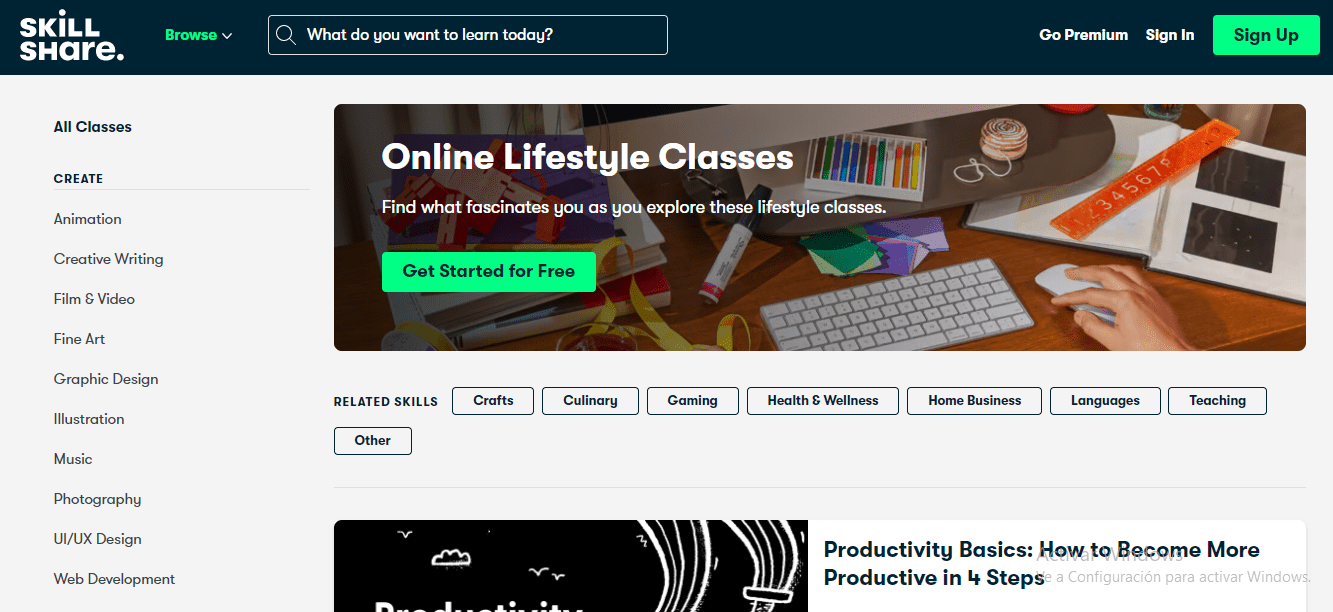 Important to Note
This another course focused on the business aspect of tarot reading. When deciding to take your practice further, becoming a confident, competent reader, should be of the utmost importance, not creating a business.
Little Red Tarot
The 8-week course offered by Little Red Tarot focuses on learning to read tarot cards for yourself. It advertises the use of intuition and narratives within the cards to guide the reader to their meaning. Unlike some of the other courses found online, this one has a more unified approach to the cards; looking at the relation of symbols to tell the narrative. There is a clear distinction between memorizing keywords and this approach.
Much like the others mentioned above, it is not a free course. The payment is on a "sliding scale" according to the website, ranging from $36 (USD) to $164 (USD). On the payment and information page, the scale is explained as a "pay what you can" agreement.
Important to Note
Depending on the deck used, there isn't always a clear narrative between the cards. If using the Rider-Waite (or Rider-Waite Smith) deck, symbolism and narrative abound. However, in a deck like A Murder of Crows, there may not be a clear linkage between each card.
Universal Class
This course titled Tarot Cards 101 has 9 lessons, each one targeting a specific topic from a general introduction, all the way to a breakdown of the Major and Minor Arcana. Within each lesson is a series of assignments and examinations to be completed at the end of the modules. Each module is broken down into greater detail on the page; each one contains a video, a discussion, practice, and a quiz once completed.
In the description, the self-paced nature of the course is stressed, indicating that the participant should be someone who is focused and dedicated and can work well independently. This course is designed to help the reader decipher the cards on a personal level, and for family and friends.
The cost of this course is $70 (USD) without the certificate offered upon completion, or $95 with the certificate.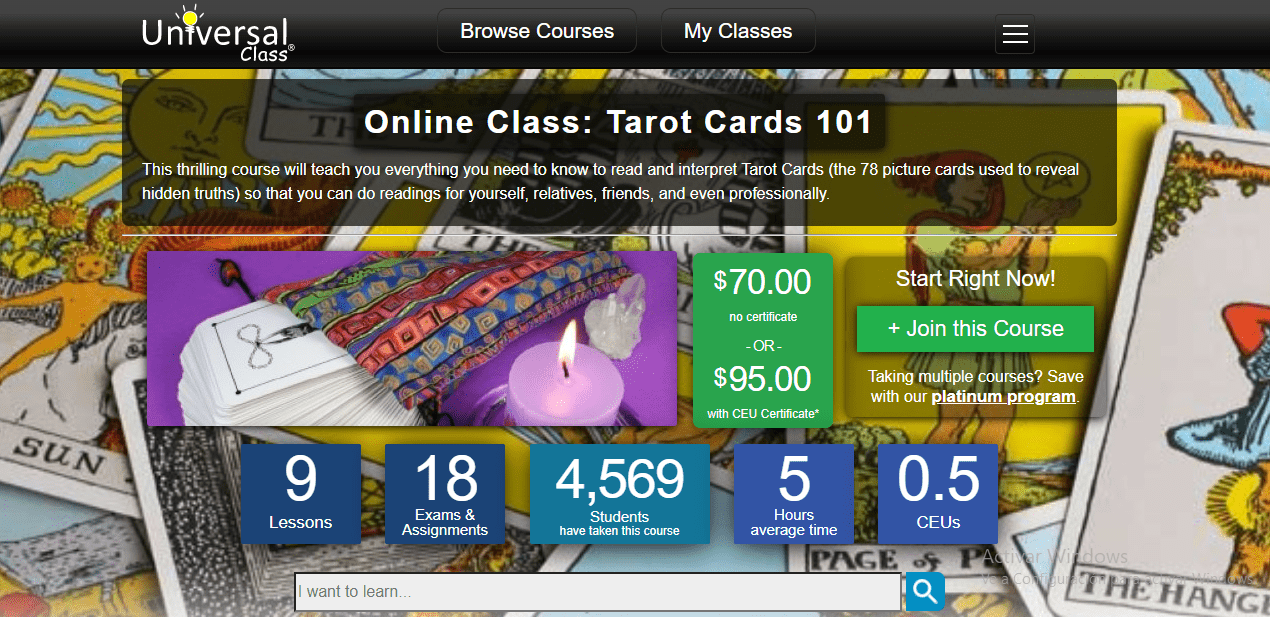 Important to Note
As mentioned before, the use of the term "mastery" is questionable. As well, when paying for a course, take into consideration reviews given by other participants.
Gaia: Mystery Teachings
Unlike the other courses mentioned above, Gaia: Mystery Teachings is a streaming service offered by Theresa Bullard. With a Ph. D in Physics, the website boasts that she is a healer, teacher, and Guide within the lineage of King Solomon. The course focuses mostly on the Major Arcana (the 22 "triumph" cards in the deck. After each lesson, a bonus meditation is offered as well.
The website works similarly to most streaming sites. However, a 7-day free trial is offered. There are three plans available to choose from, each one offering something slightly different. The first is a monthly subscription for $14.99 (USD). This version offers unlimited access to any program offered through Gaia (over 8000), it includes the 7-day free trial, can be streamed on any device, and can be canceled at any time. The annual membership is $125 (USD). It offers the aforementioned perks as well as a digital subscription to a magazine linked to the site. The selling point of the annual package is that it is the entire year, for the price of only 9 months. Lastly is the Events+ package. This subscription is $399 (USD) and encompasses all the perks of the annual package as well as: access to live events, the ability to participate in Q&A sessions with presenters, and access to all past events.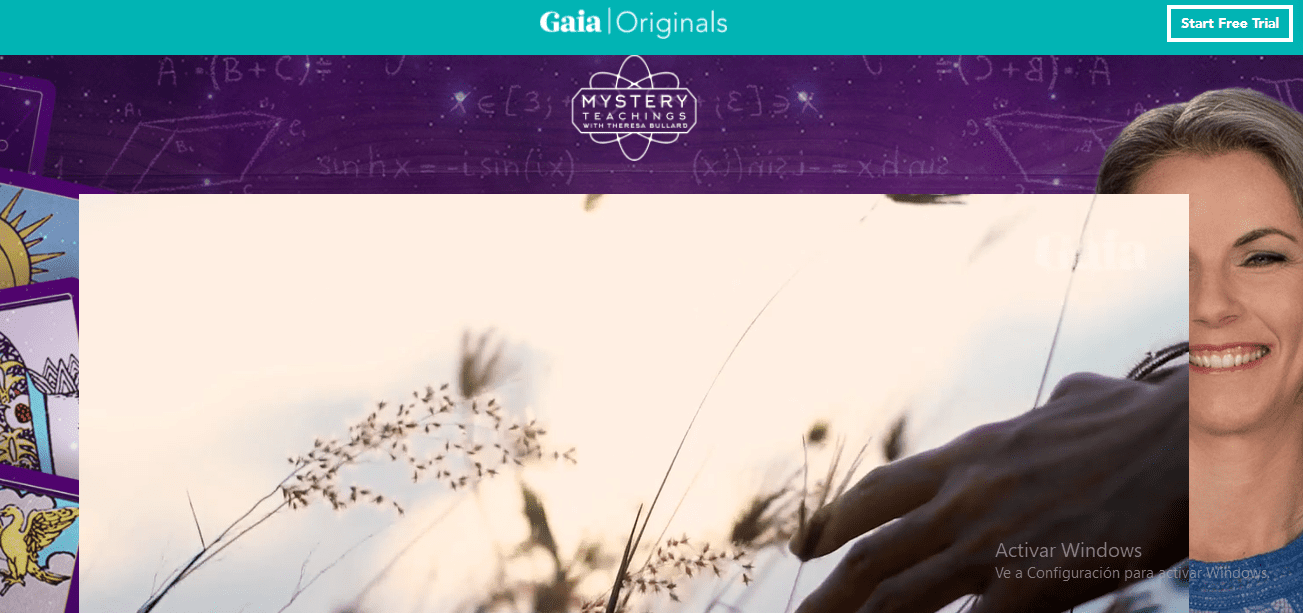 Important to Note
While this subscription service offers a lot, if you are only interested in learning how to read tarot cards (and not in all the other services offered by Gaia), this is not the most financially fitting course. As well, it doesn't offer workbooks or practice activities to help deepen one's understanding of the cards.
Which to Choose?
As someone who has been reading tarot cards for nearly twenty years, I question the use of the term "mastery" when looking at these offered courses. Tarot reading is a process and a journey; it takes time and there is no quick and easy way to learn the cards.
When choosing which course to do (and these here are by no means all of them): research the person offering the program. As a potential reader, you want to be sure that the person in charge of teaching you knows their stuff. A heart surgeon has no business teaching a mechanics class (unless of course, they happen to also be a trained mechanic). If you are serious about expanding your tarot card knowledge, don't waste your time with people who don't know what they're talking about. As well: read reviews. Perhaps not reviews posted on the site because sometimes they can be fluff pieces; but get on your search engine of choice and look up the course that way. If there are more negative reviews than positive, perhaps consider exploring another route.
When looking at courses that cost money, consider what information is being offered in exchange for the money you're being asked to spend. There are hundreds of print books available on tarot reading that can offer incredibly sound information and advice; in some cases, certain publishers dedicate their company to working within the occult.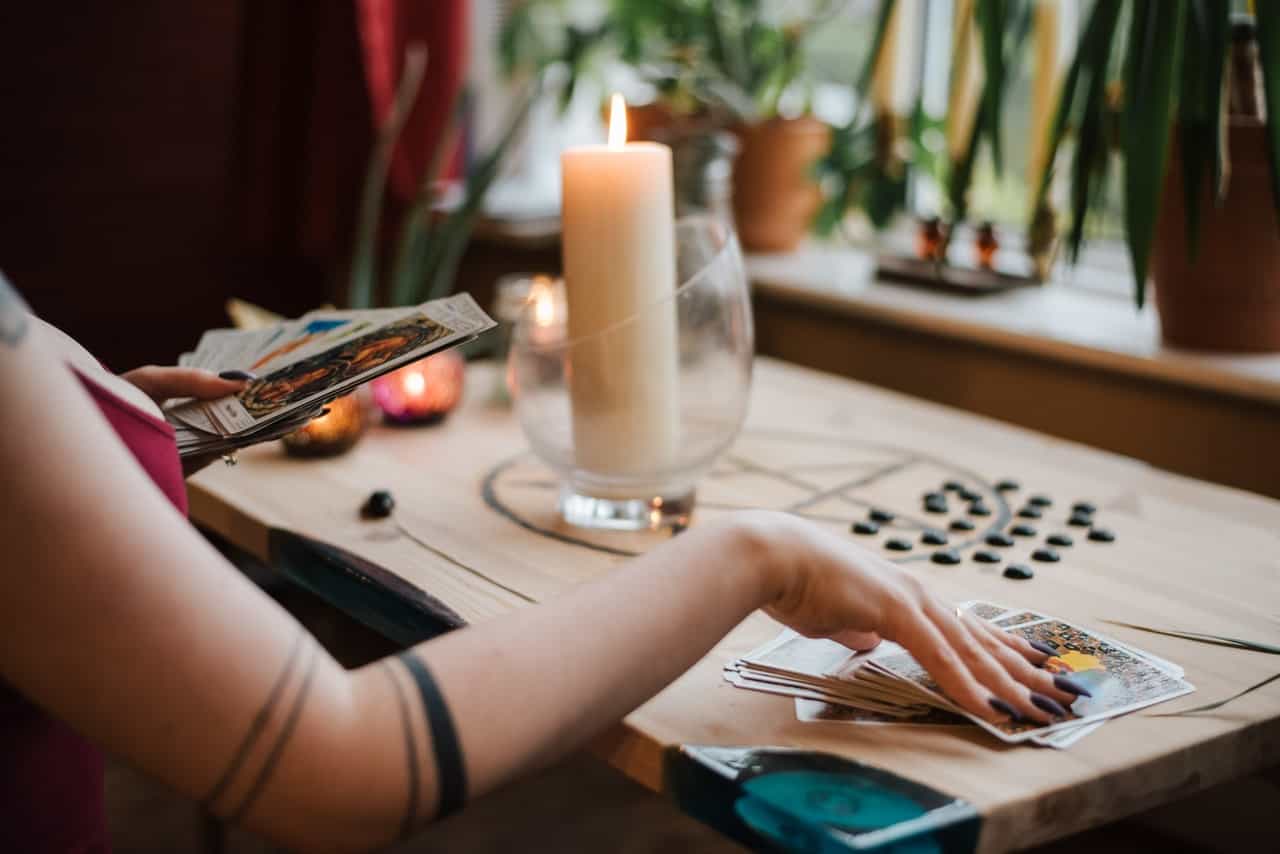 Conclusion
When choosing a course it is entirely up to the practitioner which one suits them. Reading reviews, comparing options, and sourcing local in-person training are excellent options. In a digital age, it's easy to get swept up in doing things online, but sometimes it's just as easy and convenient to pick up a book and a notebook and study on your own.