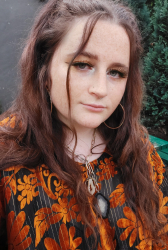 Latest posts by Lou Siday
(see all)
Tattoos are a fantastic way to express yourself and your interests, and with the rise of spirituality across the globe, it is no wonder that Tarot themed tattoos are becoming super popular. I want to show you the best Tarot themed tattoo ideas for you to check out and get some inspiration.
As a heavily tattooed Tarot reader, I loved looking at the fantastic designs out there and how people have portrayed specific cards. From tattoos of traditional Tarot cards to quirky takes that incorporate our favorite bands, there are so many fun ways to express your love of Tarot through ink.
So let's dive in and discover the best Tarot themed tattoo ideas out there right now!
Bottom Line Up Front
I have picked a range of fantastic Tarot themed tattoos from highly talented tattoo artists worldwide. My favorite Tarot themed tattoos are ones that incorporate other interests and loves into the artwork. This makes the tattoo super personal!
I am a huge fan of the Hermit crab Tarot tattoo and the My Chemical Romance Tarot tattoo. These two tattoos use other sources of inspiration to create a unique work of art that holds significant meaning.
Before You Get Inked
FYI, tattoos are permanent. I am sure you know this, but I know so many people who have got a spur-of-the-moment tat only to regret it immediately.
So, you need to make sure you definitely want the tattoo before you book in. Furthermore, it is essential to check out the artist you want to book with and look at their portfolio. There are so many artists out there with unique styles, and you need to make sure that their work aligns with your aesthetic.
But what else do you need to consider before you get inked?
Your Intentions for the Tattoo
I recommend reflecting on why you want a Tarot themed tattoo. Are you are Tarot reader? Do you connect with the energy of a specific card? Or are you getting one because you think it looks cool?
Tarot reading is a spiritual practice that is incredibly important to many people. Of course, the cards look cool, but each card holds its own significant spiritual meaning. Getting a card inked on you brings the energy of that card into your life – forever.
Picking the Right Card
If you are certain of getting a Tarot themed tattoo, take your time to pick the right card for you. As a Tarot reader, I feel strongly connected to specific cards.
For example, the Tower card used to pop out in every personal reading I performed when I first began working with the cards. Because of this, I align with the card's meaning and have allowed it to guide me in life. Are there any cards that you feel a deep connection with?
Another way of picking the right card is to go for the one that governs your zodiac sign. All zodiac signs are linked to a specific major arcana card which influences the energy of the sign. For example, the ruling card of Virgo is the Hermit. If you are a Virgo, you may wish to meditate on the meaning of the Hermit card and work out if this card is the right one for you to get tatted.
Style of Tattoo
As your tattoo will be on you forever, you need to make sure it fits with your style. You wish to get a tattoo of a traditional Rider-Waite style card, but I know this aesthetic isn't for everyone. If you have other tattoos, reflect on how you can fit a Tarot card with their style.
There are so many tattoo styles that can be used for Tarot themed ink. Minimalist stick-and-poke style tattoos look great for Tarot themed tattoos, as they can strip back the imagery of the card. There are also some fun old-school style Tarot tattoos, using bold colors and thick lines to express the cards.
Take a look at the styles of tattoos you like and how you can express your chosen Tarot card in this way.
Color Vs. Blackwork
Once you know the Tarot card you want inked, it is time to have a think about the technical details of your tattoo. Do you want a colorful tattoo, or do you want to keep it blackwork? The majority of Tarot tattoos are blackwork with delicate lines and detailing. However, there are some bold Tarot tattoos that use bright colors in their design.
Reflect on what tattoos you already have and if colorful ink would fit in. All my tattoos are blackwork – that's just my preference. Because of this, any tattoos I get keep it simple with only black ink.
Size and Placement
Size and placement are essential things to think about when getting a tattoo. I won't lie; I have rushed to get a tattoo without thinking about where I want it, only to think, 'Oh it would look better somewhere else' after a few days.
If you are wanting a small tattoo, make sure you pick a stripped-back, minimal design. However, going bigger will mean you can add more details to the ink.
When working out the size and placement of your tattoo, reflect on your tattoo journey. Have you ever heard that you shouldn't get hand tattoos unless you have a sleeve? Well, this unwritten tattoo rule is to stop newbies from getting tattoos they regret. Keep it small if it's your first tattoo and have it done somewhere you can easily hide.
How Did I Select the Best Tarot Themed Tattoo Ideas?
When picking the best Tarot themed tattoo ideas, I wanted to select works that showcase the range of styles you can pick from. I aimed to show you the diversity within Tarot themed tattoos, from traditional depictions of the cards to unique and interesting takes on Tarot cards.
Here are my selection criteria for picking Tarot tattoos to show you:
Varied designs.
High-quality artwork.
No simple replications of traditional cards – all have fresh ideas in the design.
All represent the theme of the Tarot card they are portraying.
Best Tarot Themed Tattoo Ideas
Now is the time to check out my favorite Tarot themed tattoos to inspire you to get inked!
Major Arcana Tarot Cards Tattoo Ideas
Let's kick things off with some stunning takes on classic major arcana cards. These 22 cards hold powerful messages and reflect the lessons we learn in life.
Ghost Lovers Tarot Themed Tattoo
The Lovers is a beautiful Tarot card representing balance, harmony, and connections. But, instead of tattooing the classic Lovers card, this artist has depicted ghosts as the Lovers using fine lines to give the tattoo a gentle feel. I really like the rugged edges of the Tarot card here; it works well to mix up the 'block' look of some Tarot themed tattoos.
Death Tarot Themed Tattoo
There are a lot of Death themed tattoos, and it was hard to pick my favorite. However, this delicate tattoo is stunning, and I had to include it on my list. The Death Tarot card represents renewal, rebirth, and new beginnings. The tattoo perfectly portrays the Death Tarot card, with flowers and leaves growing out of the skull and roots going into the earth.
The Empress Tarot Themed Tattoo
A fresh take on the Empress card, this tattoo portrays the card with flowers and a portrait of a woman. The details in this tattoo are amazing, and I love the subtle white ink mixed in.
The Minimalist Fool Tarot Themed Tattoo
This Tarot themed tattoo portrays the imagery on the traditional Rider-Waite Fool card with a minimalist twist. The first card of the major arcana, the Fool represents new beginnings and taking risks. It reminds us to step out of our comfort zone and follow our hearts. A great message to have as a tattoo!
The Hermit's Lantern Tarot Themed Tattoo
In this Hermit themed Tattoo, this artist strips the card back to one of its most important symbols: the lantern. The lantern represents the inner wisdom that lights up our path forward and provides us with guidance. This tattoo reminds us to listen to our intuition and carry on our journey of soul-searching and discovery.
The Skeleton Lovers Tarot Themed Tattoo
Skeletons are a common tattoo theme, and I love how artists incorporate them into Tarot themed tattoos. This tattoo juxtaposes life (flowers) and death (skeletons) to express the theme of balance and harmony of the Lovers Tarot card. The dot work is super cool, too!
The Star Tarot Themed Tattoo
The gentle energy of the Star Tarot card is portrayed well in this tattoo. The Star symbolizes renewal, faith, and hope, and I love how the feminine figure is standing tall in this depiction of the card. It reminds us of the power we have to get back on our feet, regain our faith, and follow the Star into our future.
The Moon Tarot Themed Tattoo
This neotraditional tattoo uses bold colors and shapes to portray the Moon Tarot card. I love how it incorporates the other spiritual tools of crystals and herbs into the design. Let's face it; if you love Tarot, you are probably a crystal and plant fan too! If you want a tattoo like this, have a think about your favorite Tarot card, gemstone, and herb to create a design that is perfect for you.
The Sun Traditional Tarot Themed Tattoo
If you love old-school type tattoos, certain Tarot cards work really well with this style. The Sun represents happiness, joy, and success. It reminds us to find awe in the world around us and to be grateful for what the universe has provided us with. A perfect message to have on your body!
The Moth Moon Tarot Themed Tattoo
Moths and Moon cycles combine to create a beautiful work of art in this tattoo. The shading work is stunning, and the moth is so well done. If you are a nature fan, incorporating creepy crawlies into your tattoos is a fun way of showing your personality.
I am in awe that this is an actual tattoo, not a watercolor painting. The artist who has done this tattoo is incredibly talented – I can't stop staring at this ink. This tattoo depicts the Fool Tarot card with subtle changes (look at that little Westie dog!). It is super detailed, and I love how it flows up the arm instead of being confined to a box.
The Strength Tarot Themed Tattoo
Another amazing work of art, this tattoo portrays the Strength Tarot card in a fantasy, Game of Thrones kind of way. The detail of the tattoo is impressive, using key symbols of the Strength card to portray its meaning.
It is not just the major arcana cards that people get inked. The minor arcana cards hold fantastic messages for us and look great as tattoos. Let's dive into the best minor arcana Tarot card tattoo ideas.
The Three of Swords Tarot Themed Tattoo
This old-school style tattoo takes the imagery on the Three of Swords Tarot card and gives it a bold, traditional look. Out of all the minor arcana cards, the Three of Swords is the most popular choice for tattoos. I do love this tattoo, but as the Three of Swords represents heartbreak and disappointment, I am unsure if I would ever get it myself…
Three of Cups Tarot Themed Tattoo
This delicate portrayal of the Three of Cups is stunning. The artist has picked the imagery from the traditional Rider-Waite artwork and stripped it back. The Three of Cups is all about good times, family, and friendship. A wonderful message to get inked!
Ace of Cups Tarot Themed Tattoo
The Ace of Cups reflects new beginnings, love, and creativity. In Tarot, the Aces represent the energy of the suit in the purest form, and here we have the Suit of Cups, which governs relationships, emotions, and intuition. I love how elegant the ink is, with delicate lines and minimal detail.
Suit of Cups Tarot Themed Tattoo
There is something really special about this low-key Tarot tattoo. It simply depicts the cup of the Suit of Cups, reminding us to listen to our inner wisdom and follow our hearts.
Crossover Tarot Themed Tattoo Ideas
Tattoos show off our interests and personality, and incorporating other things we love into Tarot tattoos is a great way to get unique ink. From Pokemon tats to cryptid Tarot ink, let's check out some amazing crossover Tarot themed tattoos out there.
Karma Tarot Themed Tattoo
When picking a Tarot themed tattoo, you could opt for your own message depicted as a Tarot card. Karma isn't a traditional Tarot card. However, this tattoo uses a Tarot design to express the idea of karma and balance. I like the snake addition, as it mixes up the Tarot card shape.
My Chemical Romance Tarot Themed Tattoo
I am not going to lie, I am writing this article wearing my comfy MCR t-shirt with a Three Cheers for Sweet Revenge tattoo on my arm. Emo never dies, guys, and I am obsessed with this tattoo.
This tattoo depicts the album artwork of Three Cheers as the Lovers cards, and it is so well done. The imagery is exactly how it appears on the album, and the rugged Tarot card look is perfect.
The Hermit (Crab) Tarot Themed Tattoo
As a lover of Tarot and a lover of sea creatures, this tattoo makes me feel all excited and happy. The Hermit is a traditional Tarot card that represents introspection and solitude. But, the tattoo artist has mixed it up by using a Hermit crab to depict the card.
The Hermit still has his lantern, which is an important symbol in this card, allowing the traditional meaning to be represented. BRB, messaging my tattoo artist to see if he can fit me in asap for my own little hermit crab tattoo…
Van Gogh Tarot Themed Tattoo
This stunning tattoo pays homage to the great artist Van Gogh with a Tarot twist. Starry Night is an iconic painting that works so well as the Star Tarot card. The colors are beautiful, and I love how the stars burst out of the card.
The Space Fool Tarot Themed Tattoo
If the Fool Tarot card were designed today, it definitely would be of an astronaut. Going into space is the ultimate 'stepping into the unknown,' and this tattoo depicts the energy of the Fool perfectly. I love how the astronaut pops out of the card – he is continuously moving forward on his journey!
Fleetwood Mac Tarot Themed Tattoo
It isn't just My Chemical Romance appearing in Tarot tattoos! Here we have that iconic Fleetwood Mac album artwork used as the imagery for The Lovers, mixing classic rock with spirituality.
I love the little details in this tattoo, with the clouds and leaves popping out of the frame. Again, we have that rugged Tarot card look that adds intrigue to the tattoo.
The Mothman Tarot Themed Tattoo
Okay, I actually have a Mothman tattoo myself (cryptid fanatics unite), and I love how this mythical creature has been used to portray the Death card. The Mothman is a cryptid supposedly appearing to foreshadow death, so it totally fits. I love the addition of the flowers and stars around the card and how red is the only color used. Spooky!
Magritte The Lovers Tarot Themed Tattoo
Another fantastic tattoo that mixes art with Tarot. I love Rene Magritte, and The Lovers is one of his classic pieces. The Lovers as the Lovers, what a cool idea!
Pokemon Tarot Themed Tattoo
Okay, this is a pretty niche tattoo, and I love it. The bold colors are perfect for the Pokemon theme, and the white detailing really makes the artwork pop. If you are a Pokemon / Tarot lover, which Pokemon would you pick to represent your favorite card?
FAQs
Question: Is it Okay to Tattoo Tarot Cards?
Answer: Yes, it is okay to tattoo Tarot cards as long as you understand the meaning of the card you are getting inked.
Question: Why Do People Get Tarot Cards Tattooed?
Answer: Many people choose to get Tarot cards tattooed because they want a reminder of the energy of the cards. Sometimes, we really connect with a specific card, and getting it tattooed on us means we can further the connection.
Question: What Tarot Card Should I Get Tattooed?
Answer: Which Tarot card you pick to get tattooed is totally up to you and your connection with the cards. Take your time to get to know the meanings of the cards and what they represent to pick the one that is perfect for you.
Which is Your Favorite Tarot Themed Tattoo?
There are so many wonderful Tarot themed tattoos to pick from, with loads of different ways to portray your favorite card. I love the Hermit crab tattoo, as it is a unique way of showcasing the card while maintaining its traditional meaning.
I am also a huge fan of the designs that incorporate album artwork. Mixing two loves (music and Tarot) is a fantastic way to get a tattoo that is perfect for you.
Which Tarot themed tattoo is your favorite?
Continue reading:
13 Best Tarot Decor to Enhance The Spirituality of Your Home