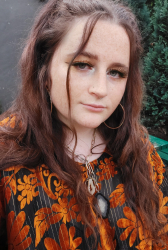 Latest posts by Lou Siday
(see all)
I have been reading Tarot for years now, and one thing I absolutely love about the practice is the amount of Tarot artwork and styles. Tarot is a type of art evoking beauty and emotions. Because of the creativity and inspiration of Tarot, many artists and creators design decor based on Tarot decks.
You can create a spiritual and harmonious space by bringing Tarot decor into your home. With wall hangings and artwork, you can connect with Tarot and allow it to guide you at all times. So, I wanted to go through the best Tarot decor out there right now!
Tarot Decor Up Front
I had a lot of fun looking at all the fantastic Tarot decor available; it took all my strength not to order every single one of them…
My favorite has to be the Tarot suncatcher. I love the Sun Tarot card, and I really like how the creator made the item connect with the sun's energy. Plus, including citrine crystals on the suncatcher will enhance your spirituality as these gemstones are linked to the sun and positivity. Lush vibes!
My favorite wall hanging on the list is the Tarot card garland. I think it is a charming way to get to know the different Tarot cards, as you can always have them on display!
There are so many amazing Tarot posters, too, and I love the range of themes and ideas in the artwork. My favorite Tarot poster is The Lovers poster. I really like how it updates the original Rider-Waite card, using fresh colors and an LGBT couple. More of this in Tarot artwork, please!!
My other top picks for Tarot decor are:
Cat Moon Tarot Wall Hanging
Pack of Three Tarot Tapestries
The Star Tarot Goddess Art Print
The Empress Tarot Art Print
Tarot Cheat Sheet Poster
Minimalist Tarot Poster
The Hermit Poster
Sun and Moon Tarot Window Art
Tarot Card Holder
Tarot Card Jewelry Tray
What To Consider When Buying Tarot Decor?
If you want to buy Tarot decor, I think it is super useful to consider your relationship with the Tarot and the different cards. What is your favorite card in the deck? I am always drawn to the Hermit and the Star card, so I will look for decor that involves these cards.
As all cards have their own specific energy, it is useful to think about what energy you want in your home. Do you need a bit of optimism right now? If so, look at the Tarot decor that uses the Sun card! Or, perhaps, you are feeling out of touch with your intuition and sensuality. If that is the case, Tarot decor that involves the Empress might be right for you.
I also think buying products from small businesses and artists is good. Always consider where you are buying your product and if the right people are getting the money for their work! There are so many incredible artists and creators out there; it is essential to support them.
Tarot Decor Selection Criteria
When picking the best Tarot decor on the list, I wanted to find a range of styles to include. I made sure that they were all high quality and from a reputable seller. I also wanted to include decor that brings you Tarot's spiritual vibes. I made sure that the items listed stayed true to the traditional Tarot meanings.
I also tried to include Tarot decor made by small businesses. I believe it is super important to support small businesses, especially when it comes to items that enhance our spirituality!
Tarot Wall Hangings
Let's look at the best Tarot wall hangings out there that allow you to bring some spirituality into your home.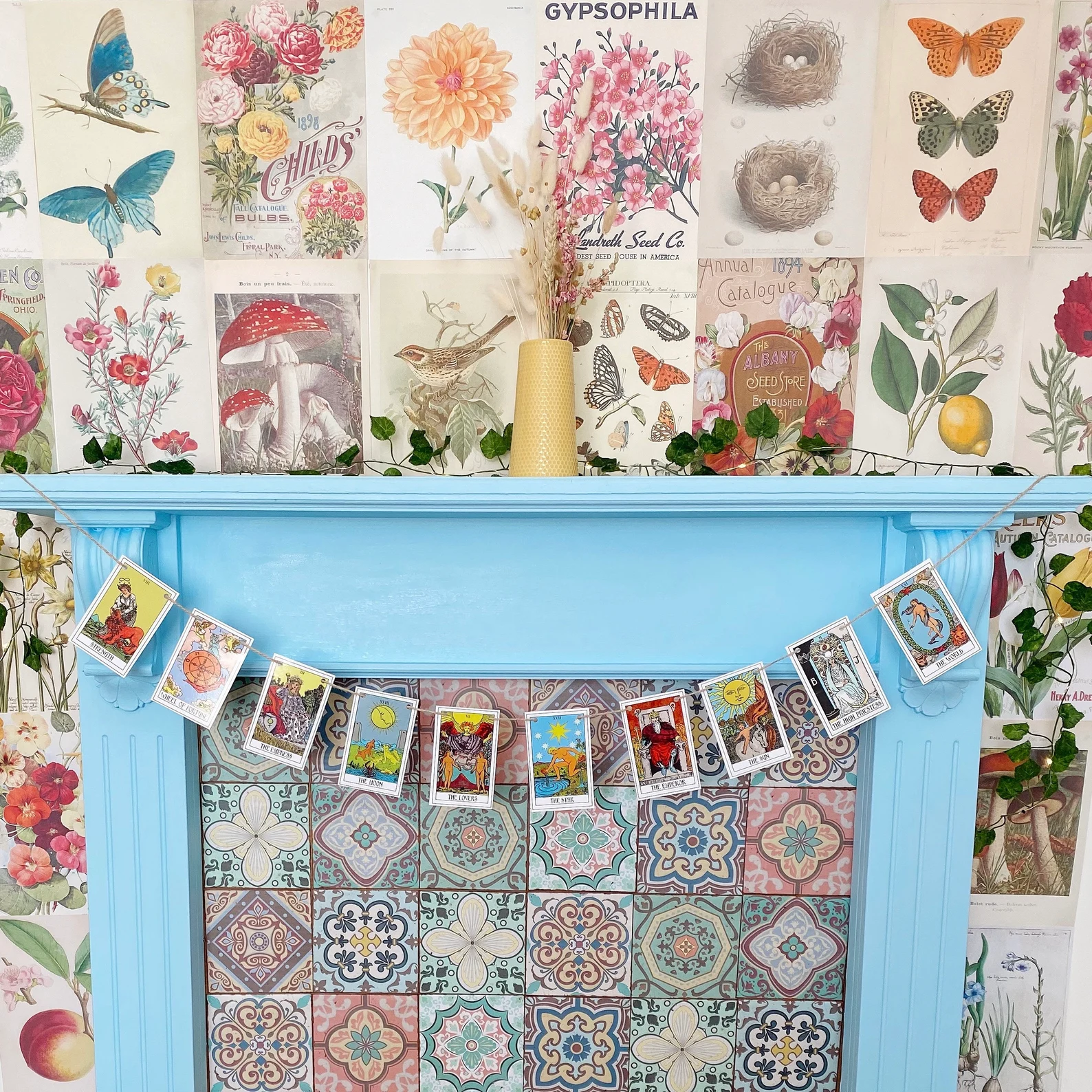 This Tarot card garland is super cute and has ten Major Arcana cards on the string. The images are from the traditional Rider-Waite deck and printed on high-quality card stock. If you are new to Tarot, buying a wall hanging with a range of cards can help you get to know each card. Oh, this garland was created by a small seller, which I always love!
Pros
Ten Rider-Waite Major Arcana cards
High-quality print and card
Small business
Cons
Can't pick the cards you want to include on the garland
Shipping outside the UK is expensive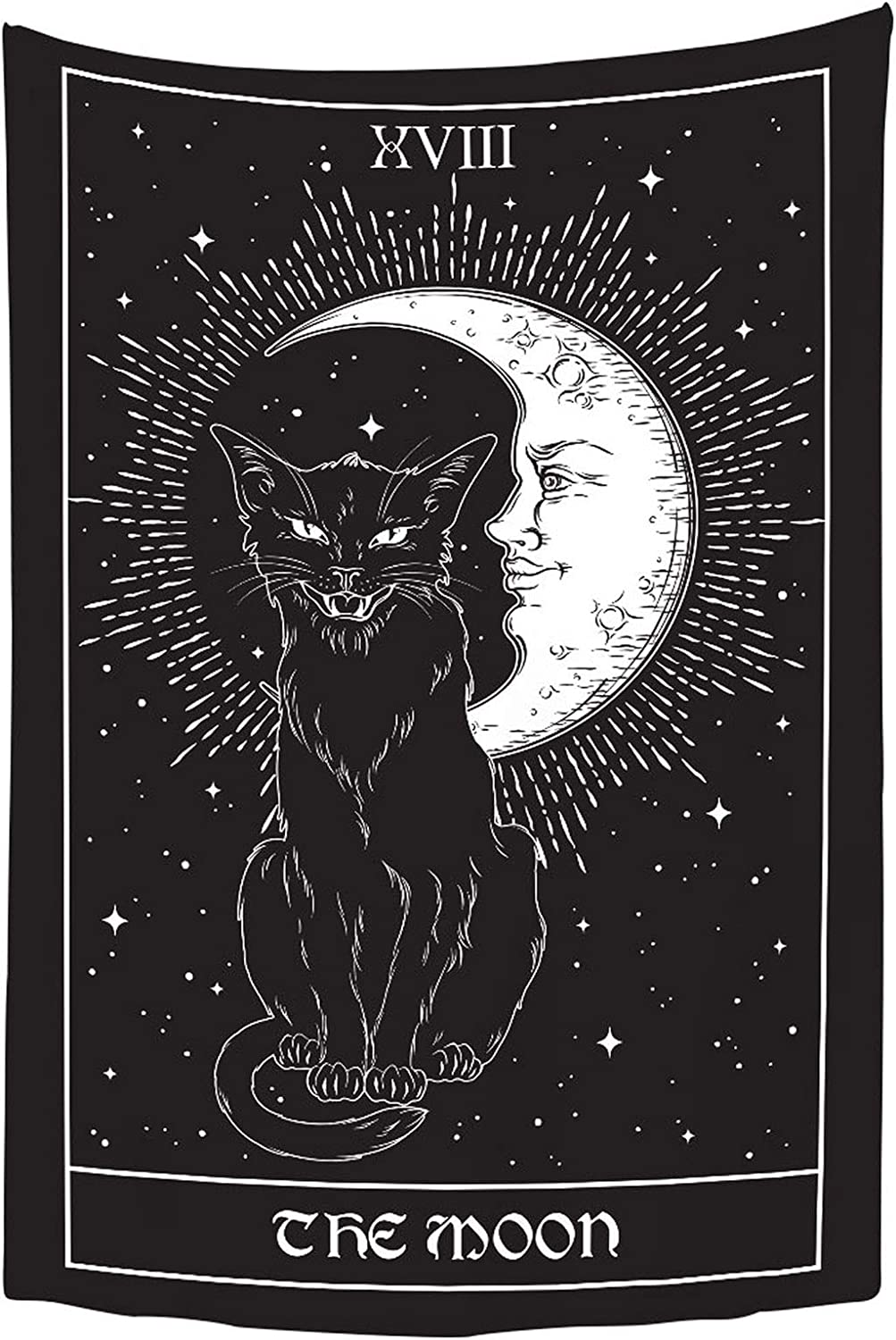 As a cat lover, I am a big fan of Tarot decor that incorporates our feline friends into the imagery! This wall hanging takes the Moon Tarot card and creates a gothic spin on the imagery. It is made out of polyester, which means it is soft, lightweight, and easy to hang up wherever you want.
It comes in two different sizes, and both are pretty big! Perfect if you have a space on your wall that needs something magical.
Pros
Affordable
High-quality print
Lightweight
Interesting design
Cons
Artwork vastly different from the traditional Rider-Waite imagery
I love the vivid colors on these three Tarot tapestries. They have the original Rider-Waite imagery, but the colors are bold and richer. I love the oranges and greens used in the artwork!
These wall hangings come as a set of three, which look great hung up together. I like the addition of the tassels, and the tapestries are made out of high-quality linen.
Pros
Affordable
Bright colors
Sturdy material
Cons
Only available as a set of three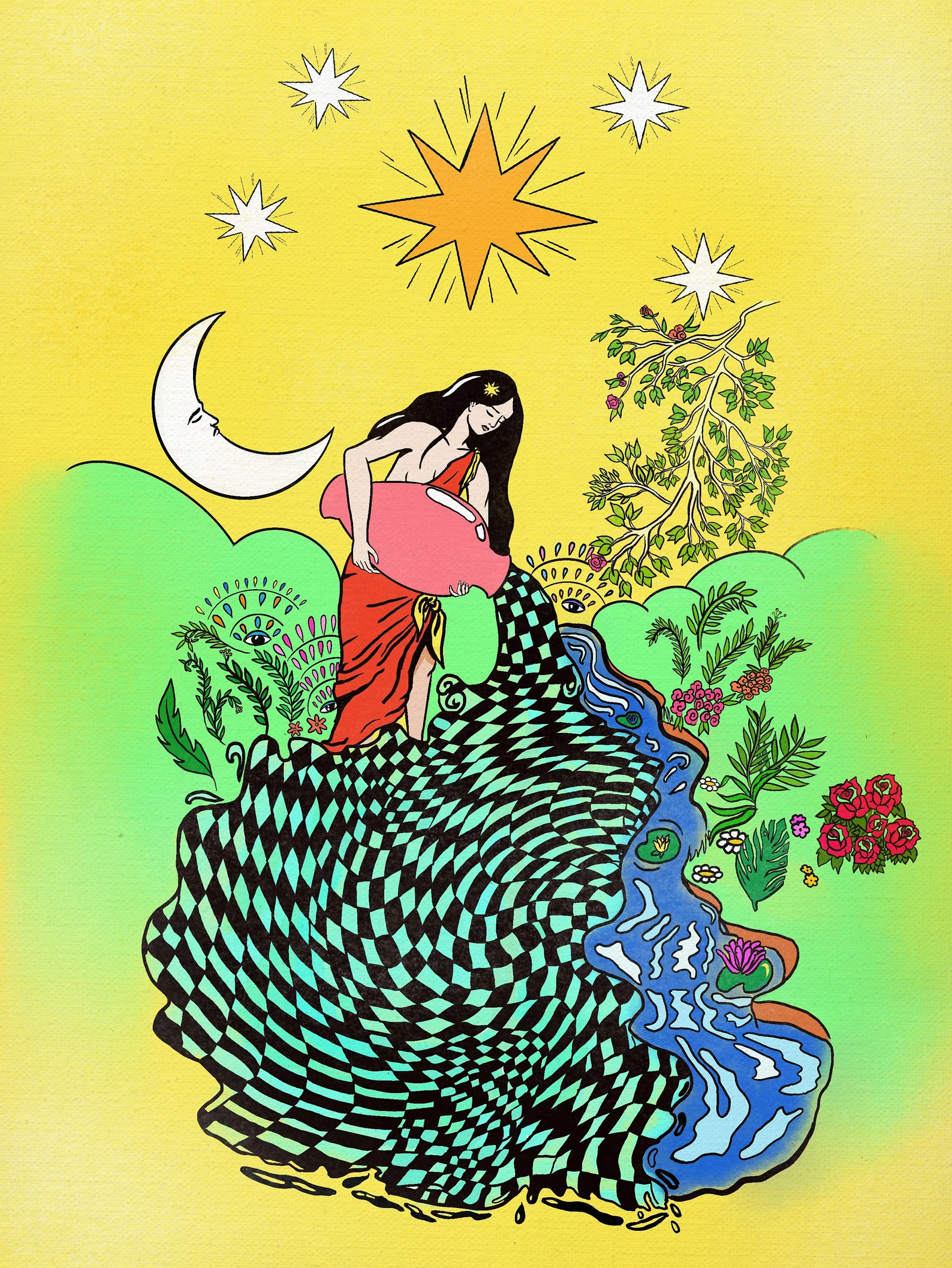 There are so many fantastic Tarot posters to choose from, and I love the up-and-coming artists that put their own take on the Tarot! Let's look at my favorite Tarot posters and prints available right now.
This Tarot print comes from the artist Kawtar and is a beautiful take on the Star Tarot card. The Star is actually one of my favorite Tarot cards, as it's full of energy, hope, and creativity. It always seems to cheer me up when I pull it in a reading!
I absolutely love this bold, poppy twist on the Star. It uses the original themes and symbolism of the Star but has a psychedelic, colorful vibes.
Pros
Sold by the artist
Pop-art take on the Star Tarot card
Available in three different sizes
High-resolution print
Cons
Doesn't come with a frame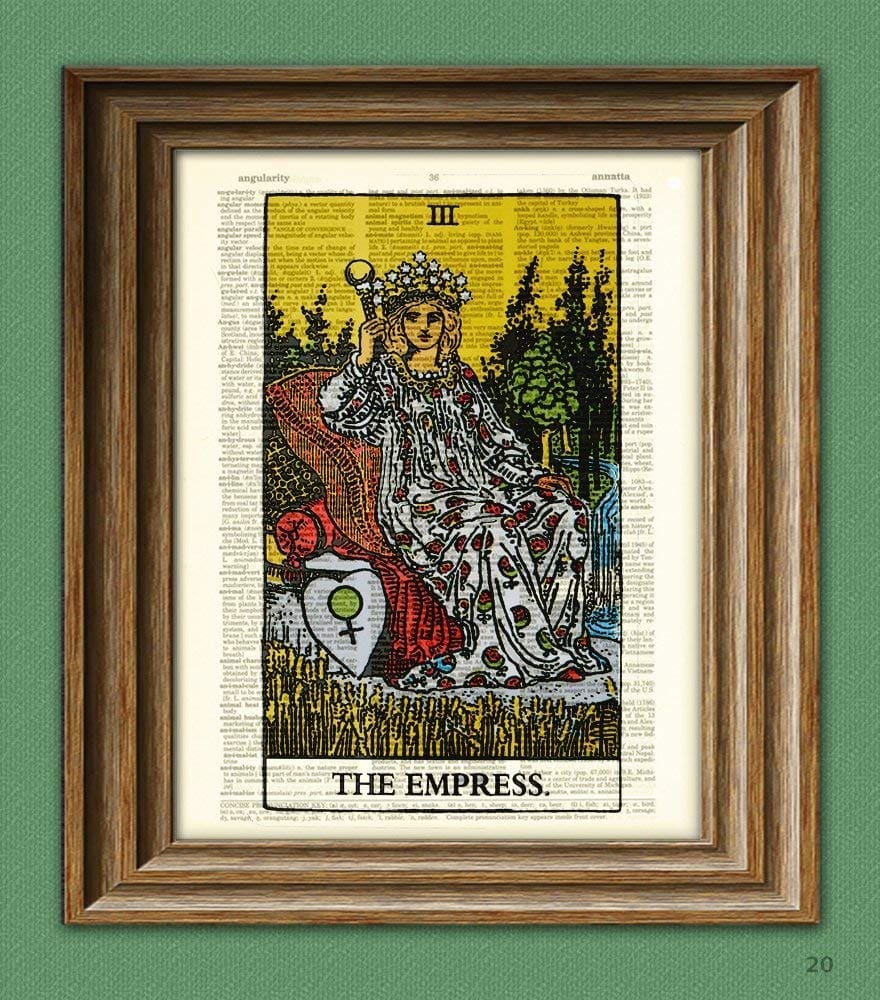 The creators behind this artwork take old books left to be destroyed and upcycle them. They get old dictionary pages and print the Empress artwork onto them, creating a unique poster!
I really like the vibe of the artwork, and the DIY feel to it. It is something different but still keeps the energy of the Empress at the forefront of the design.
They also have other Tarot cards available on their Amazon store, too!
Pros
Uses upcycled books
Has the Rider-Waite design on the artwork
Affordable choice
Cons
Only a small selection of Tarot cards available
Does not include the frame
Only available in one size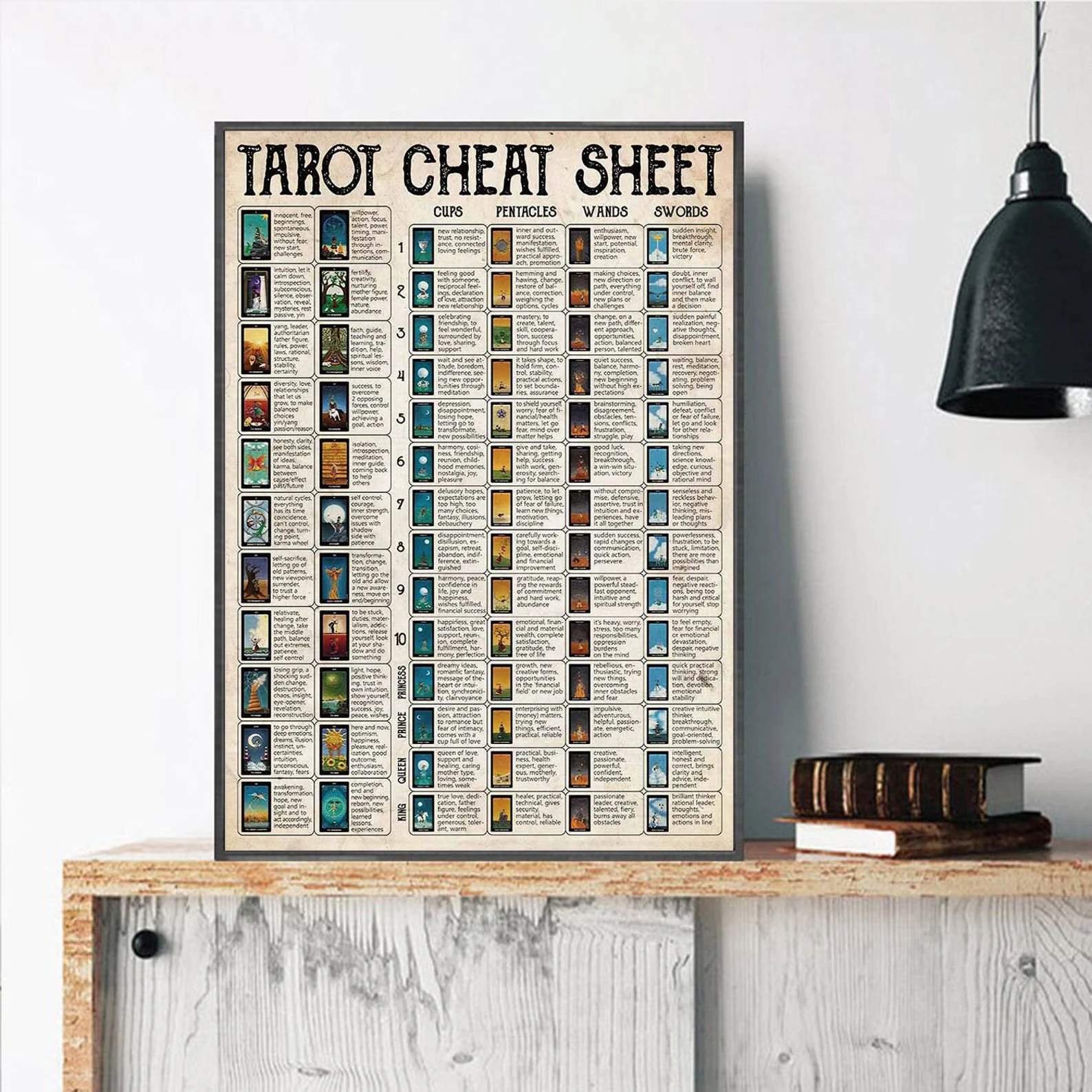 Ahhh, I wish I had this poster when I was starting out reading Tarot cards! This poster is not only beautiful, but it is super helpful to those who are starting out on their Tarot journey. It lists all 78 cards with keywords and artwork.
I like the poster's vintage feel, with its faded parchment-style background. It is also available in a range of sizes so that you can find the right one for you.
Pros
Lists all 78 Tarot cards with their keywords
Available in a range of sizes
Cons
Artwork on the cards, not the traditional Rider-Waite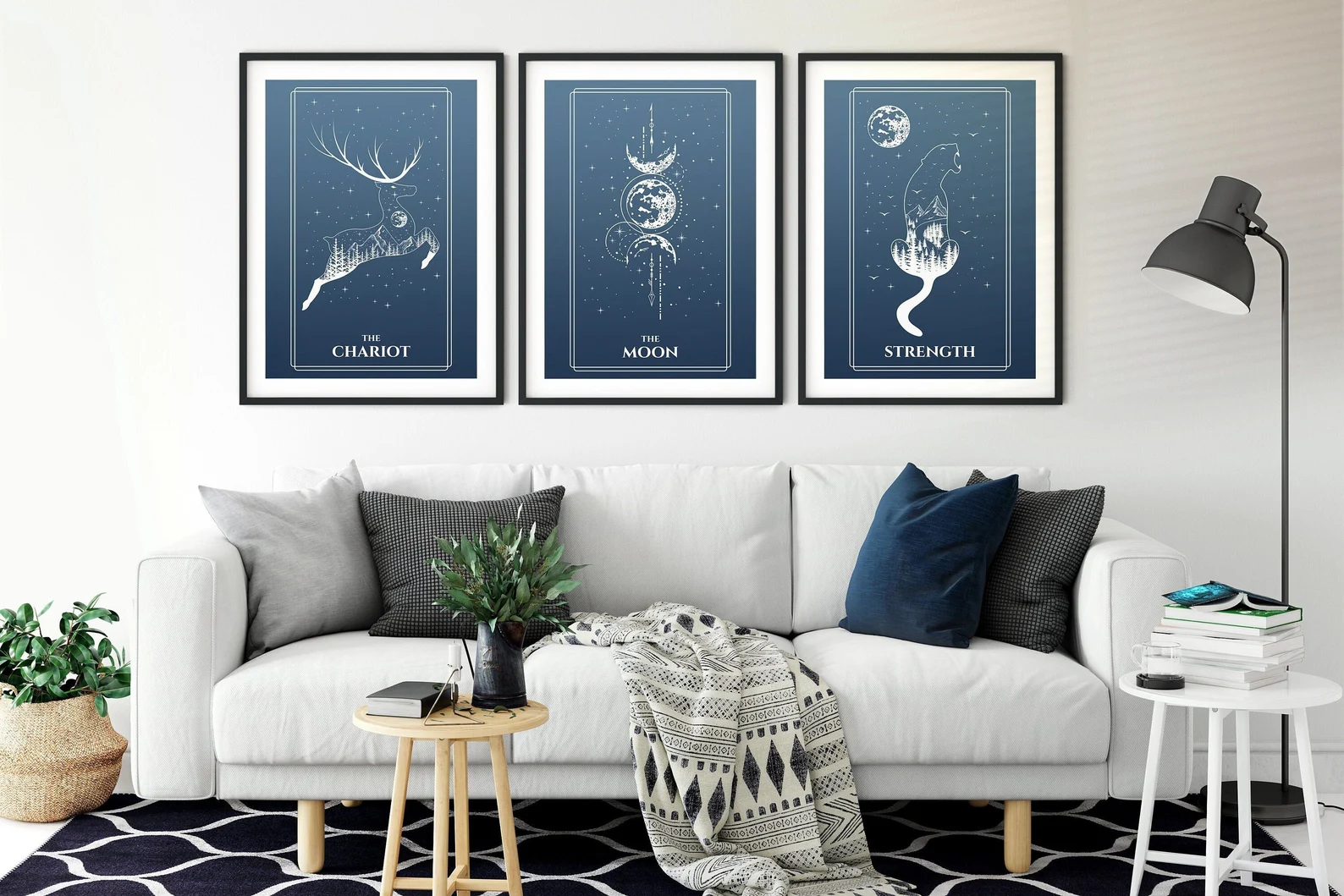 This shop has stunning minimalist art posters of all the 21 Major Arcana cards, and I am obsessed with them! They take the key imagery and symbolism from the original Rider-Waite deck and strip it back, creating a slick and modern feel to the artwork.
I love their take on the Hermit card, using his lantern as the basis of the artwork. The Chariot is beautiful too!
What I love about these posters is they are totally customizable. You can pick which colors you want on the posters, allowing you to get a piece that is perfect for your home!
Pros
All 21 Major Arcana cards available
Colors customizable
Minimalist take on the Tarot
Cons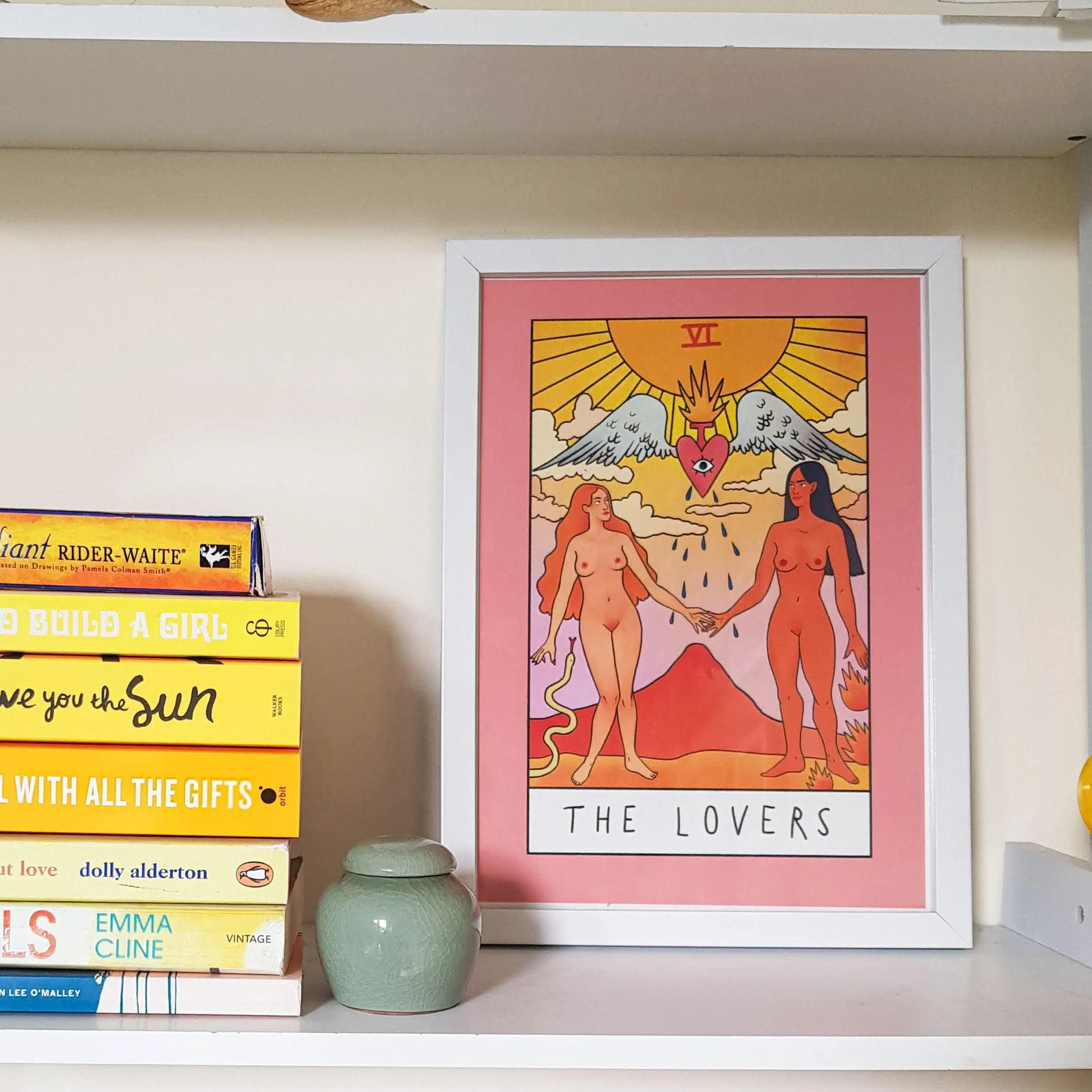 I am a big fan of this artist's take on the original Tarot cards. The Etsy shop is run by the artist, who updates the original Tarot imagery for a modern audience. I love the pastel colors used and the tender artwork. It is the perfect choice if you want to incorporate Tarot into your decor but want to keep your home modern and fresh.
I also really like how the two figures on the card are feminine. As a lot of the traditional Tarot imagery can be pretty heteronormative, it is nice to see LGBT people being represented in the Tarot.
The artist also has her own versions of other cards, such as Strength and the Three of Swords. Check the store out to see if they have your favorite card! I love her take on the Moon card, too.
Pros
Bought from the artist themself
Pastel colors
LGBT representation
Cons
Only available in one size (A4)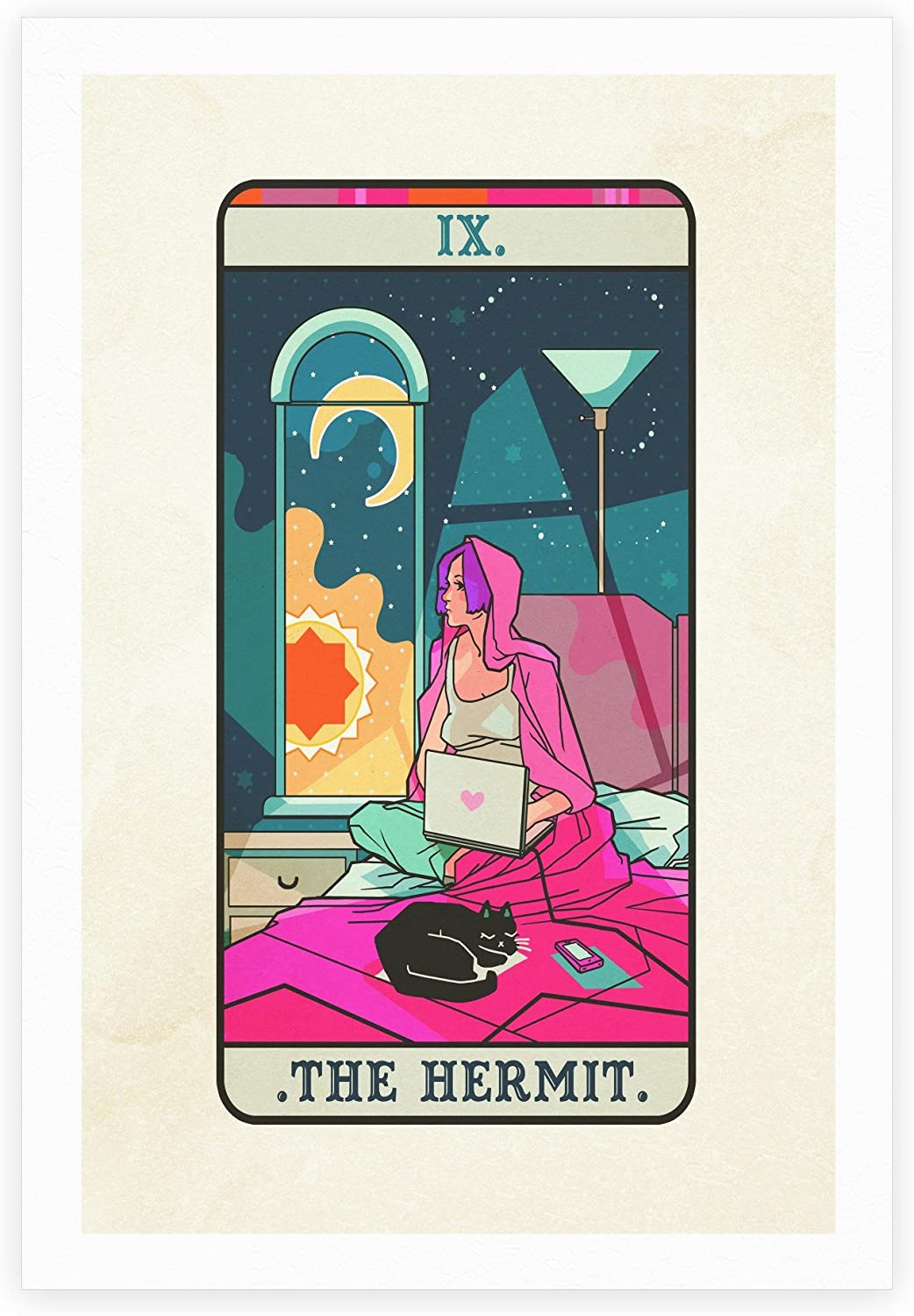 Another modern twist on the original Tarot imagery, I love this version of the Hermit card! As someone who sits in bed with my laptop and my cat a lot, it is cute to see a relatable version of the Tarot. We can still find enlightenment curled up with our favorite furry friend, right?!
I love the bright colors used in this poster and all the little details included.
Pros
Modern imagery
Bright colors
Affordable
Cons
Miscellaneous Tarot Decor
Finally, let's go through some Tarot decor that is a little bit different from your usual wall hangings or posters!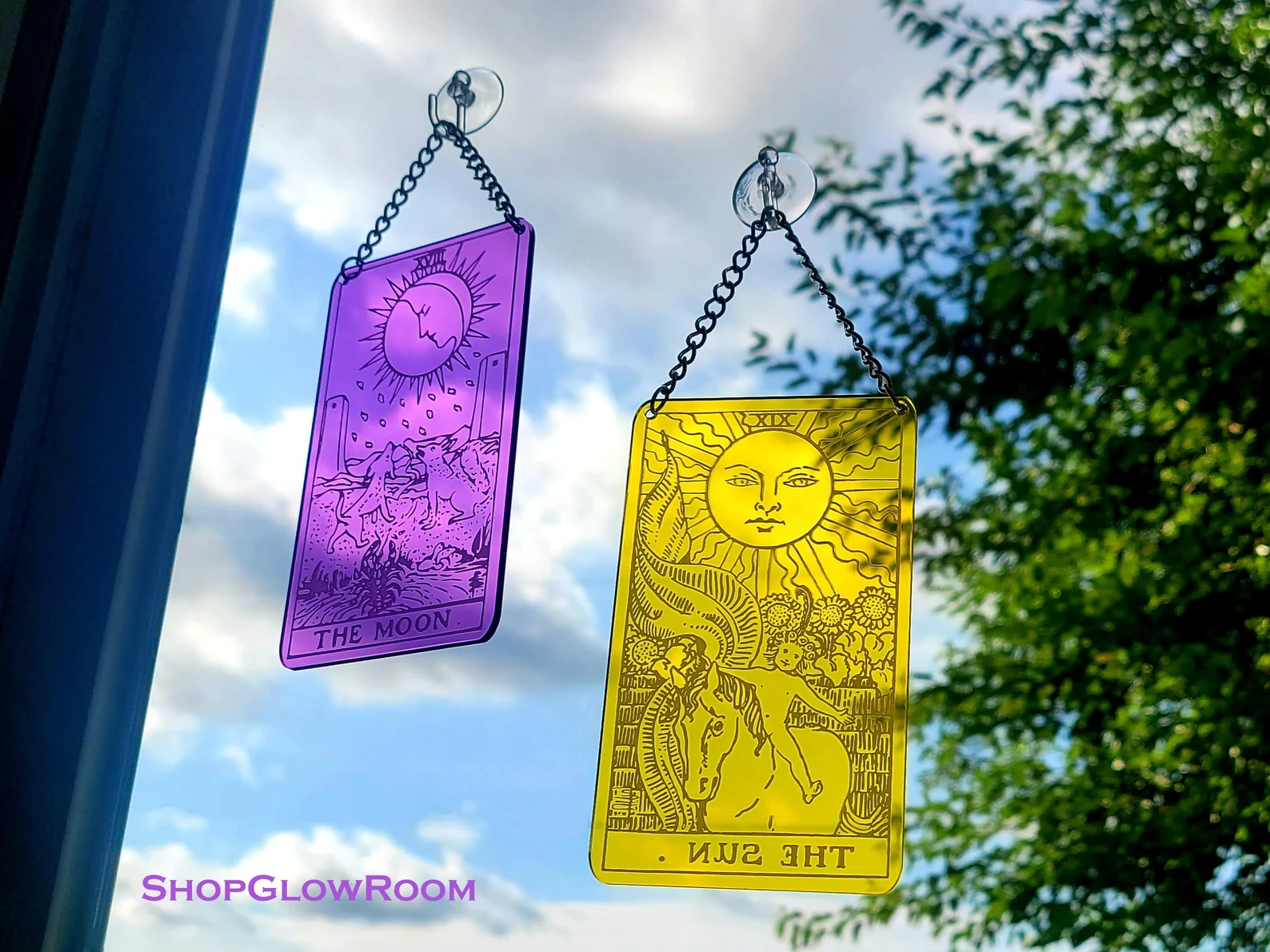 I really love this window art; it is unique and super interesting! The artwork from the Sun and the Moon Tarot cards are engraved on yellow and purple acrylic. Once hung up at your window, they reflect the sun or moonlight coming into your home.
The window art comes with chains and suckers to attach them to your window. The detailing on the art is fantastic, and I love how they allow you to connect with the outside world. They are a reminder of the powers of the sun and the moon in spirituality! Oh, and the business also does other Tarot cards, too. I really like the World and the Fool set.
Pros
Intricate detailing
Stays true to the traditional Rider-Waite designs
Small business
A range of Tarot cards available
Cons
You can't mix and match the Tarot cards or colors you want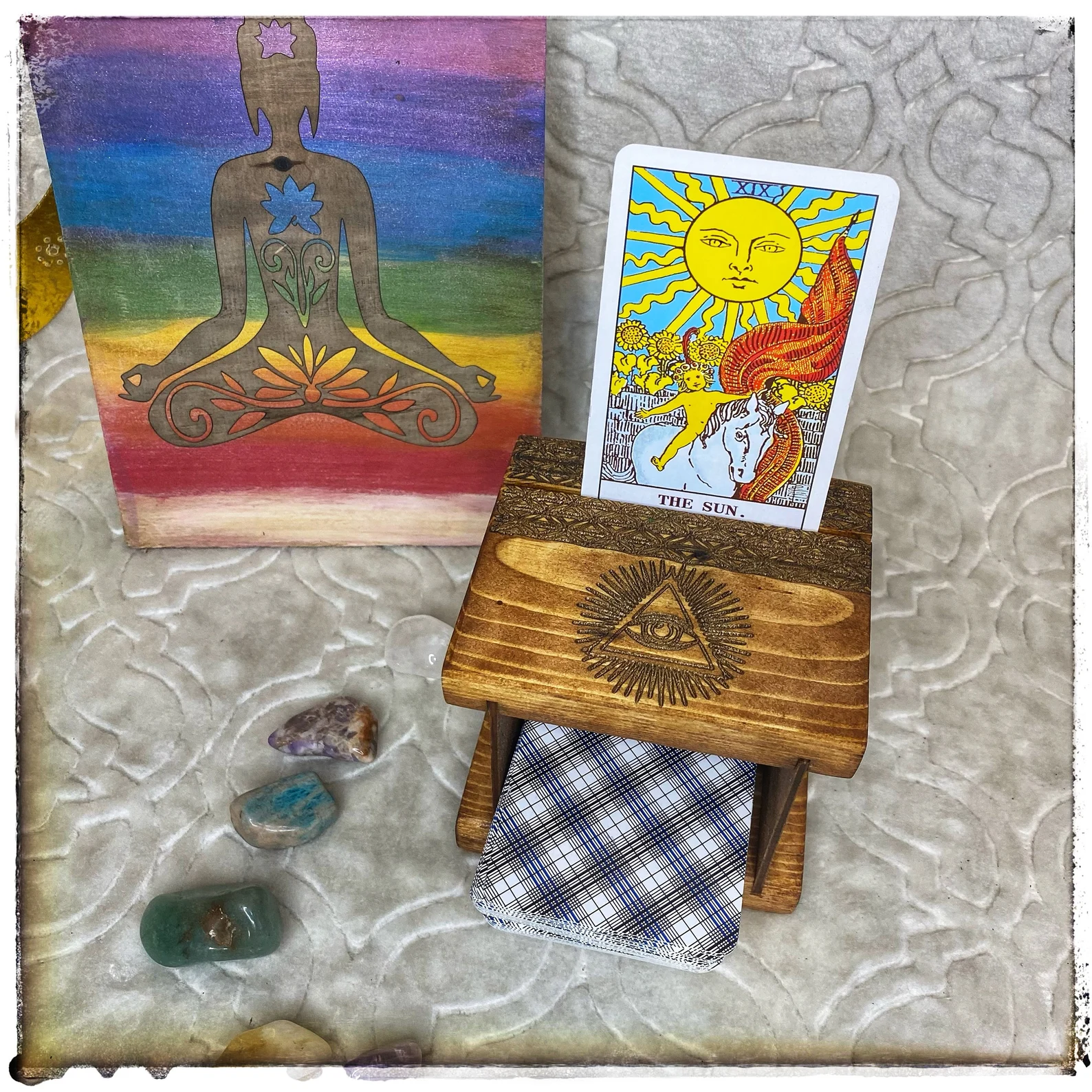 I am probably not the only Tarot reader who tries to pick a card a day but will always forget. Picking a card a day is a fantastic way of getting daily guidance and learning the different card meanings. However, if you always seem to forget to pick your card a day, have you thought about getting a cardholder?
Cardholders are a great way to allow you to pick a card each morning and have it on display for the whole day. It allows you to get into the routine of changing the cards every day.
This card holder is stunning, with the third eye symbol laser engraved on the box. The box is made from birch and pine, both of which have spiritual properties. Again, this product is made by hand and sold by the creator, which means we are supporting small businesses.
Pros
Small business
High-quality product
Perfect for picking a Tarot card a day
Detailed engraved designs
Cons
Might be too small for some Tarot decks (check dimensions before buying)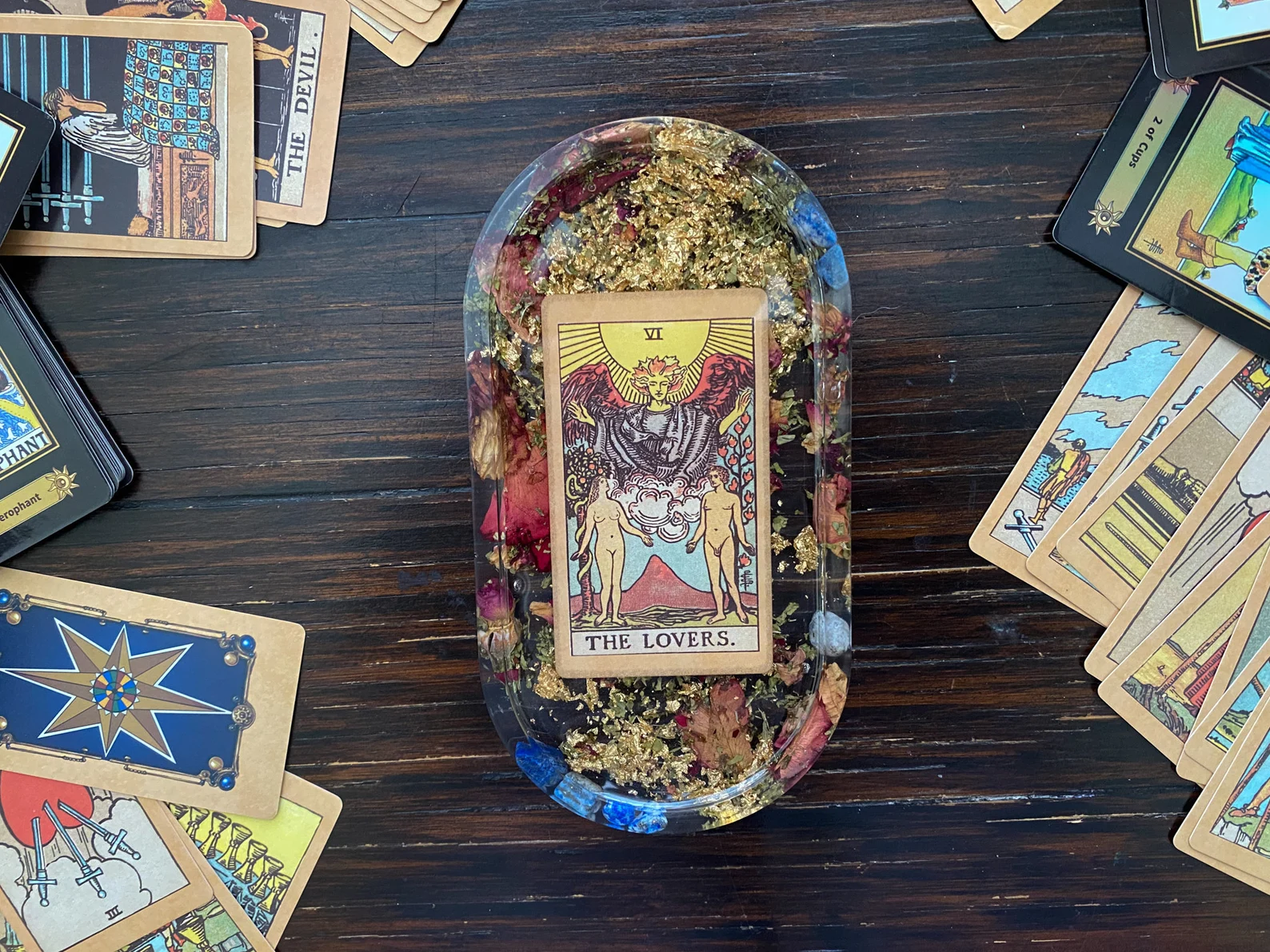 This truly is a unique choice for Tarot decor, and the idea behind it is beautiful! It is a floral jewelry tray, and you pick if you want crystals embedded into it. You then pick the style of deck you want for the card, but that's it! The actual card you will receive is a mystery and aims to give you guidance for your life right now.
I really like this, as it allows you to get fresh insight into your life with the Tarot card you receive. It is also beautifully made, with stunning floral designs embedded into the jewelry tray.
Pros
Feels very personal
Handmade
Includes an option to include healing crystals
Cons
You can't pick the card to include in the tray, which may be difficult if you are wanting to buy it as a gift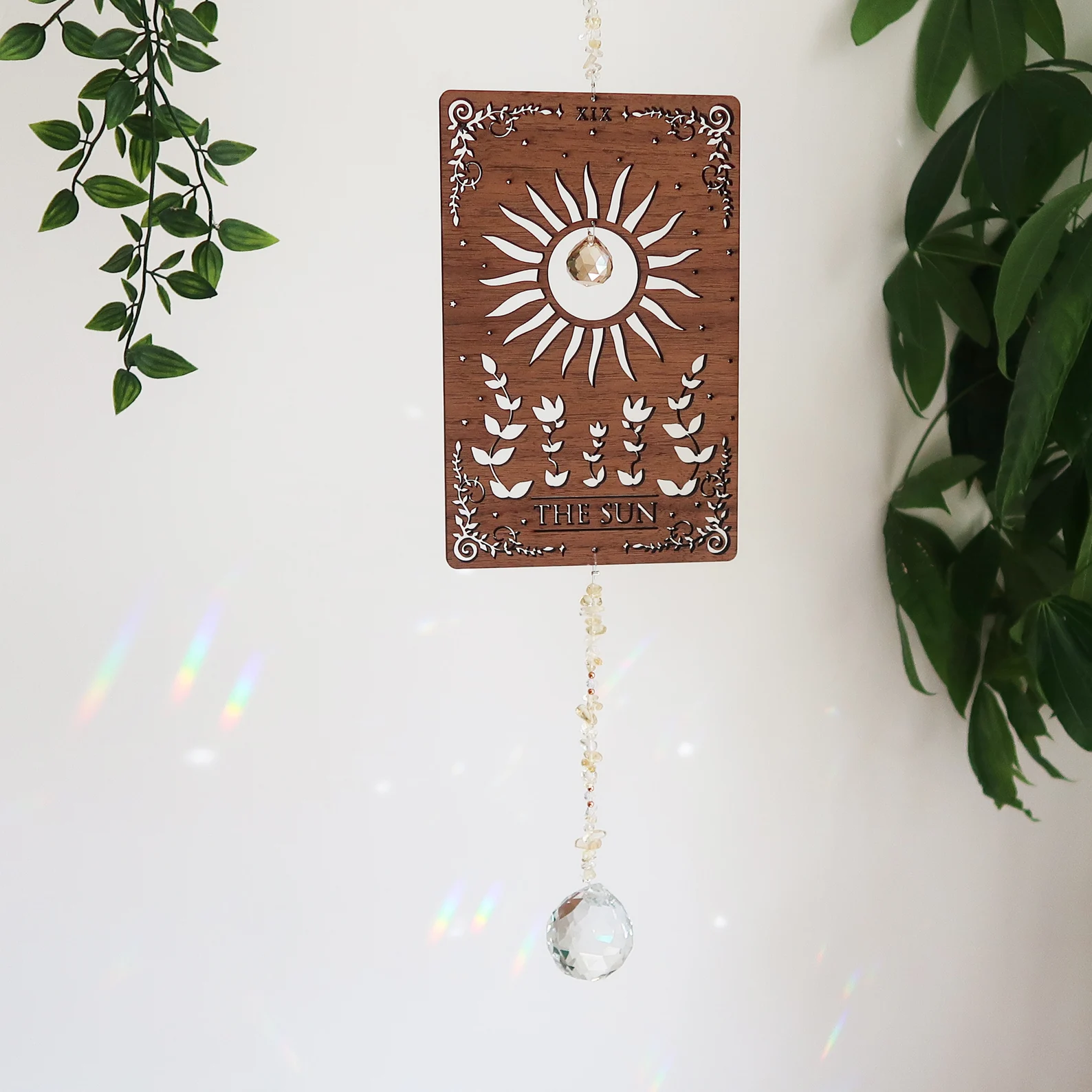 The Sun Tarot card has the energy of optimism, happiness, and success. It is a wonderful card and an excellent card to have hanging up in your home!
This Tarot suncatcher is impressive, using the sun's energy to enhance the Tarot card's spiritual meaning. The crystals on the catcher create sparkles around the room. Plus, the tiny citrine crystals that decorate the hanging allow you to manifest optimism and cheerfulness.
It is handmade and comes from a small business in the UK.
Pros
Handmade
Intricate detailing
Comes with citrine crystals
Cons
Only available as the Sun or the Moon
Tarot Decor FAQs
Let's look at some questions you might have about Tarot decor.
Question: Where can I Buy Tarot Decor?
Answer: There are loads of online stores with a range of Tarot decor available. I personally will always look to Etsy when wanting to buy artwork, as it allows me to support small businesses.
Question: Is it Okay to Have Tarot Decor in your Home?
Answer: Of course! Tarot decor can help us learn the cards and explore our spiritual connection with the practice. However, always be mindful of the energy of the Tarot decor before bringing them into your home.
Question: Can I put Tarot Cards on my Wall for Decoration?
Answer: Yes. Sticking up your favorite Tarot cards is a great way to enhance the spiritual vibes of your home.
Enhance Your Home With Tarot Decor
As a Tarot reader, I love the creativity and artistry of the practice. I always think that Tarot cards are their own little works of art, so it makes sense that we want to put them on our walls or use them for decor!
I hope you have found your perfect Tarot decor on this list. There are so many wonderful items to choose from! My favorite is the Tarot suncatcher. It is a stunning creation, allowing you to boost your positivity and optimism.
Which Tarot decor is your favorite?
Continue reading:
Hermetic Tarot Guide: Intricate Designs for Clarity and Simplicity
Birthday Tarot Spread Explained: How to Do The The Birthday Tarot
Best Tarot YouTube Channels to Follow: Top Picks for Clear Readings