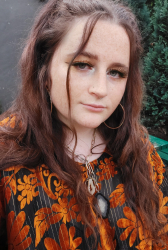 Latest posts by Lou Siday
(see all)
As a Tarot reader, I tend to stick with decks based on the Rider Waite imagery and symbolism. I began reading with one of these, and the majority of decks out there fall into this category.
However, there are other types of decks that are older than the original Rider Waite and can be used for divination purposes and spiritual guidance. One of these decks is the Tarot de Marseille deck. Dating back to the 1600s, it was first created for Tarot card games but was soon used for divination.
As one of the oldest Tarot decks in the world, I was excited to get my hands on an updated and restored deck to review. In this article, we will be reviewing the Nicolas Conver Tarot de Marseille by Artisan Tarot.
Will I be able to connect with the cards? And what are the differences between a traditional Tarot de Marseille deck and a traditional Rider Waite deck?
Bottom Line Up Front
The Nicolas Conver Tarot de Marseille by Artisan Tarot is a great tool for getting to know the Tarot de Marseille style of deck. It is fun to see how Tarot cards were back when they were used for games, and the deck is easy to read. It is a little bit of Tarot history, and I love having it on my altar.
However, at $53, it is a bit expensive for what it is. There is no guidebook with the cards, which would help a newbie to Tarot de Marseille (like me) understand what the deck is all about! Yet, it is important to remember that this money is going to a company who are working hard to restore decks that, without them, may be lost in time.
What is the Nicolas Conver Tarot de Marseille Deck by Artisan Tarot?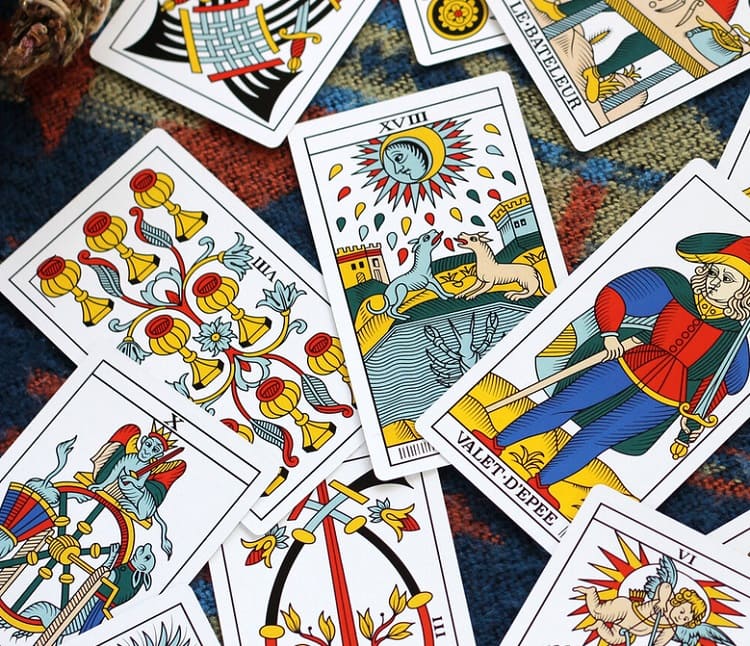 Before diving into the deck review, I want to pause for a little history lesson. The term Tarot de Marseille refers to a style of deck that was first developed in France. Back before we used Tarot for reflection and guidance, people used the cards for games.
The game first appeared in the early 1400s in Italy and spread across Europe. These decks had four suits and 'trump' cards, which were the Fool, the Magician, and so on.
In the 17th and 18th centuries, Tarot decks in the Tarot de Marseille style became extremely popular for games. Then, in the 18th Century, people began using the cards for divination purposes, with occultists Antoine Court and Jean-Baptiste Alliette using the Tarot de Marseille. The cards were assigned meanings, and the suits assigned themes.
Since then, Tarot reading has spread across the globe, and many new decks have been created for the purpose of divination. Yet, as a Tarot reader, I think that knowing the history of Tarot and exploring the early decks can really help our readings gain depth.
Who are Artisan Tarot?
So, we know that Tarot de Marseille was a popular style for Tarot decks over 200 years ago. However, it can be difficult to buy high-quality decks in this style. Here is where Artisan Tarot comes in.
This company was founded in 2019 and aims to restore historic decks for a modern audience. They take old Tarot de Marseille decks and redraw and recolor the imagery, keeping the magic alive one deck at a time!
Now, I think what they are doing is pretty cool. I've always known about the Tarot de Marseille and have been intrigued. However, I have never known where to shop for this type of deck. By restoring these decks, Artisan Tarot is keeping the history of Tarot available to readers like me.
Nicolas Conver Tarot de Marseille by Artisan Tarot Deck Review
The Tarot de Marseille deck I have got my hands on is the Nicolas Conver version. I won't lie; I don't actually know the differences between each Tarot de Marseille deck. Up until recently, I thought it was a specific deck and not a style of deck. Every day is a school day, right?!
According to the Artisan Tarot website, this deck was produced by Nicolas Conver in 1790. It sounds like a good place to begin my first steps into the world of Tarot de Marseille! Let's get into it.
Initial Thoughts
The Tarot deck came in a cardboard box that opens at the top, much like the boxes you get for decks of playing cards. The packaging didn't inspire me that much.
I usually keep my cards in the original box, and so I prefer something sturdy and, dare I say it, good-looking for my altar. However, as this deck was initially created for games, it makes sense that it is packaged as such.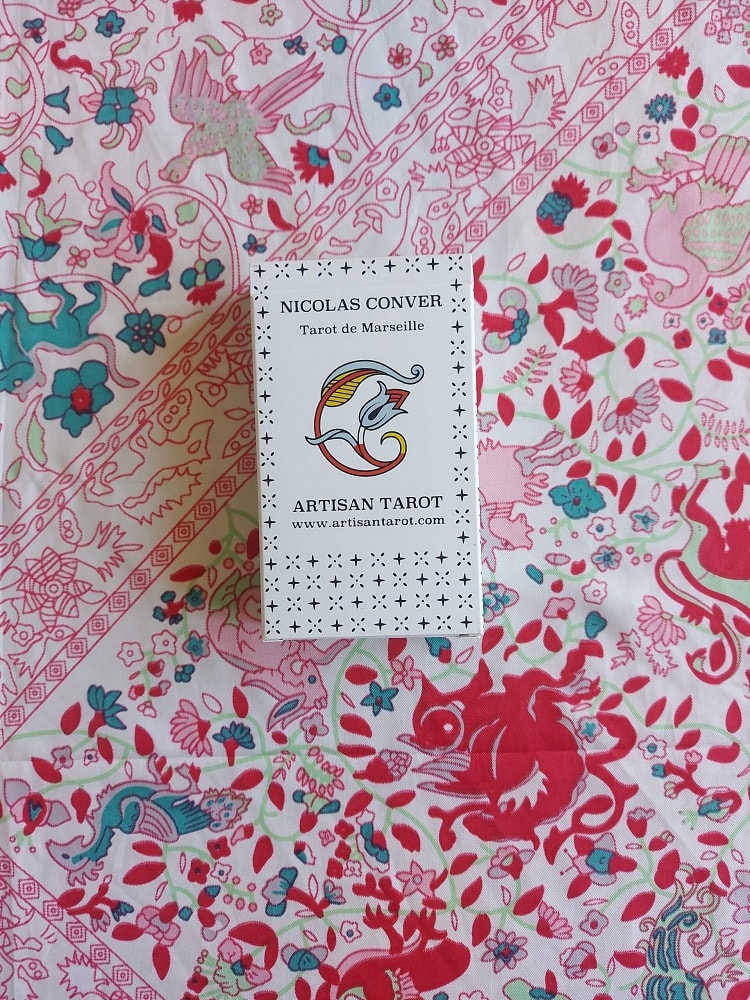 There is no guidebook for this deck, but it contains a card telling us that we can join their newsletter to learn how to read the cards. Again, I didn't feel too inspired by this. I don't want to have to sign up for emails to understand a deck I have bought – I want to sit down with the guidebook and really get into the vibe of it.
However, I do keep reminding myself that this deck is unlike the usual ones I work with. It is a Tarot de Marseille deck, not a Rider Waite! However, as it is so different from my usual cards, I kind of need a bit of guidance.
Cards
Okay, I was a bit put off by the packaging and lack of a guidebook. But what about the cards? This is what Tarot is all about – these 78 beautiful cards that provide guidance and understanding.
When picking up the cards, I first thought that they were a bit flimsy and a bit… slippery. They would slide everywhere, and I ended up with them all over my floor when I first started looking through them!
However, I started to like this. I don't know, but it felt like the cards had a certain playful energy to them. I would place the deck down, and a specific card would jump out to me.
The cards were really fun to look through. I enjoyed seeing the Tarot cards I know and love so well as their older pre-Thoth, pre-Rider-Waite selves.
The imagery of the major arcana cards is really similar to the types of decks I work with but with a medieval jester vibe. The Hermit has his lantern, and the crayfish is wandering ashore on the Moon card.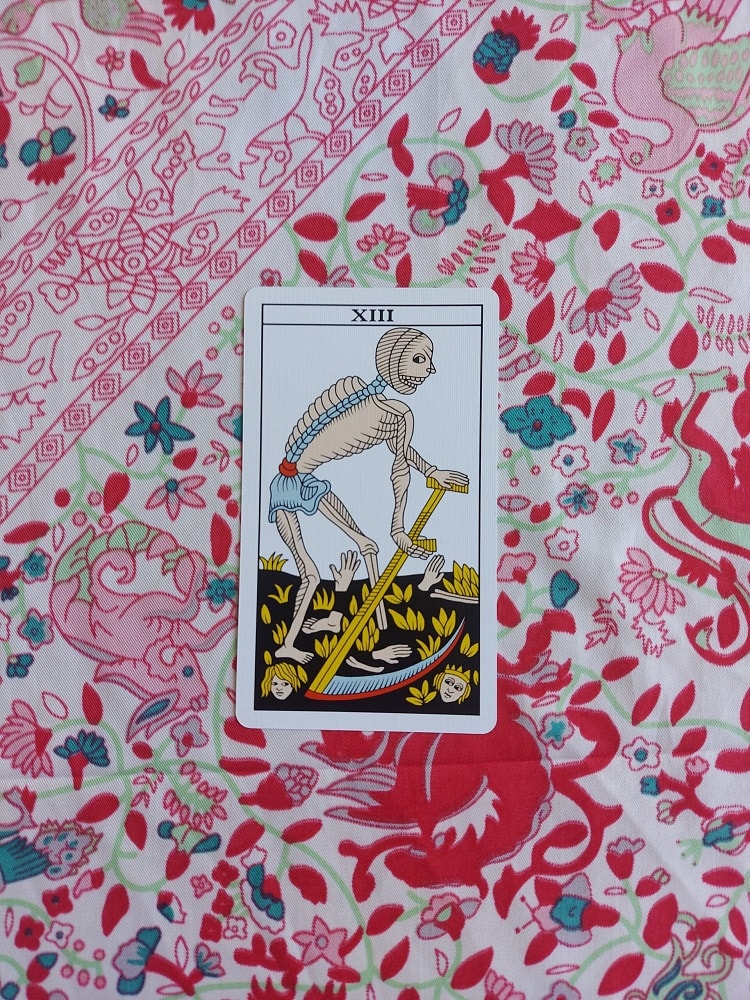 Then, we have the minor arcana cards. These cards have no characters on them and are much more like playing cards than the major arcana. They have a number in Roman numerals and pips to show us which card it is.
Okay, this daunts me. I am so used to Rider Waite decks and reading from symbolism and imagery I do worry that I would find this deck difficult.
It must be said that the restoration of each card has been done beautifully. The creators have clearly worked hard on doing this, and I am grateful they have! It's exciting to see and get to know the cards from history and explore their energy.
Key Cards
So, what cards did I love in the Nicolas Conver Tarot de Marseille deck? When flicking through the deck, I decided to take out my favorite Tarot cards and examine them.
A favorite card of mine is the Sun. This card reminds us to live each day with gratitude and positivity and see the world through the eyes of a child. Awe and wonder are all around us, and the Sun card helps us find it.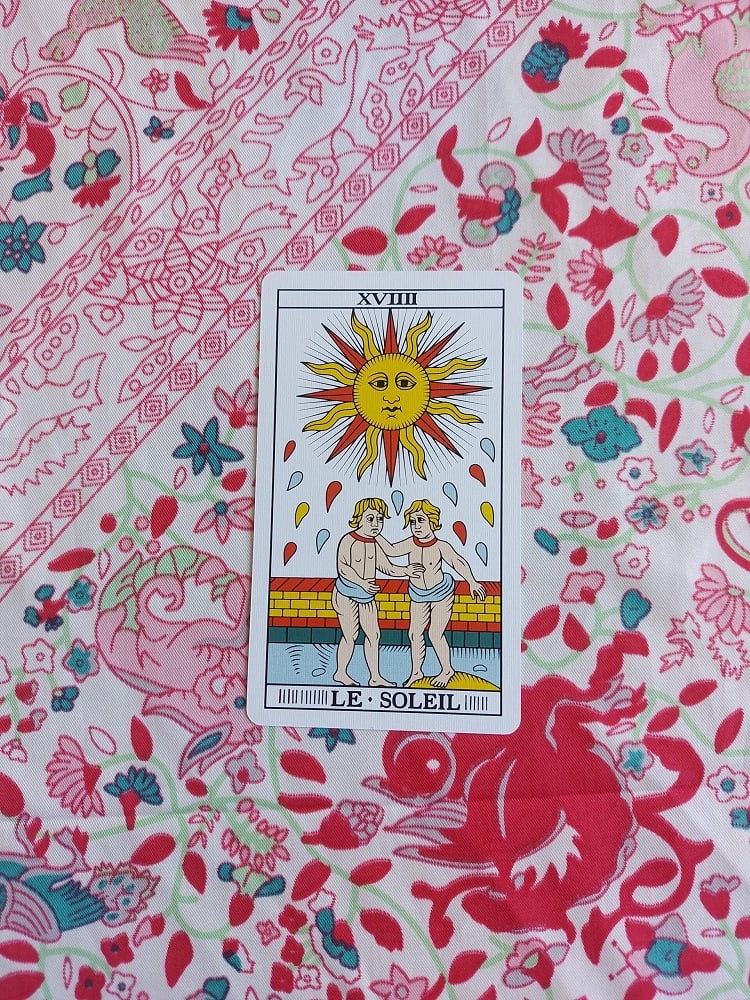 I did laugh a bit when I saw this card. Why are these characters so sad? Are they supposed to be adults or children? Why do they look so haunted? To be honest, everyone in this deck looks a bit haunted.
And you know what, I kind of love it! It's a bit like when you go to an art gallery full of Renaissance paintings, and all the babies look middle-aged. This deck comes just after the Renaissance period, so I guess the timeline fits!
The sad, forlorn characters also stick out on the Lovers card. Instead of the usual couple we see on a Lovers Tarot card, there are three people here, all looking a bit upset. What is the juice? What has happened in this 18th-century love triangle?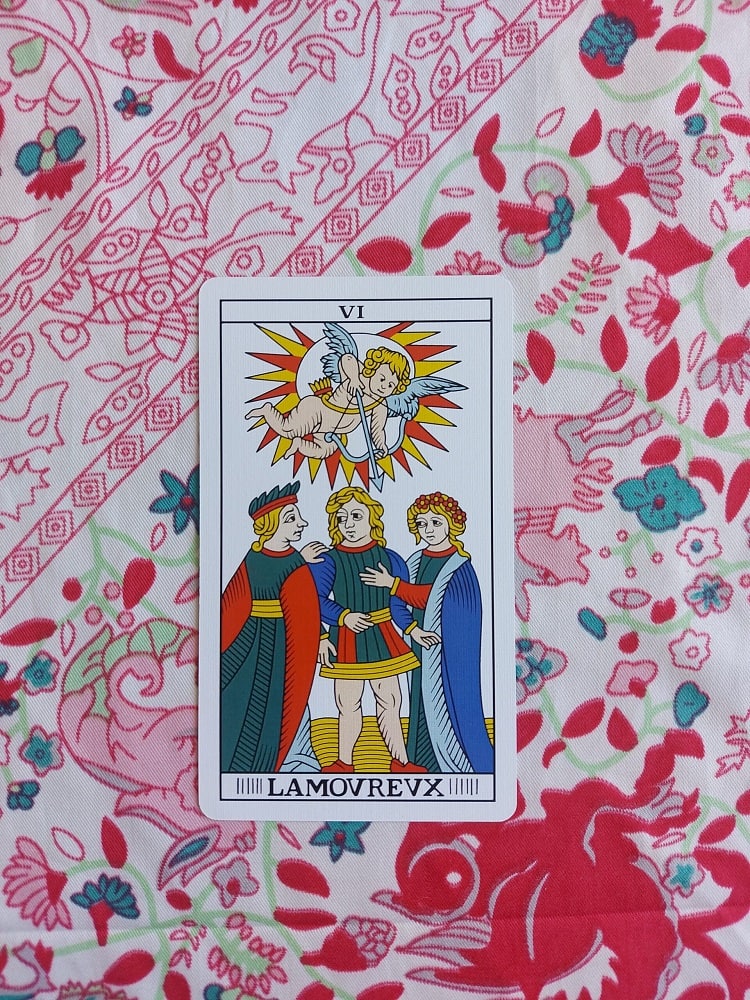 Again, I love this because this is history! This is what art was, and this was what Tarot was. Step aside cute cats on Tarot cards; the OG characters are coming through and smashing it.
I really enjoyed the Death card in this deck. It is so spooky, depicting a skeleton with a scythe standing upon a black sea of limbs and heads. Nicolas Conver knew how to do goth, right?!
Reading With the Nicolas Conver Tarot de Marseille by Artisan Tarot
So, I loved looking at the cards and seeing how Tarot was back in the olden days. But could I read from this deck? Or is it simply a snapshot of Tarot history to have on my shelf?
As its a Monday, I decided to go for a three-card week-ahead spread. The three cards pulled refer to:
Card one: Love for the week ahead
Card two: Career and money for the week ahead
Card three: Home and family life for the week ahead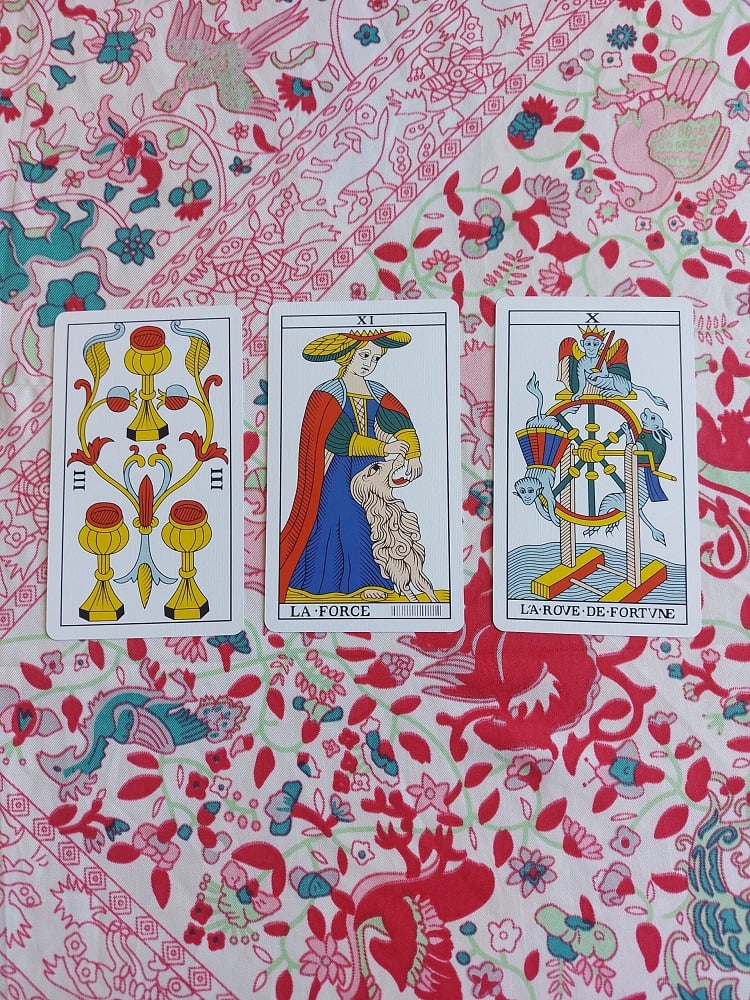 For the first card, I received the Three of Cups. Straight away, I smiled, knowing exactly what it meant for me. A card all about friendship and support, I saw that it represented my friend who is currently going through a difficult time.
However, the love we share is helping her get through it. She has been on my mind for the last few days, and I know she needs me. Thankfully, she is coming over tomorrow for a girly night of fun and pampering!
For the second card, I received La Force, or Strength. This was strange to receive, as only this morning, I was editing the manuscript for my first novel. I was feeling mixed emotions.
I am working hard on it, but I feel that it is not good enough to send out to publishers. This card is telling me to go for it. To tap into my strength and courage and make the big steps towards my goals.
For the last card, I received the La Roue de Fortune (the Wheel of Fortune). A card of change, luck, and karma, the Wheel of Fortune asks us to trust in the universe and let things happen.
As a major arcana card, it suggests that I am at a pivotal point regarding home and family… and I am! I have recently moved in with my partner, and this is obviously a significant change.
I was pleasantly surprised with the spread I did with the Nicolas Conver Tarot de Marseille deck. I was worried that I wouldn't be able to get answers and guidance because it was so different from what I am used to. But I did.
The cards reflected where I am in life and helped me gain perspective and understanding of what is important and what I need to focus on.
Overall Thoughts on the Nicolas Conver Tarot de Marseille by Artisan Tarot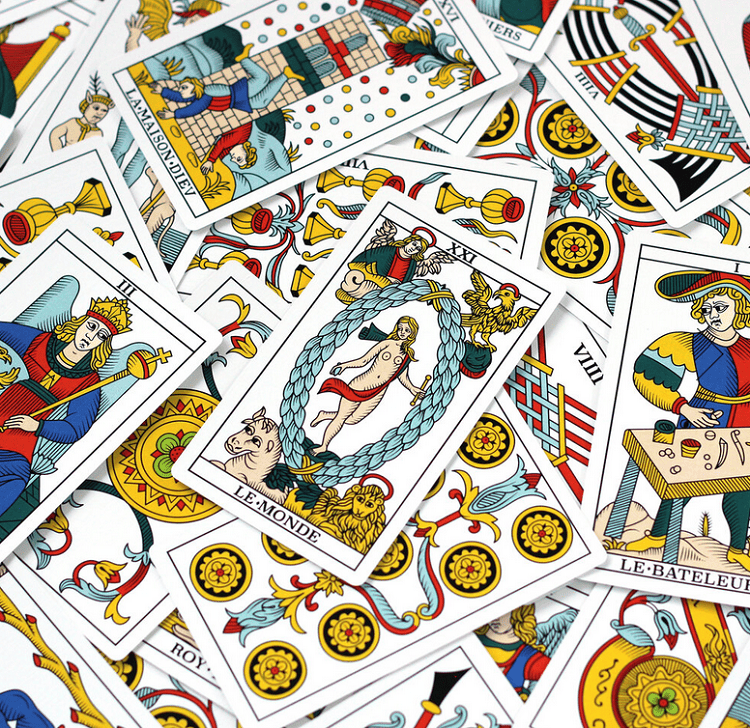 Despite my initial disappointment regarding the lack of a guidebook and packaging, I really enjoyed getting to know the Nicolas Conver Tarot de Marseille deck. The cards are well made and well done, and I found it easy to work with to get guidance.
However, at $53, is it worth buying?
Honestly, probably not – unless you read from Tarot de Marseille or want to begin to. I probably won't use this deck that much. It is just not my style, and the minor arcana cards put me off.
However, if you are into this style of deck, you may want to consider it. The cards are beautiful, and you are able to work with them just like any other deck. Furthermore, what Artisan Tarot is doing is really cool, and they deserve the support in keeping ancient decks alive!
Pros
A beautiful restoration of an 18th Century Tarot deck.
Bold colors and design.
Cards are easy to read and understand.
Cons
Alternatives we Recommend
If the Nicolas Conver Tarot de Marseille isn't for you, but you still want to explore the Tarot de Marseille style, there are other decks out there that may be perfect for you! Here are our recommendations.
Major Tom's Tarot of Marseille Deck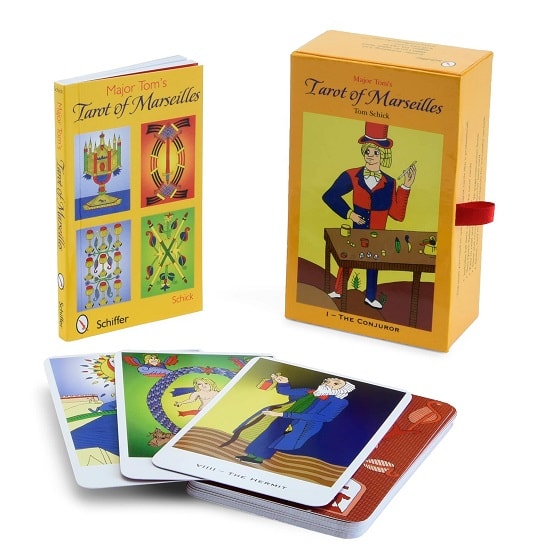 Major Tom's Tarot of Marseille Deck is a modern interpretation of the original Tarot de Marseille style, using bold colors and fresh imagery to help you connect with the cards. It comes with a detailed guidebook. Plus, each card has its name on the bottom of it, so you don't need to understand Roman numerals to work with it!
Golden Marseille Tarot Deck
The Goden Marseille Tarot deck updates and restores an original deck from 1751. It is a beautiful deck with fantastic colors and imagery. Oh, and the kids on the Sun card look a bit cheery this time!
Squid Cake Marseille Tarot Deck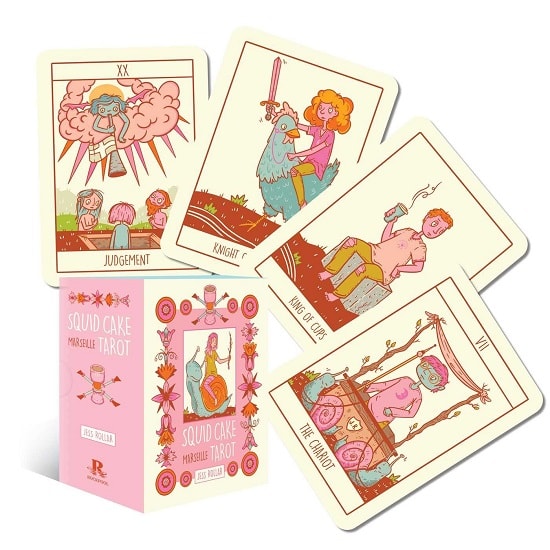 The Squid Cake Marseille Tarot Deck is perfect for newbies, with stunning pastel imagery and a detailed guidebook. It updates the original Marseille look with cute characters and gentle colors.
FAQs
Question: What is the Difference Between Tarot de Marseille and Rider Waite Tarot Decks?
Answer: Tarot de Marseille is simpler in design, especially regarding the minor arcana cards, whereas Rider Waite Tarot decks usually have more intricate designs. This means that Rider Waite decks usually rely on imagery and symbolism in readings. In contrast, Tarot de Marseille relies much more on your own intuition and gut feelings.
Question: Where did the Tarot de Marseille Come From?
Answer: Tarot de Marseille originally came from Italy in the early 15th Century and soon spread across Europe.
Question: How Many Cards are in the Tarot of Marseille?
Answer: There are 78 cards in the Tarot de Marseille.
Explore History with the Nicolas Conver Tarot de Marseille by Artisan Tarot
The Nicolas Conver Tarot de Marseille by Artisan Tarot is a fantastic exploration of an old Tarot deck, updating and restoring the original for the modern audience.
If you want to get to know the Tarot de Marseille style, this deck might be perfect for you! With popping colors and interesting imagery, it allows us to dive into the history of Tarot while receiving guidance from the universe.
Continue reading:
Cats Rule the Earth Tarot Deck Review and Guide