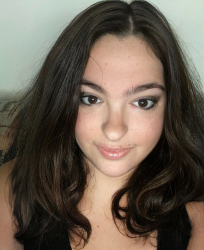 Latest posts by Amanda Martinotti
(see all)
Halloween has always been one of my favorite holidays. The crisp leaves crunching beneath your feet. The place where I live is decked out in spooky ornaments throughout the town. Who could resist all of those beautiful pumpkin spice lattes and desserts?
Another reason Halloween has so much significance for me is that it is a great time to pull some cards. As a devoted Pagan, the energy of fall is heightened around October. I believe that this is the most potent time of year to get guidance from our spirit guides and reconnect to our loved ones.
In this article, I will share with you my top four tarot spreads to celebrate Halloween. You'll also find a section with Halloween-themed tarot card reviews to help you tap into the energy of this spooktacular holiday!
Please note that this time of year is the most energetic in spirit communication, so you may want to wear an extra piece of black tourmaline or sage more often. 
Dress up in your favorite Halloween costume, grab a Scary Mary drink, wrangle a pumpkin spice latte and let's get ghoulish with the cards!
Want to enhance your tarot knowledge? Check out this course.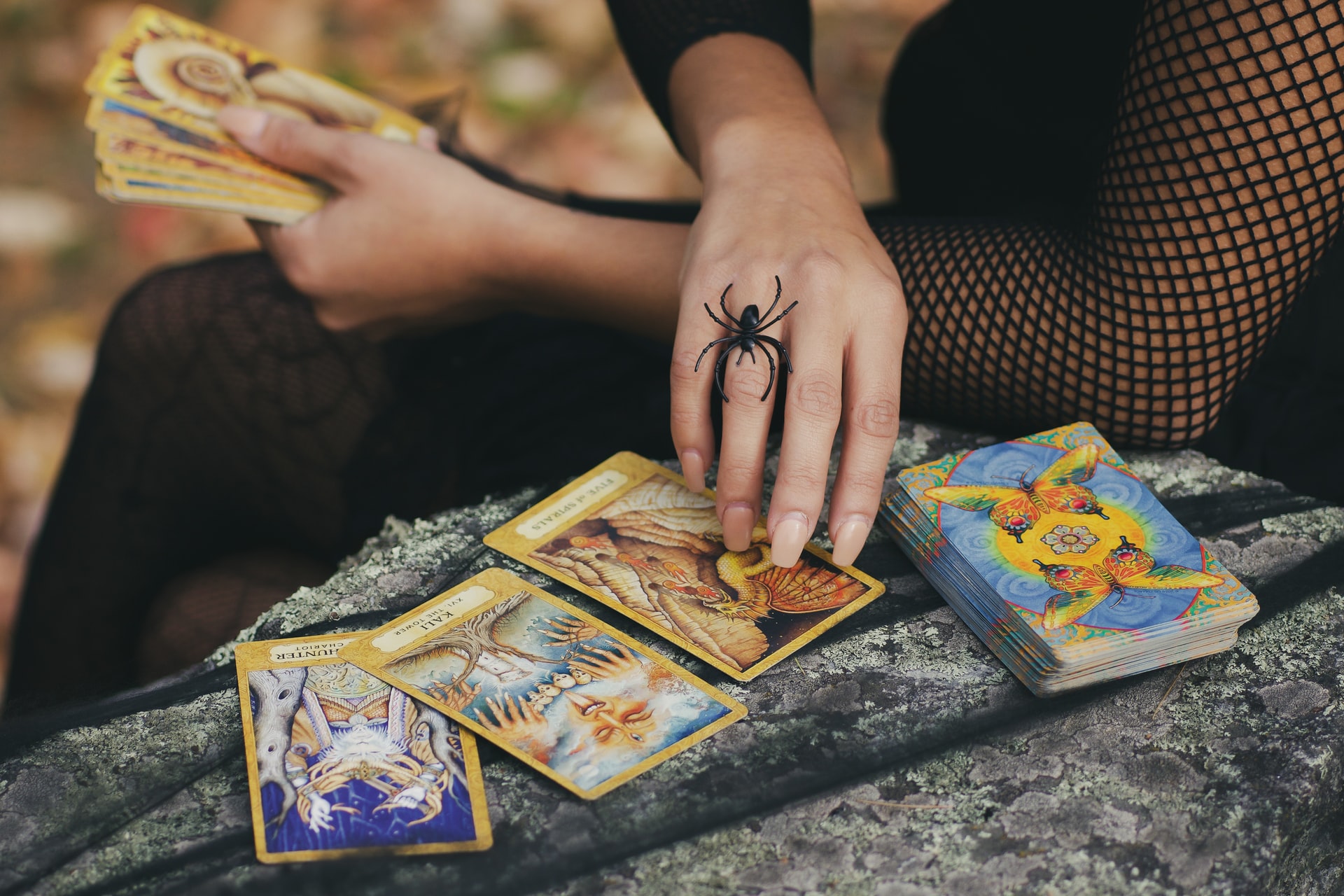 Selection Criteria
If you're shopping for a new tarot deck and want something that aligns with the festivities of Halloween, here are five decks to get you started, plus my favorite.
I chose these decks based on the following criteria: 
Ease of use– I wanted to feature four simple decks for a beginner yet still could offer the seasoned tarotistas the complex answers they seek.
Affordability- Some tarot decks can break the bank. I wanted to ensure that the four decks I chose would be under the $30.00 price range so that they are accessible to everyone.
Card Stock- I wanted to ensure each deck will last you for years! So I chose only the decks that have high-quality stock paper.
Halloween Themed- It wouldn't be a Halloween tarot guide without Halloween-themed tarot decks. So I ensured these four decks would connect to Halloween's magical, witchy, and eerie vibes.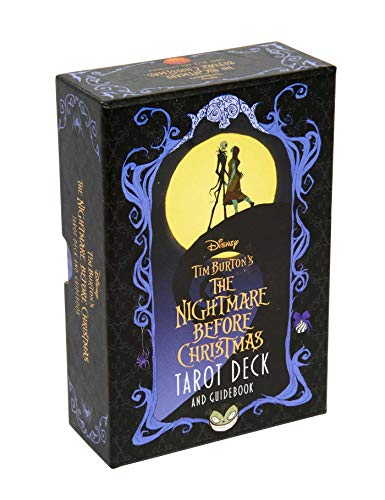 Who doesn't love this nostalgic Halloween movie? Take a journey through Halloweentown with Jack and Sally, and get guidance along your path with light from Zero's nose. But beware of Oogey Boogey and his 3 minions!
This 78-card tarot deck was designed by Minerva Singh to deliver a fun twist on the Rider Waite tarot deck.
I would suggest reading the guidebook several times to understand the symbolism in the deck. While it is based on the original Rider Waite tarot deck, the cards' meanings are slightly different.
For example, the suits of cups, wands, swords, and pentacles are replaced as follows:
Cups: Potions
Wands: Candles
Swords: Needles
Pentacles: Gifts
The card stock is excellent! These tarot cards will last you for many Halloweens to come!
Pros
Offers a ghostly twist on the traditional Rider Waite tarot.
High-quality card stock ensures your deck will last a long time.
Cards are more extensive than a typical tarot deck. If you like bigger cards for your readings, these are great!
Cons
It may take some time to bond and work with. These cards are different and may require a few weeks to get used to. You may want to order these cards a month early to become well acquainted with the deck before Halloween.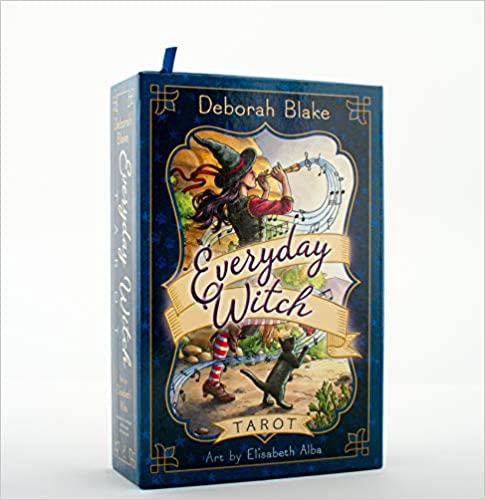 Stir the cauldron to dive deep into your soul with this witchtastic tarot deck! 
This one is another one of my must-have decks for Halloween. I love it because it's simple enough for beginners yet sophisticated enough for the experts. Plus, it captures witches in a positive and uplifting light. 
The card stock is not thick. However, I will say it still shuffles well. 
The cards are about the size of a playing card deck. They're great if you have small hands or are doing readings via TikTok, IG, or Youtube and want to show the audience the cards without risking chopping any of the cards off when you crop the image.
One of my favorite features about this deck is its beautiful starry background adorned with broomsticks and cats.
There is an image of a cat depicted in every appearance as well. If you are a crazy cat lady or know a friend who is, this deck could be a great gift!
Pros
Thin yet well-coated card stock ensures it lasts a while and is easy to shuffle.
Features cute hats and adorable witches on every card.
Easy enough for beginners. Yet complex for seasoned pros who want a deck with witchy energy.
Cons
This deck is probably not the best choice if you don't like cats or witches. 
Awaken the magic in you with the Everyday Witch tarot. Click here to learn more about this deck.
What better way to celebrate Halloween than with a tarot deck aligned with this festive time of fall?!
If you're looking for a creepy, freaky, and ghoulish tarot deck to party with on Halloween, you may love the Halloween Tarot Deck. 
The 78-card deck takes a scary twist on the traditional rider Waite deck.
I will say this deck is full of powerful and intense energy. You may not like this deck if you're looking for something mellow and light.
The traditional suits of the tarot are replaced as follows:
Bats: Swords
Ghosts: Cups
Imps: Wands
Pumpkins: Pentacles
I do suggest this deck for the seasoned tarot reader rather than a complete beginner. The images are a tad confusing, and the suits can throw you off if you are just beginning your practice.
On the flip side, these cards make a great aesthetic and serve as a great set of cards to read for a party on Halloween or to use in a mock haunted house. 
Pros
The cards give a very 1920s energy. This could be your deck if you're looking for something spooky and classy.
The cards are created after old Halloween horror movies. This could be the perfect deck if you want to give readings during horror movies at a Halloween bash!
Cons
This may not be a good choice if you have a tarot reading client who dislikes scary cards.
Learn more about the Halloween tarot deck here.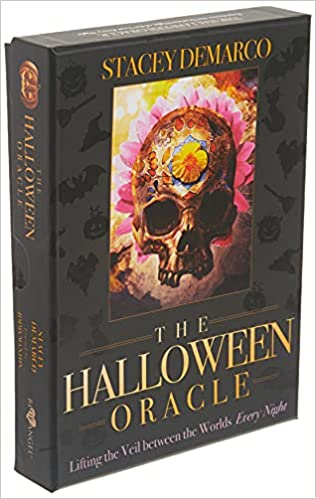 Howl with werewolves, fly with witches and consult adorable black cats with this spooky oracle deck.
This 38-card oracle delivers magical and straight-to-the-point results no matter what your question may be.
If you're looking to open your divination abilities but don't connect or feel drawn to tarot, this oracle deck may be the cat's meow!
Pros
Beautiful and detailed paintings of witches, mummies, zombies, and more help you tap into the energy of Halloween.
Thick card coating allows for long-term use of the cards while remaining easy to shuffle.
Cons
This deck may not be a good option if you're inquiring about complex problems.
Learn more about Stacey Demarco's Halloween oracle deck.
Halloween Tarot Spreads for Ghoulishly Divine Guidance
Grab your favorite Halloween candy on a flat surface, and get cozy. It's time to consult the cards.
Sweet or Sourly Cursed Spread
This fun Halloween spreads provides a delightfully creepy twist on the average yes, or no tarot spreads.
This spread is best for questions in regards to weighing choices in situations that may be complex.
Steps:
Shuffle the deck and focus on the situation and the choices you have.
Pull two cards placing each face down.
Flip the card to the left. This represents one of your choices.
Now flip the card to the right. This represents the other choice in the situation.
If you prefer, you can journal the reading and refer to each choice's choices and consequences at a later date.
Example Reading
Let's say you got two blog writing job offers. Both of these offers require you to work in-house, meaning that you must be able to work in the physical location. Both jobs offer the same benefits and the same pay. However, one job is in Boston, and the other position is located out west in Houston. 
You pull the ace of cups for Boston. This could mean you will find new passions, meaningful friendships, or even romance if you choose to move to Boston. Career-wise there may be plenty of creative opportunities awaiting you. Or it could represent new co-workers that will be friendly and easy to work with.
For Houston, you pull the five swords. This could mean that you may but heads with your co-workers. It could also represent that the job in Houston may cause more headaches and tension than you may want. Or it could mean that there are a lot of different opinions of people at the job. This could lead to frustration and eventually lead you to find another job down the line.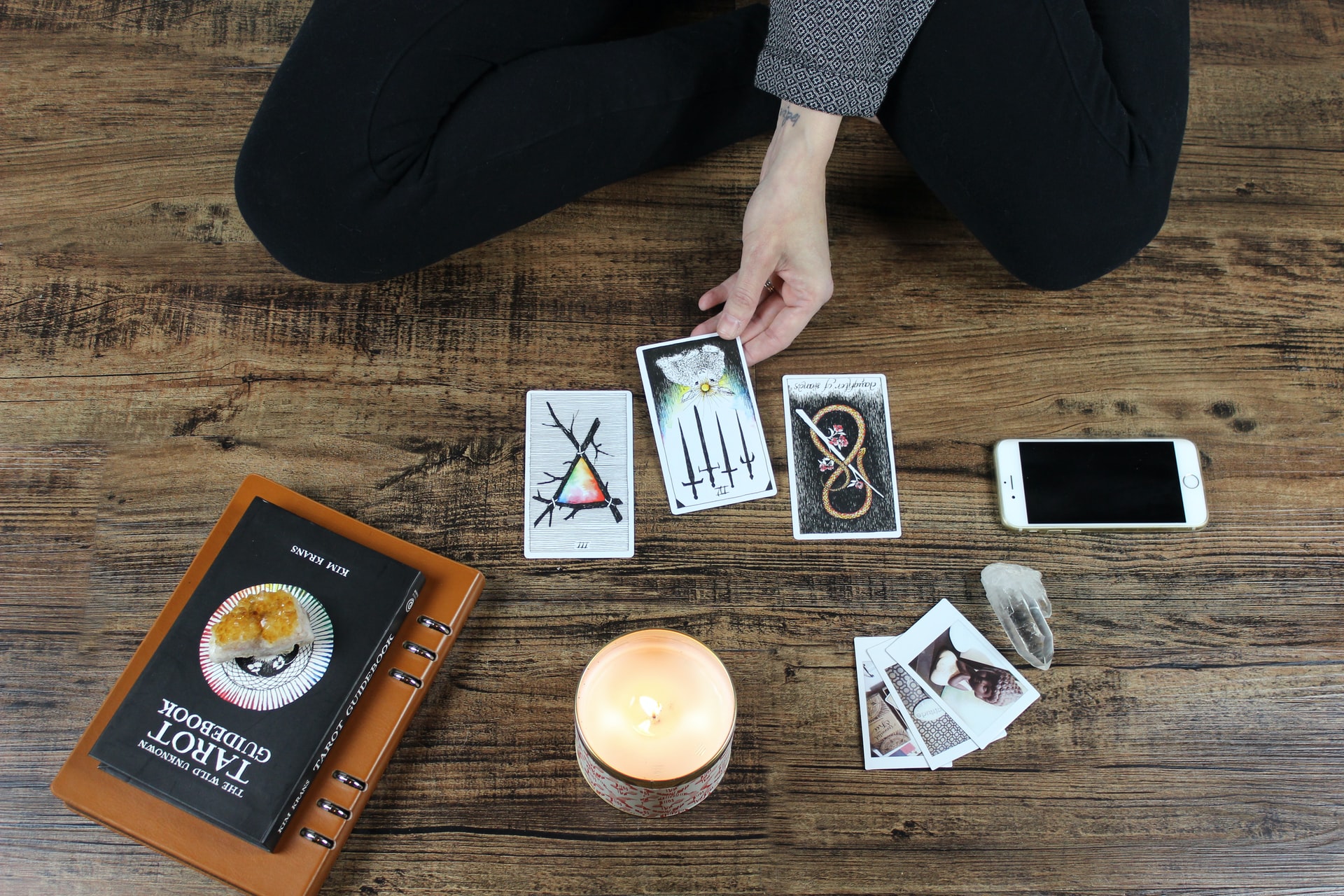 Bite of the Werewolf Spread
Are you having issues with a specific friend or partner? This tarot spread can help you find the next best move to improve your friendship or relationship.
Steps
Shuffle the deck focusing on the relationship you'd like guidance on.
Place the card diagonally at the bottom of the surface you are shuffling cards on. The first card represents the bite. This is the issue.
Place the second card diagonally above the first card. This card is the infected wound. This represents what caused the issue to arise.
The third card will be placed in a diagonal position above the second. The card is the anecdote. The card represents what can be done to heal the relationship of your partner, family member, or friend.
Example Reading
Let's say you and your BFFE( Bestie For Forever) had a significant fight that came out of nowhere.
The first card( the bite) is the ace of cups. This card may symbolize someone feeling threatened or jealous of a new person. This can also indicate someone may have a new dream that your bestie or you does not agree with. Perhaps you may feel that your bestie's goal of being a poet and quitting their job is reckless.
The next card represents the infected wound. This card signifies what is affecting the first card. Let's say you draw the five of wands for this card. The five of wands in this position could represent conflicting energies. This could mean that you or your friend are growing and are no longer on the same energy levels. 
This could also mean someone is trying to move forward, but the other person doesn't want them to progress without them, or maybe trying to manipulate the other's person's energy, so they aren't left behind.
This may also mean someone has some anger that needs to be let go of. It may signify that it is time to keep that fire in check!
The final card represents the anecdote. This card symbolizes what you or your partner can do to improve the situation.
You draw the ten of swords. This card may mean that you need to let go. Sometimes when an intense argument has broken out, you need to take a step or two back and let things cool down and settle on their own.
This can also symbolize that this friendship or relationship has run its course, and it is time to part ways.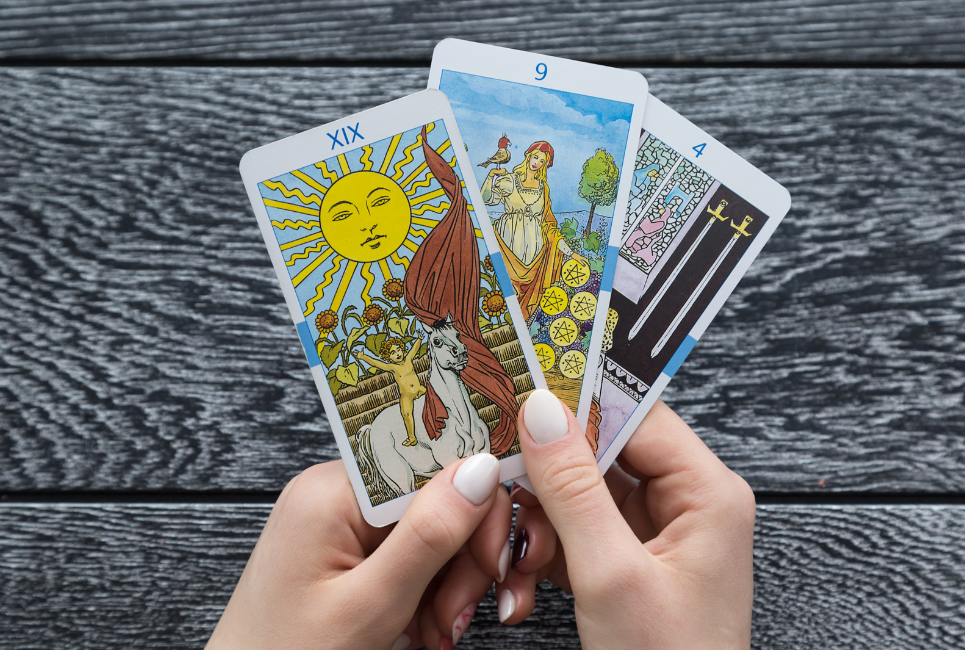 Flying to the Moon Spread
Get on your broomstick and pack your bags! We're taking a trip to your past life! This moon-shaped tarot spread will help you learn more about who you were in a past life. Plus, you'll also learn about how it applies to this life.
To make the circular shape used in this spread, you will place the cards in the same positions as the certain times on a clock.
Shuffle the deck and ask, "who was I in my past life?"
You will draw six cards. 
Place the first card in the 12 o clock position. This first card represents your gender in the past life.
Place the second card in the one o clock position. The second card represents your age in the past life.
Place the third card in the 3 o clock position. This card represents what you did in your past life.
Place the fourth card at 6 pm. This card represents how many kids and the gender.
Place the fifth card at the 10 pm position. This card represents what you did in your past life as a career. 
Place the 6th card at the 11 pm position. This card represents the abilities you carry with you in this life.
Example Reading:
In the 12 o clock position, you pull the queen of swords. This card may represent that you may have been a woman or a man with feminine qualities. 
In the one o clock position, you pull the queen of swords. This card may represent that you were in your 40s. 
In the 3 o clock position, you pull the 3 of pentacles. This card may represent that you were a teacher, coach, or someone who helped others masters a craft.
In the 6 pm position, you draw the six of swords. This card may represent a child around six or a child with a very logical approach to life. They may have been a lawyer or someone involved in the justice system. They may also have been a psychologist or a counselor as the swords suit can relate to the mind. The gender could have been a female with a warrior heart or a male willing to fight in battle but may have been reckless.
The fifth card represents the 10 pm position. In this space, you pull the two of cups. This card may mean that you were very passionate about love and family, and most of your past life was aimed around finding your person and raising a family together.
You may also have been a healer and were known to heal broken hearts, those grieving, or to help those who lost their way when times got hard.
You pull the queen of cups in the final position at 11 o clock. This card represents what you take with you from your past life. 
You may have innate abilities to comfort those who feel alone, are having a hard time with life, or aren't sure about what to do in their next phase of life.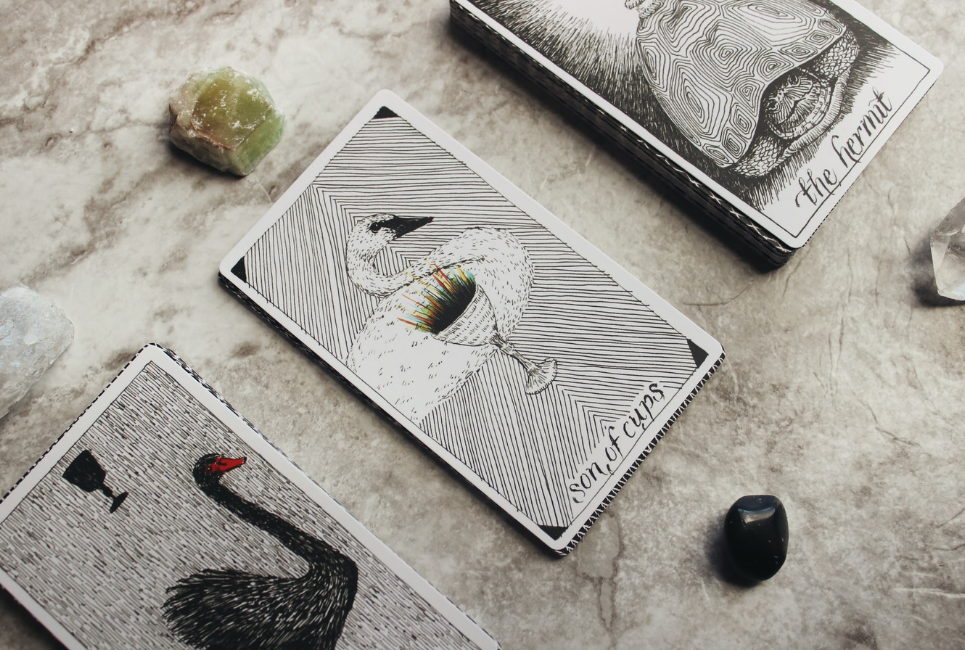 Want more past-life tarot spreads? Check out this excellent article.
Haunted Tiny Home Tarot Spread
Do you love tiny homes? You'll love this ghoulish twist I've created on the traditional haunted house tarot spread.
Shuffle the deck and ask your ancestor or spiritual guide who wishes to speak to come forward.
Pull five cards and place them face down in a horizontal line.
Flip the farthest card from the right side of the spread. This card represents who your ancestor is. This card is called the broken floorboards in the spread.
Flip the second card coming from the right. This card represents what your ancestor wants to teach you. This card is called the tattered curtains in the spread.
Now flip over the center card. This card represents what's blinding you from learning your ancestor's lessons. This card is known as the tornado in the house in this spread.
Next, flip over the card on the left furthest from the center. This card represents what you need to heal to learn the lesson. This card is called the carpenter of this spread.
Then flip the second card on the left closest to the center. This card is called the shiny new floors in the spread. This card represents the strong foundation this lesson will provide once you learn it,
Example Reading
You pull the queen of swords card for the first card(broken floorboards). This card may represent a logical ancestor who uses her mind rather than her heart to make decisions. She does not let her emotions get in the way. This may be a woman in her 40s who has passed that was a doctor, scientist, or lab technician.
The next card (tattered curtains) is the ace of swords. This may represent a lesson your ancestors want to teach you about your mindset. This could be opening your mind up to love, learning to use logic over emotions, or even opening your mind to a positive way of thinking.
The next card(tornado in the house) is the house. You reveal the three of cups. This could indicate that you surround yourself with people who do not fully support you or are in your best interest. This may also suggest that you are letting people from the past hold you back from living life in the present.
The following card( the carpenter) is the queen of cups. This card might symbolize that you need to have some faith in yourself. It may also represent that to learn the lesson and heal, you need to know how to love yourself.
The final card(the shiny floor) represents the strong foundation that this lesson will help you in your life and the potential outcome from your ancestor. For this card, you draw the two of swords. 
The two of swords may represent that you will learn how to rely on your heart in situations and when you need to rely on logic.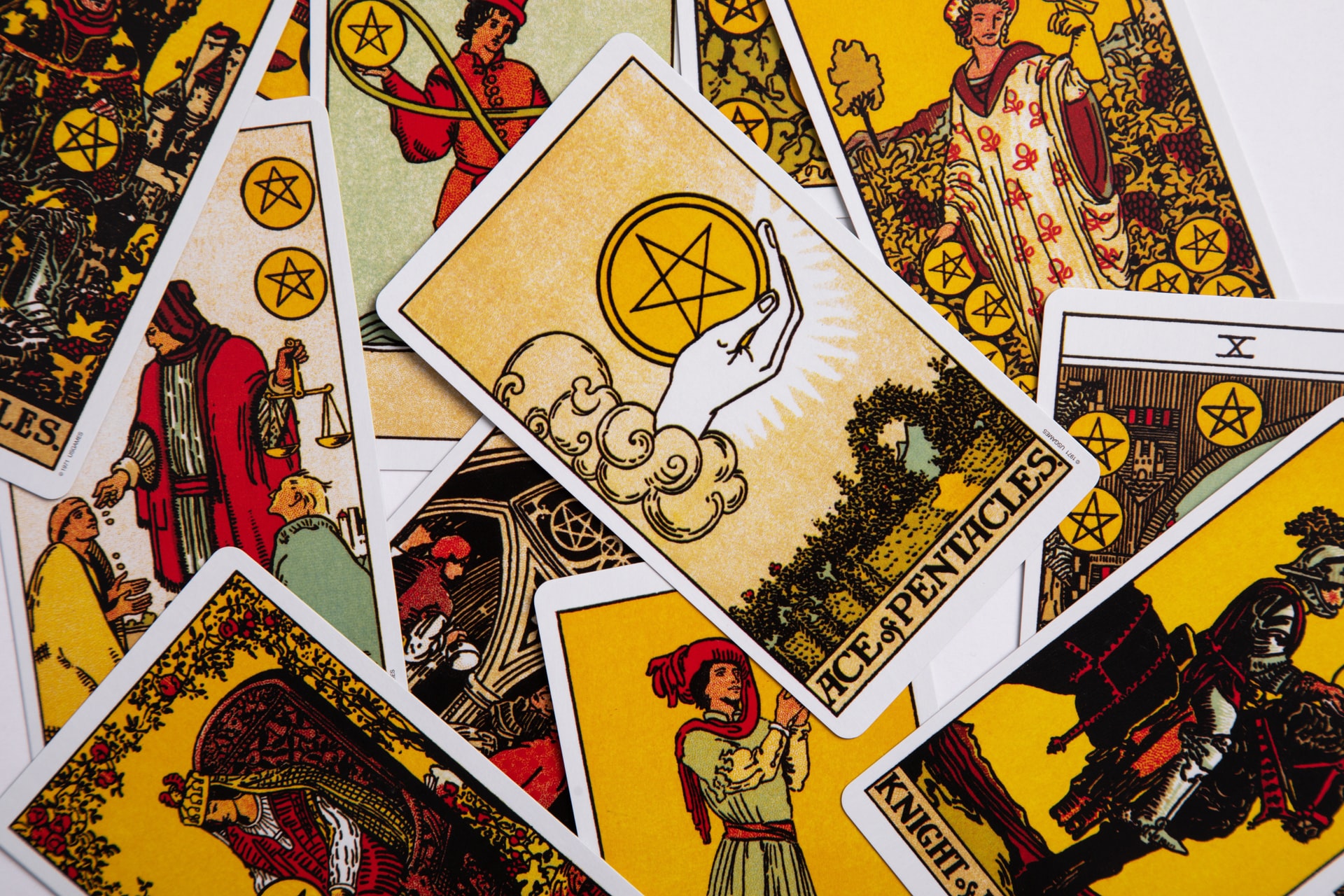 Want to learn more spreads to help you improve yourself? Check out this excellent blog post.
Conclusion
Whether you want to get spooky with your ancestors, reconcile a zombified relationship, or learn more about who you were in a past life, Halloween is an excellent day for tarot!
I highly recommend my favorite spread, the sweet or sourly cursed spread, because it can help you weigh out both choices in a difficult decision. It's also a great spread to use when you're trying to decide on what costume to go with for Halloween!