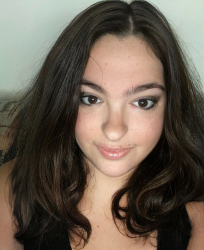 Latest posts by Amanda Martinotti
(see all)
When I started searching for my first Tarot deck, I quickly realized I didn't like the Rider-Waite artwork. At least not in the most traditional format, anyway. I didn't feel connected to it or a desire to read with cards that plainly depicted it.
I was, in contrast, heavily drawn to decks with entirely new artwork. For the record, all of my tarot decks are rainbow-themed in some way thus far.
The Wild Unknown is no different, a rainbow-themed deck filled with beautiful artwork created by artist Kim Krans. The Tarot deck is one of four items in The Wild Unknown series, but I'll get into that.
First released in 2016, this deck has skyrocketed in popularity. I originally purchased the pocket version of the tarot deck as a small travel deck to keep in my purse. I still felt drawn to the full-sized set, and eventually, the little voice in the back of my head convinced me to treat myself.
Now I'm a proud owner of both sets and eager to tell you all about them! Read on for my thoughts on the artwork, its personality, and why I think the pocket set is the perfect traveling companion.
Pros, Cons & Bottomline
The Wild Unknown is a gorgeous deck with a beautiful underlying rainbow theme and exciting artwork. It's definitely not a deck for those that love minimalism in their artwork. It's perfect for a chaotic gremlin like me, however!
Each deck is priced fairly and comes well packaged. The full-size deck is an experience to open, and I really enjoy how it can be a beautiful display piece.
The mini deck is packaged in a metal tin and perfect for on-the-go travel. No worries about ruining your cards while they are in your luggage, purse, or backpack. They'll be safe and protected.
Shuffling the pocket deck is a dream, but the full-size deck is a challenge for my smaller hands. Mileage will vary! I highly recommend this deck to any new or veteran reader!
Pros
Beautiful artwork with fresh ideas
Available in two sizes: pocket for traveling and full size for display
Fair prices for the quality and detail
The pocket deck is easy for me to shuffle
Opening the full-size set is a lot of fun
Right amount of slipperiness
Cons
Full-size deck is a bit difficult for me to shuffle
No reverse meanings in the guidebook
Pocket deck might be difficult for some to read
Into The Unknown
Picking a Tarot deck is a process, let me tell you! The first time I picked out a Tarot deck, I spent hours pouring over various shops' inventory, only to choose the first one that caught my eye.
Intuition says it all sometimes, and that was no different for The Wild Unknown Deck. I originally came across this deck as I was looking for a pocket deck for traveling.
I love the idea of taking Tarot on the road with me, but the practicalities of taking a full-size deck with me and the concerns over allowing my favorite deck to leave my house, in general, led me down a different path.
The Pocket Wild Unknown Deck caught my eye quickly because it was both inexpensive but also full of beautiful artwork. As I've said before, I'm a sucker for anything rainbow, and these hit the mark in a way other decks didn't.
The full size was the piece de resistance of this set, and unboxing it was incredibly fun. Without further ado, let's get into the nitty-gritty and look at the two decks side by side.
Unboxing The Unknown
Opening the full-size set was like Christmas all over again. It comes in a rather large box for a deck slightly bigger than a standard deck of cards. This makes opening it more of an adventure.
After peeling off the plastic and shimming the cover off the box, you see the deck's World Symbol, which has become the logo for the Tarot deck specifically. Opening to the first cover, the guidebook will sit on top, and the inside cover says: "may you always be on the inner quest."
Indeed Kim, always learning and constantly growing!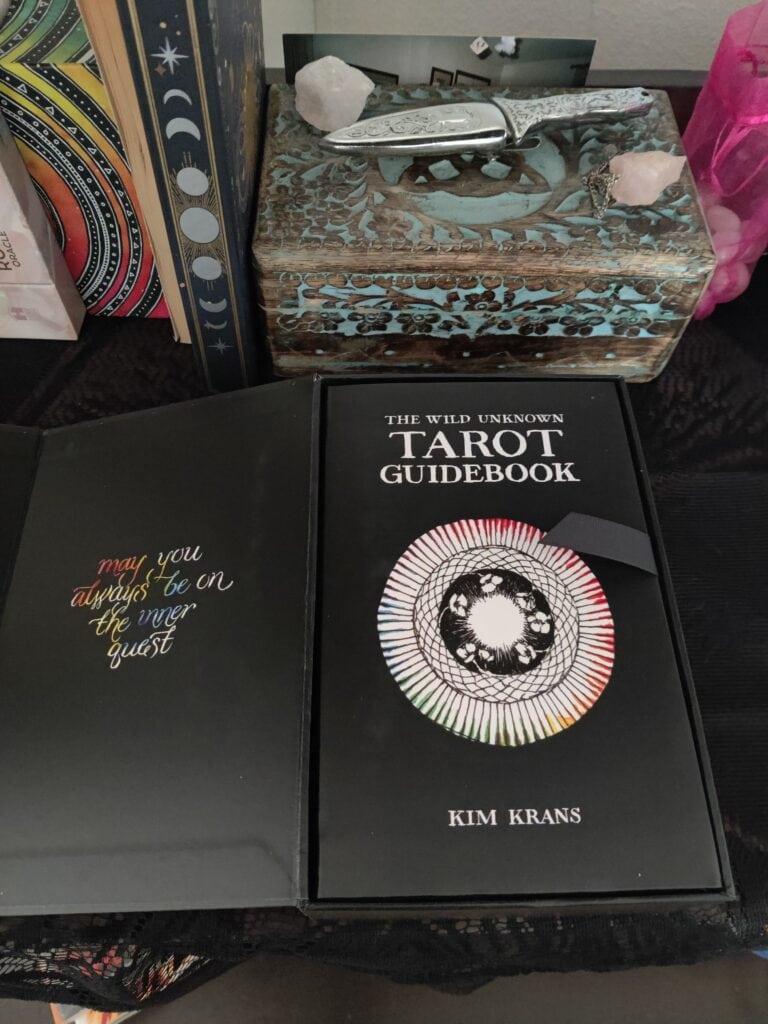 The presentation of this part was probably my favorite; up until this point, my decks had come in pretty basic packaging. So this was very fun, and it makes it great for displaying on a bookcase, altar, or Tarot table. Almost like a coffee table book of Tarot.
A Guide Into The Unknown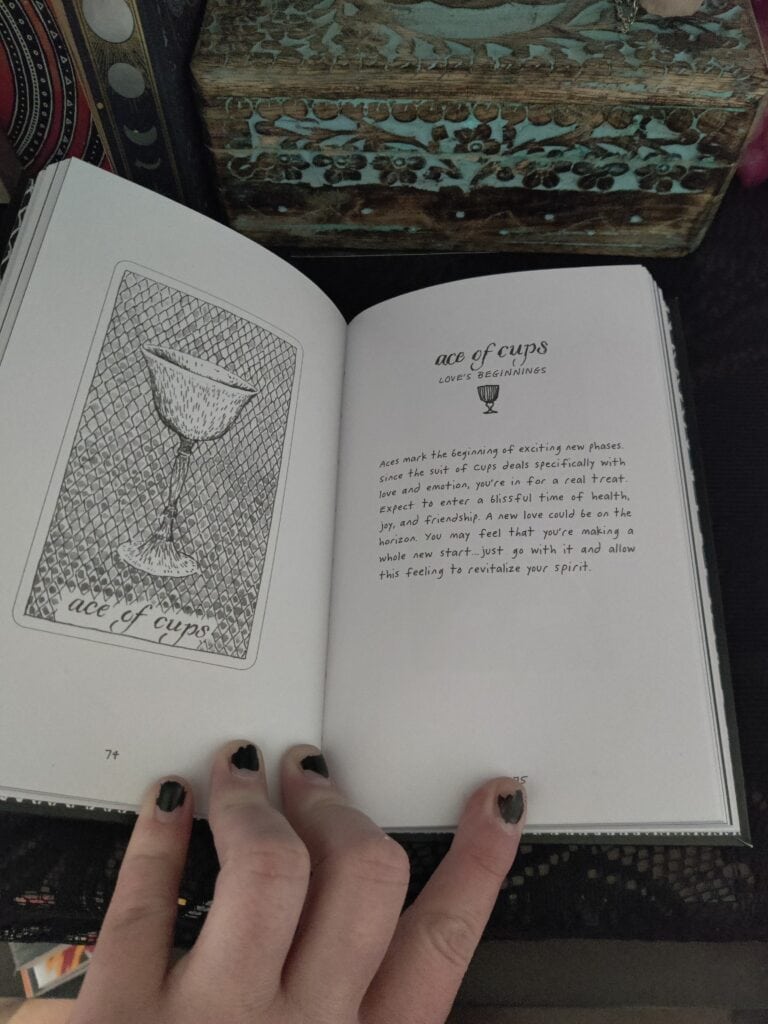 The Guidebook is large and easy to read in terms of font size. The artwork, keywords, and descriptions are unique to the deck. However, they still follow the same general theme as a traditional deck.
It starts with a small introduction about the creation of the deck, the major and minor arcana the differences between this deck and a traditional deck. The most notable is the court cards. Traditionally, the court cards are represented with the titles King, Queen, Knight, and Page. The author used Father, Mother, Son, and Daughter instead.
This was used on my first Tarot deck, and I prefer it over the traditional names. I find it warmer, and it's easier for me to associate the cards with certain people.
The other difference is that this guidebook does not cover reversals of each card. The author does this because they feel it is important for the reader to grasp the upright card meanings first.
Personally, I don't pull reversals in any of my readings unless it intuitively feels necessary. This is partly because I'm still learning each card by sight and because I can't be arsed.
You have a few basic spreads to try out with this deck; the author included both smaller and larger spreads. I liked that they included both beginner and advanced spreads.
While I would never ask a beginner to try the Year Ahead Spread, spreads like The Connection Spread and The Clarity Spread are great for beginners. The other spreads are more suited for advanced readers and ones I wouldn't attempt myself. I do love that there is a little something for everyone.
Taking A Look At The Unknown Itself
The deck itself sits inside another box similar to what you find in a typical higher-quality Tarot deck. You'll find a greeting inside the top cover that says:
"Welcome to the Wild Unknown Tarot. You'll find no wrongs or rights inside this box, only mirrors for reflection. Open your mind, draw a card & have fun on your journey."
I love the quotes and messages in the packages. Overall the presentation and opening of this Tarot deck are very well done and classy, and it fits the deck's theme very well. The packaging is just a small part of the deck so let's talk about what you really want to know.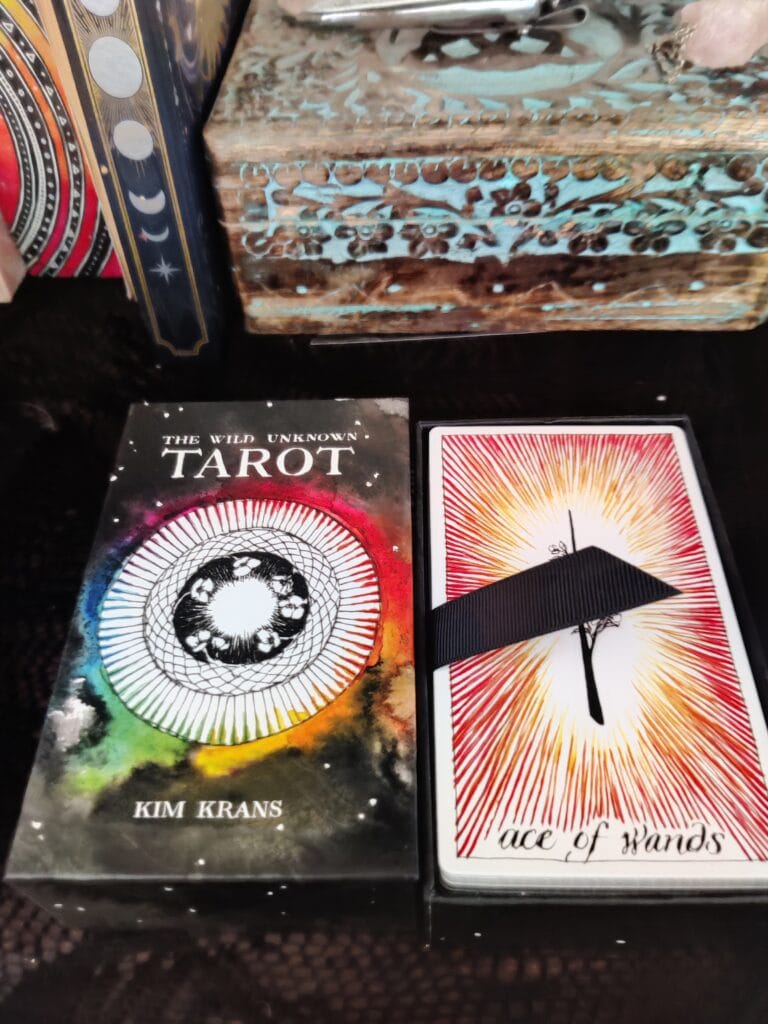 Art, The Backbone of Tarot
The artwork is undoubtedly my favorite part of this deck. As a sucker for almost anything rainbow, I love how the creator melded together beautiful imagery and colors!
The imagery is incredibly different from the traditional decks, but I feel it helps represent the cards meaning quite well. Some of the symbols like butterflies, birds, and trees are also symbols that are present in my life rather often, which drew me to this deck. These are some of my favorite cards from the deck: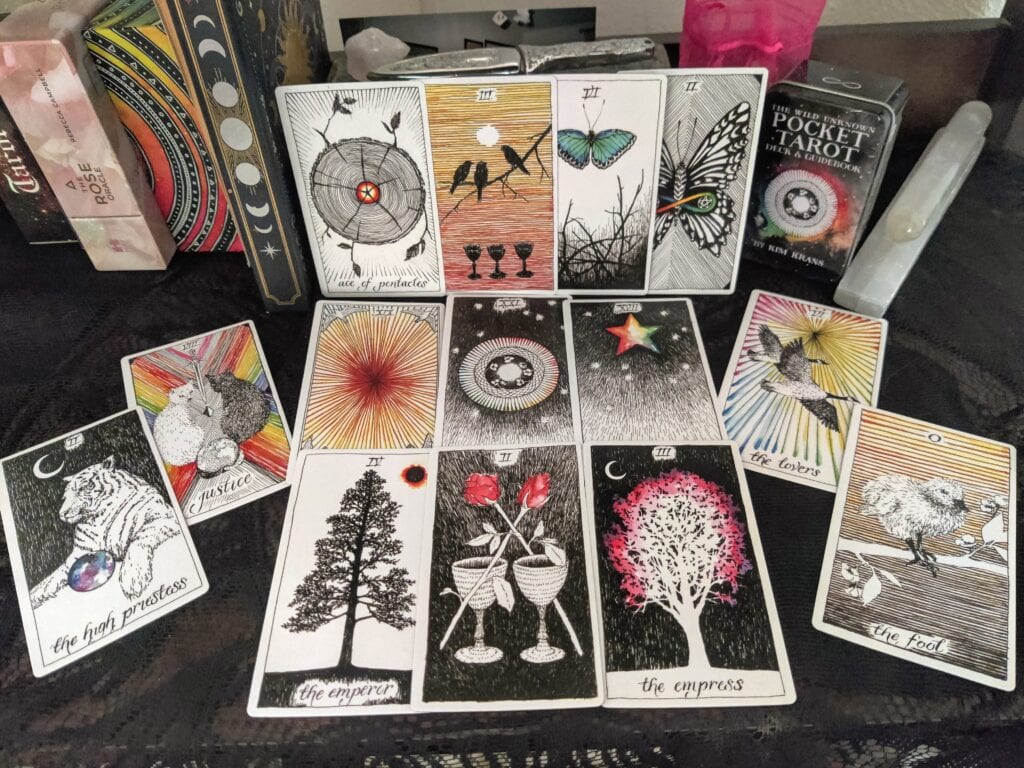 Out of these, I love the Justice card, 6 of wands, The Empress, and The Lovers the most. The justice cards perfectly represent the duality of justice; you reap what you sow, both dark and light.
For a while, I struggled to understand the meaning behind the 6 of wands, but this deck put it into a great perspective by using the butterfly to symbolize flying away from what no longer moves you forward in life—a great depiction of victory and rising up.
The Empress has always been a favorite card regardless of the deck, but the fact that I have a tree across the street from me that looks eerily similar to this card just makes it an absolute favorite. I love a good non coincidence, coincidence.
Not to mention the colors used on the tree are a favorite combination of mine. I just realized my new bathroom decor follows the same color scheme; life is funny sometimes.
The lovers represent passion and often love or a soulmate. The idea of the birds flying together in partnership is lovely, whether with another person or just doing something that makes you feel alive in life.
The rainbow colors light up the card and really add to the semblance of working together the way the colors do through the card. It's almost like a mini sun in the background.
The Artist Behind The Wild Unknown
You can't talk about a deck's art without mentioning the artist. Kim Kranes currently lives in Los Angeles, but she studied in New York City for a time. She has three degrees, two in art and one in depth psychology and creativity.
She's also studied various spiritual practices and combines her experiences and life journey with her art. Thus The Wild Unknown was born. She's the author of a few picture books in addition to this series.
She's known mostly for her artwork, but she is also a musician and photographer and has a podcast.
Shuffling and Reading
I enjoy using these cards, but I do find shuffling the full-sized cards to be a bit difficult. They are rather slippery and kind of challenging to manage. I generally struggle to manage larger decks. My Cosmos deck is roughly the same size, but the cards are a bit stickier, so it's less of a struggle.
I do like how easy these are to shuffle when I riffle shuffle vs overhand. The slipperiness aids quite well with this method, but I prefer to riffle shuffle and then overhand shuffle before pulling cards. Win some, lose some.
Overall I enjoy reading this deck when I do use it. The readings always seem pretty on point, and my stalker cards pop up regularly. How the deck reads for you will depend on if you feel drawn to it. Some love the deck; others report it feeling cold, while others just see the cards as a tool. It's all in your perception, I suppose.
Pocket Sized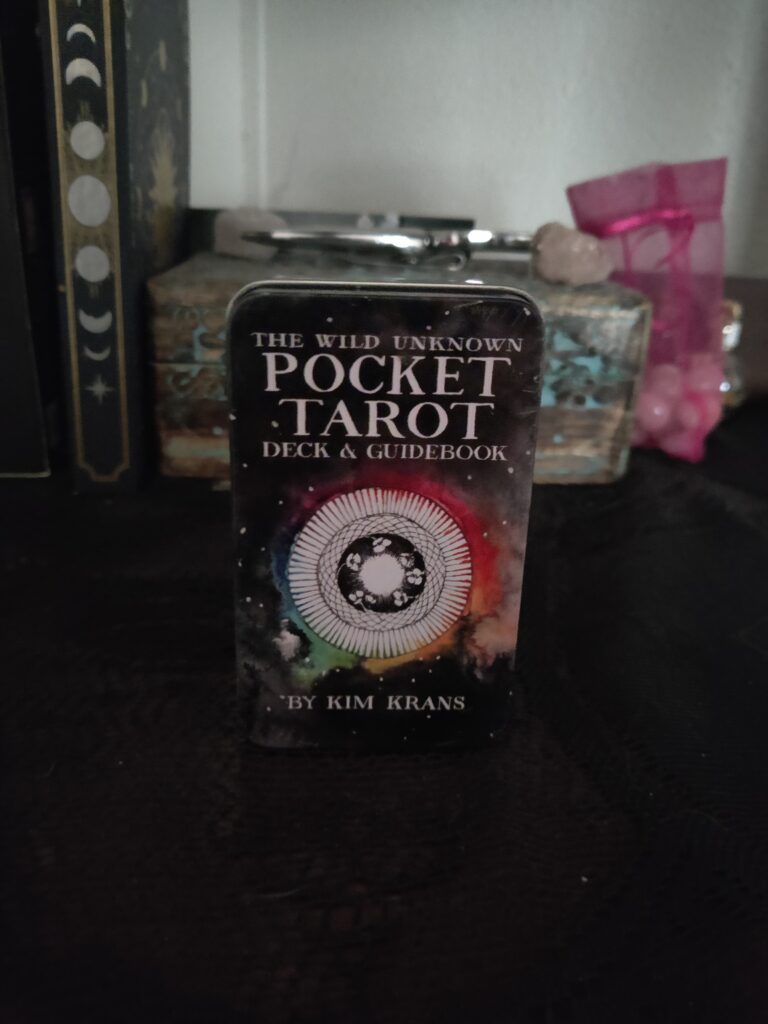 The mini deck comes in a tiny metal tin that is perfect for throwing in a purse, backpack, or carry-on without the worry about anything, even liquids harming your cards. While most Tarot decks come in some sort of box, they are typically flimsy card boxes or slightly stronger cardboard boxes.
While both options provide some form of protection, I personally wouldn't feel comfortable taking my more expensive decks out in just their normal boxes.
Upon opening the tin, I had the initial reaction of "oh my gosh, look how cute" because, of course. I'm only human, and tiny things are cute. The mini guidebook sat on top, and while it's very small, I found it easy to read and use. If you have eyesight issues, you may struggle a bit; the font is significantly smaller.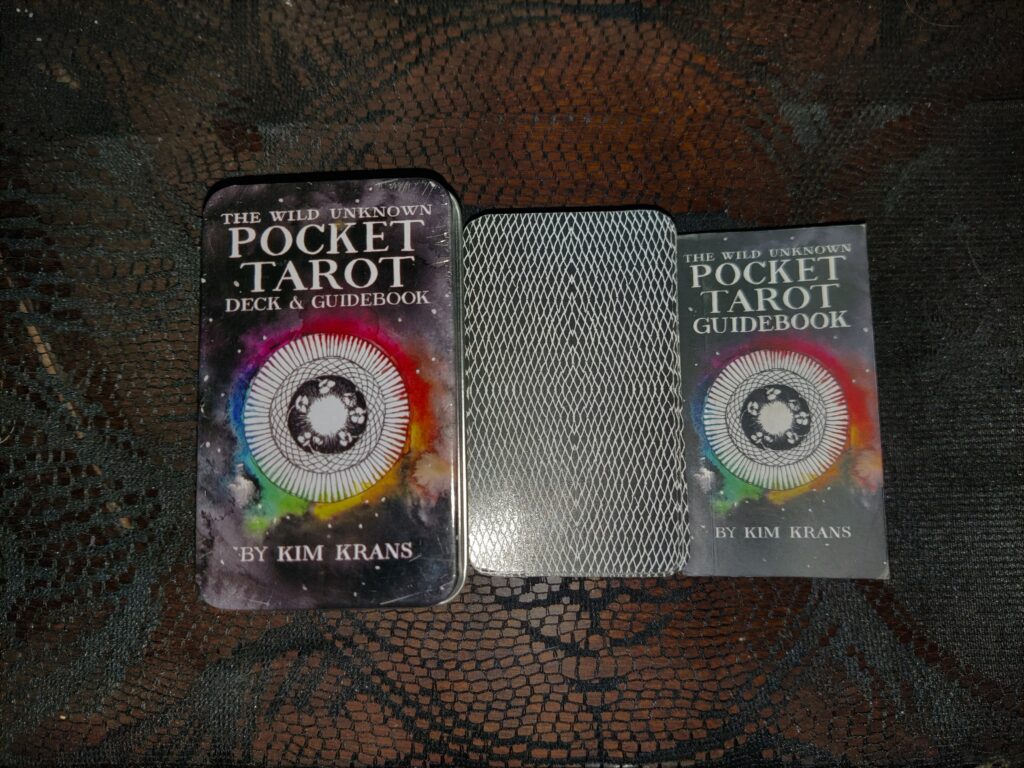 The cards feel very similar but much smaller and are super easy to shuffle. This is mainly due to size, but it's a welcome change for my smaller hands. There is a slight texture difference, and the edges are more rounded. I find them to be slightly less slippery than the full-size deck, and overall these are my favorite for a balanced riffle to overhand shuffle.
Otherwise, the details and the artwork are identical, a perfect miniature.
The Wild Unknown Series
The Tarot deck is beautiful, but it's only a piece of the entire collection. Each deck or accessory is fun and unique in its own way. My favorite of these decks is the Archetypes Deck and Guidebook.
Decks
The Wild Unknown Archetypes Deck and Guidebook
The Wild Unknown Alchemy Deck and Guidebook
The Wild Unknown Animal Spirit Deck and Guidebook, Pocket Deck
Accessories
The Wild Unknown Journal
The Wild Unknown Two Notebook Set
Alternatives To The Wild Unknown
I love The Wild Unknown Tarot deck and the entire set, but I know it's not for everyone. I chose decks that contained the theme of interesting artwork and usability. These are a few of the decks that are currently on my wishlist:
Naked Heart Tarot by Jillian C. Wilde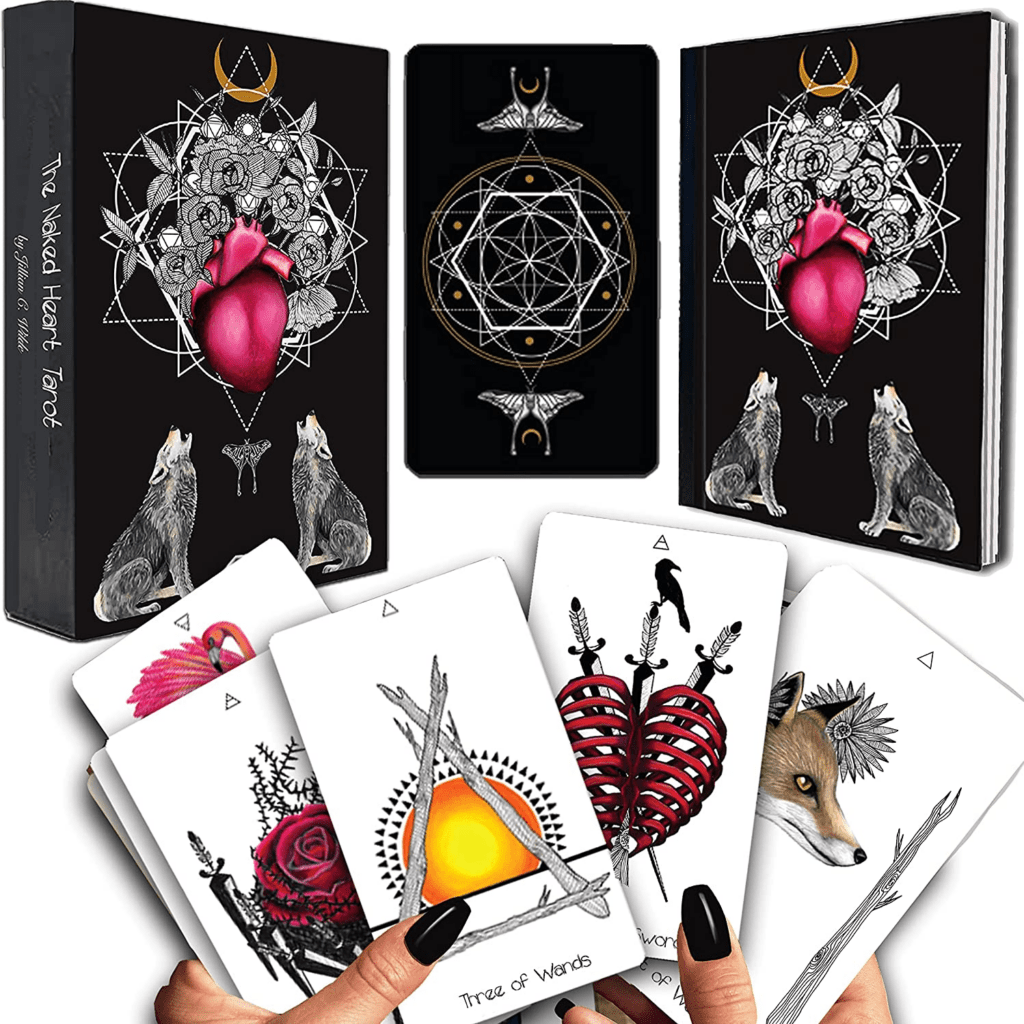 This deck's artwork reminds me heavily of MySpace emo days for some reason; maybe its the pop of dark pink throughout the deck or the artwork designed around pentagrams, roses, skulls, and skeletons.
Regardless of the why, I love this deck and its design! The guidebook is huge in this deck, has over 144 pages, and includes journal prompts and crystal information.
Modern Love by ETHONY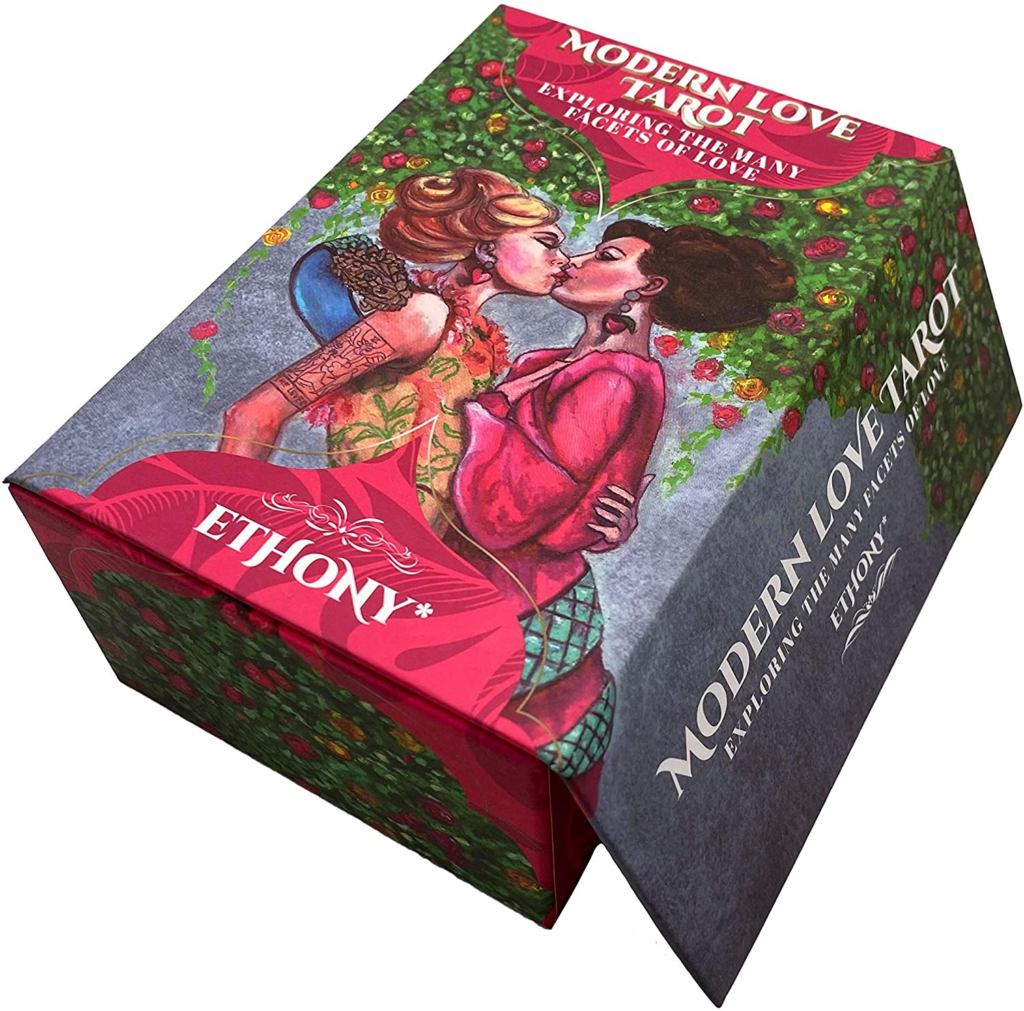 I love how the artwork in the deck is built around the diversity of relationships and what they look like. Since stepping fully into the LGBTQ world, I've realized just how different every relationship looks.
More importantly, I've learned exactly what family means and how different it can look from one person to the next. It's a humbling life lesson that is depicted beautifully through this deck. What is better the guidebook is truly in-depth and offers multiple explanations for each card. This can help new and old readers understand their journey a bit better.
The Cosmic Coven Tarot Guide by RAW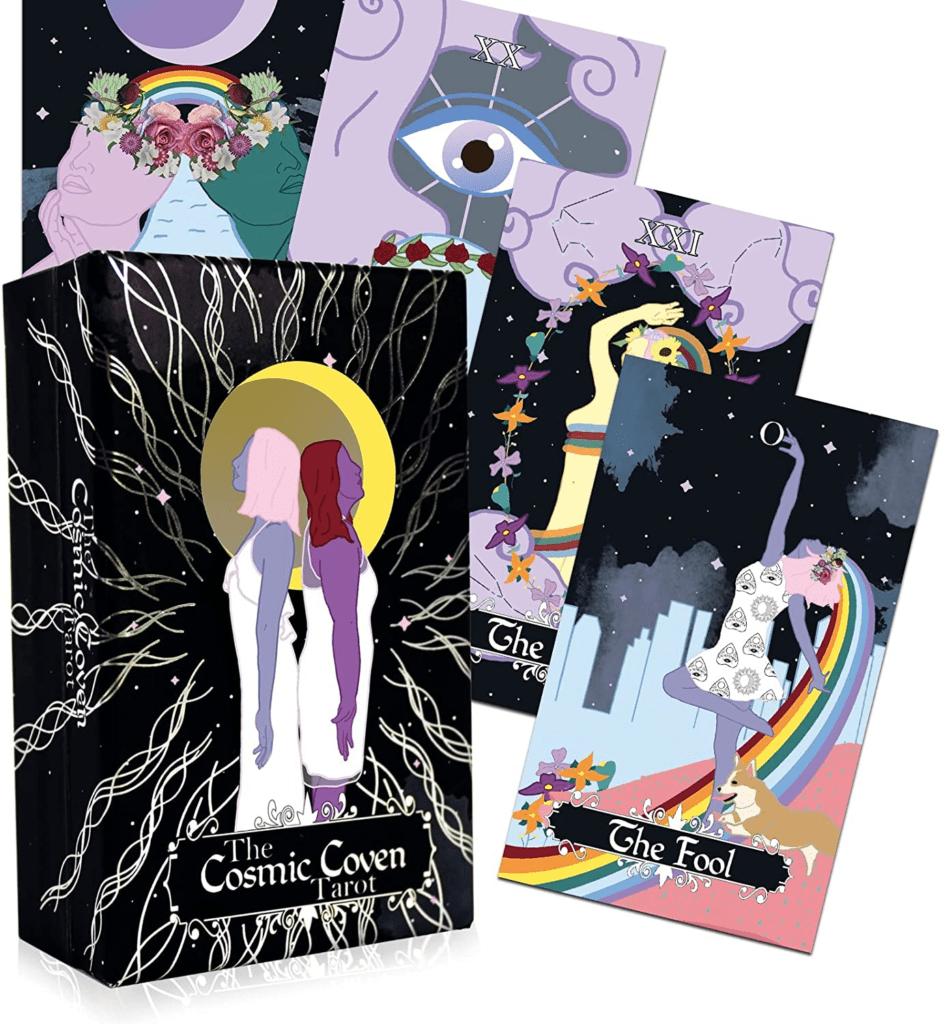 This deck combines interesting artwork and rainbows. The cards are beautiful; with fresh depictions for each, each is lovely, and I really love the artwork. The deck has an extra card created by the designers called the Cosmic Coven card, a fun surprise.
My first and favorite deck has a different card called The Divine, and it's a lovely addition to the overall deck.
FAQS
Question: Is the Wild Unknown Deck Suitable for Beginners?
Answer: This deck is really suitable for any reader who feels drawn to it. For beginners, it's perfect if they don't enjoy traditional artwork and want something different.
The guidebook clarifies the meanings and encourages you to understand each card upright before adding the reverse meanings. Of course, you can supplement your meanings by looking up the cards online.
Question: How can I Clean and Bless my New Deck?
Answer: There are many ways to clean it. Personally, I use an incense called Death that I get at Spencer's. You can also simply hold the deck in your hands and imagine a light clearing negativity, blow on it, and knock three times.
One of my favorite ways to get to know a new deck and cleanse it after my first couple shuffles and readings I'll put it back in order starting from the major arcana and then working through each suit.
Then I shuffle again and sometimes do so chaotically (throw them on the floor, stick them in your shirt and shake it, let your cat choose? you decided!) It's a ritual that lets me enjoy each card's artwork.
Question: What are Some Good Spreads for The Wild Unknown Tarot Deck?
Conclusion
I love both of my Wild Unknown decks and enjoy reading with them regularly. The artwork is my favorite part as it takes old ideas and legends and breaths new life into them! My pocket deck has quickly become a new friend that goes with me on many excursions.
I recently took it with me on a first date and to a Pride event. While I never had a chance to use them, it was nice to know I had them on me if they were wanted.
The full-size deck is beautiful, and they really took the time on presentation. While it's not my favorite to read with, and I find handling it a little difficult, it's a joy to read with when I do use it. I'll admit, it will likely be a display piece most of the time. It's gorgeous; why not keep it in excellent condition?
Continue reading:
Ex Tarot Spread Guide: 3 Spreads For Breakups