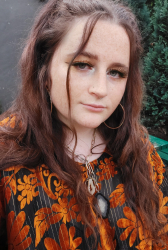 Latest posts by Lou Siday
(see all)
Despite reading Tarot cards forever, I have only gotten into Oracle decks in the last few years. However, now I have, I can't stop buying new ones to work with.
There is such a wonderful range of Oracle decks out there, and I get so excited when I come across one full of new ideas! In this Mystic Martians Oracle Deck review, we are going on a cosmic adventure to get to know the ETs that live across the universe.
Aliens fascinate me. I grew up on Doctor Who and spent too many hours of my adult life watching documentaries about extraterrestrial life.
I want to believe, so when I came across the Mystic Martians Oracle Deck, I had to buy it. Spirituality and aliens?! It was made for me. But was I impressed by the deck? Or did it let me down?
Bottom Line Up Front
The Mystic Martian Oracle deck is a fun way of exploring your inner knowledge and spirituality. It is playful and laugh-out-loud funny at some times, but it still holds important messages for our life path.
I am really impressed with the deck and recommend it if you love anything whimsical and alternative. It beautifully balanced alien folklore with spiritual guidance, and since buying it, I have used it time and time again for myself and my friends.
A perfect deck to explore by yourself and with others, the Mystical Martians Oracle deck is a great addition to your spiritual practice!
What is the Mystic Martians Oracle Deck?
The Mystic Martians Oracle Deck was created by Lisa Porter and published by Rockpool. The aim of the deck is for us to learn about extraterrestrials, with each card portraying a particular alien archetype.
By exploring the traits of the aliens, we can learn more about ourselves and use them to expand our spiritual awareness. The aliens are understood as symbols in our lives that provide practical and spiritual daily guidance.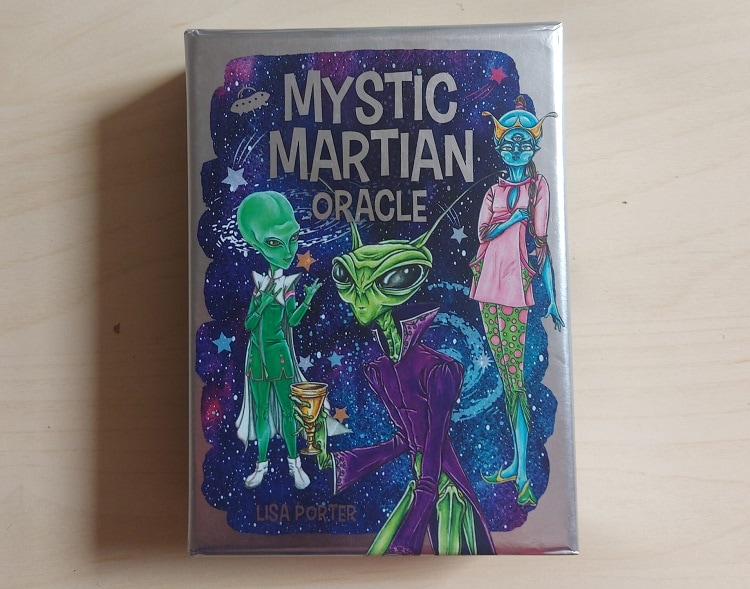 Each card holds information for the reader, and the deck is intended to be used as an oracle for psychic and spiritual growth. When using this deck, we learn about alien folklore while having the space to reflect on where we are in life and what we need to know to move forward.
Mystic Martians Oracle Deck Review
Okay, I haven't been this excited about a new deck for a while. But did it live up to my expectations? Let's review the Mystic Martians Oracle Deck!
Initial Thoughts
Once I got my hands on the Mystic Martians Oracle Deck, I was straight away intrigued and excited about it. The box is stunning, depicting a range of extraterrestrials using playful and bold artwork. I love the colors, with a silver background and mystical, out-there hues.
A small paragraph on the back of the box tells us why the deck was created. It tells us that extraterrestrial species 'coexist within the human genetic mind,' and the cards are conduits for specific alien archetypes. This sets the scene for the deck, asking us to embrace the alien within to explore our subconscious!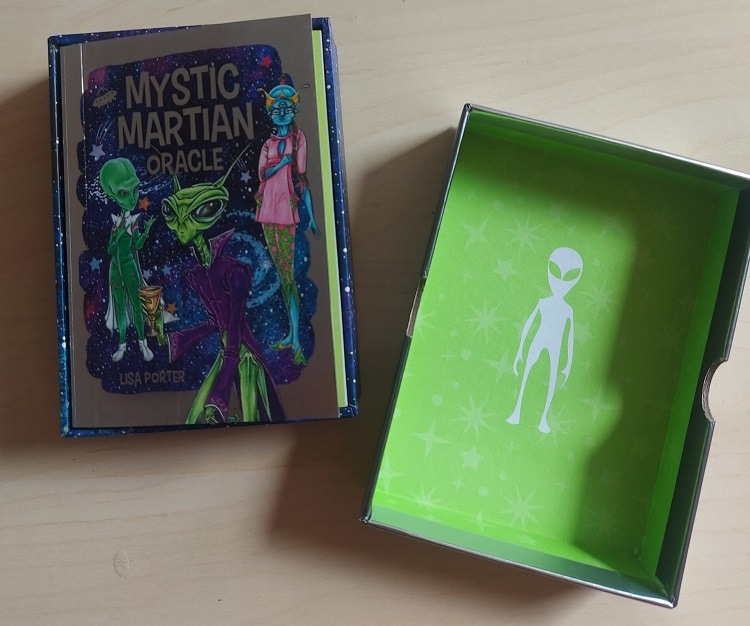 Once opening the box, I was greeted with a small guidebook and 40 full-color cards. I love all the small touches in the deck, from the fun little alien guy on the inner side of the box to the neon green guilding of the cards. We are in the world of ETs here, and Lisa Porter never lets us forget this.
The Cards
The forty cards in the Mystic Martians Oracle Deck are high-quality and silky smooth. They feel pleasant to hold and shuffle well. The deck has two different types of cards: extraterrestrial archetypes cards and sacred geometry linking cards.
The latter type holds cards such as the Golden Ratio and Third Eye. We also see the four elements appearing here.
Every card feels unique and well thought out, and I feel every card is in the deck for a reason. When I have other Oracle decks that add in different themes of cards, such as linking cards, I have sometimes felt that they don't need to be there.
But, the linking cards are still in with the extraterrestrial theme and allow us to learn all about the depths of our inner alien.
The artwork on each card is fantastic. Honestly, if they were any bigger, I would be putting them up on my wall! Flicking through the deck is like going on an adventure into outer space, visiting planets and alien species. The detailing is marvelous, and you can tell the creator put so much effort into every single card.
All the cards have their name, number, and keywords on them. For an Oracle deck, this is super useful. It allows us to read the cards and get a general vibe of their meaning without turning to the guidebook immediately.
But you should turn to the guidebook of this deck straight away because it is such a treat! More on the guidebook later…
Key Cards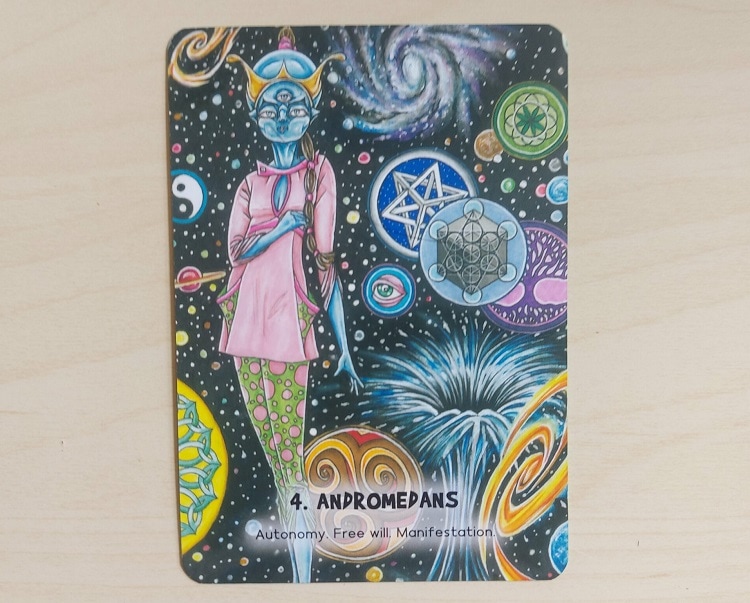 When reviewing new decks, I like to talk about the cards that jump out to me when first flicking through them. I won't lie, every card jumped out to me in this deck, but I picked a few to dive into in this review.
The Andromedans card is beautiful, depicting a blue alien with three eyes adorned in pretty funky clothing. I picked this card to show you as it showcases the detailing of each card. I love the little planets and symbols found in this card – I could stare at it forever!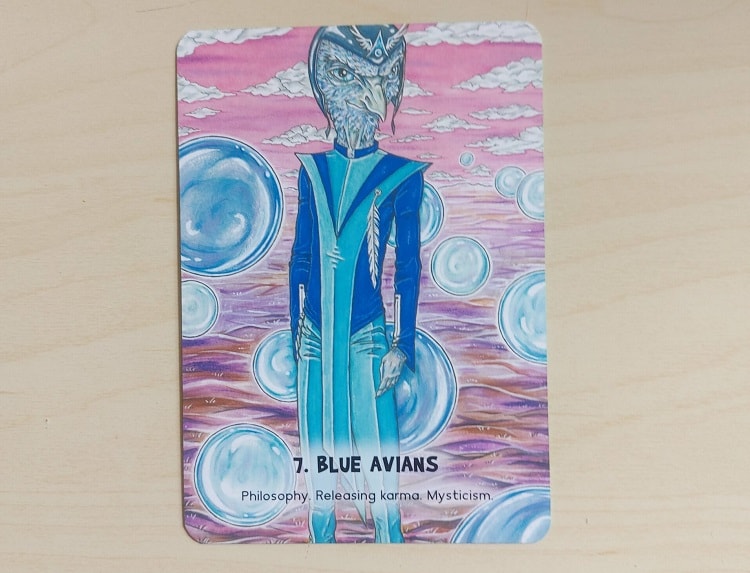 Another stunning card is the Blue Avians card. This star race represents philosophy and mysticism, and you really get the feel of this in the card's imagery. I love the expression on the alien's face – details like this make the deck super special.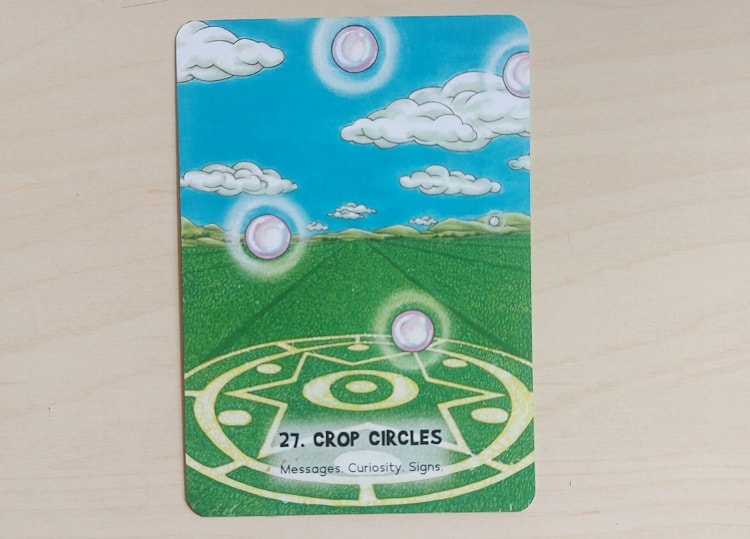 I also really love the crop circle card. I am from the UK, and crop circles are a huge part of our alien folklore, so it was nice to see them in the deck! The cards meaning are messages, curiosity, and signs. Fits the crop circles phenomenon perfectly.
The Guidebook
The guidebook contains information on each card and example spreads. Each card has a paragraph or two about the specific extraterrestrial archetype and card keywords for upright and reversed.
The guidebook is so entertaining; it is like reading small stories about each alien species! It tells us all about where they come from, what they are like, and their appearance. Some also include instances of when the aliens may have visited Earth.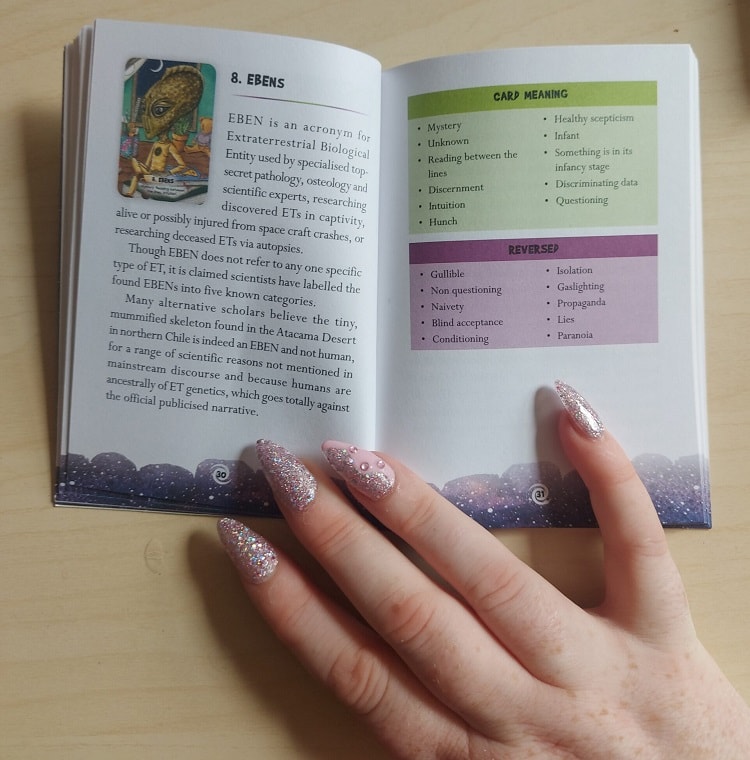 The guidebook is extremely playful, and I did laugh a lot when reading it, especially when faced with sentences like 'a US geologist whistleblower exploded the truth of underground Reptilian ETs and how they shot his fingers off with a laser' with no explanation.
But I love this out-there style! We are asked to dive into the alien world and put out preconceptions to one side.
Folklore intertwines with spiritual guidance in an extremely entertaining way. The pages on the sacred geometry linking cards are also pretty informative. They explore ideas such as the Third Eye and Shadow Self, and I did discover spiritual ideas I was unaware of when reading the guidebook.
Reading with the Mystic Martians Oracle Deck
I was so impressed with the artwork on the cards and the entertaining guidebook. But what is it like to perform a reading with the Mystic Martians Oracle Deck?
I decided to perform a smaller version of the Martian spread in the guidebook, with three cards representing:
Card 1 – what ET species am I most connected with?
Card 2 – what do the ETs see as my life purpose?
Card 3 – Where do the ETs see my near future oriented towards?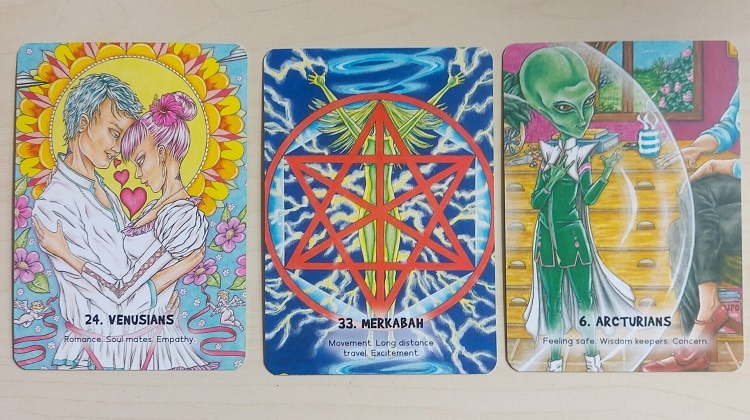 For the first card, I received the Venusians. According to the guidebook, these aliens live on Venus and co-exist with each other in harmony. The keywords include romance, harmony, and soulmates.
I liked receiving this card in this position as I try to spread love and peace wherever I go. I felt that the card was reminding me to carry on with this attitude.
For the second card, I received Markabah, which represents movement and exploration. According to the guidebook, it is connected with interdimensional travel and is often called the Chariot.
I understood it in the second position, as it showed me that my life purpose is all about exploring the unknown and pushing myself out of my comfort zone.
The final card in the spread was the Arcturians. This extraterrestrial species is all about safety and emotional intelligence. In this position, it shows me that I am growing into a more mature self.
I thought the spread was pretty interesting, and it did hold guidance for me. It showed me that the Mystic Martians Oracle Deck can and should be used for spiritual growth and awareness.
Overall Thoughts of the Mystic Martians Oracle Deck
The Mystic Martians Oracle Deck is a unique and intriguing deck that uses extraterrestrial species to gain valuable insights regarding our path in life. I have never worked with a deck like it! It is playful and fun but also does help up explore our spirituality in a fresh and interesting way.
The artwork on the cards is breathtaking, and the guidebook is fantastic. You can tell the creator has put so much effort into the deck, and it really paid off. Lisa Porter might be my new hero…
If you are an alien lover, treat yourself to this deck – you will not be disappointed!
Pros of the Mystic Martians Oracle Deck
Beautiful artwork
High-quality deck and guidebook
Interesting and entertaining guidebook
Keywords on cards
Affordable
Imaginative and explorative
Cons of the Mystic Martians Oracle Deck
Certain claims about aliens are pretty wild, which may put you off
Alternatives We Recommend
If the Mystic Martian Oracle Deck is a bit too out-there for you, there are other decks that incorporate the stars and planets to provide you with guidance. Let's take a look at them!
Starcodes Astro Oracle Deck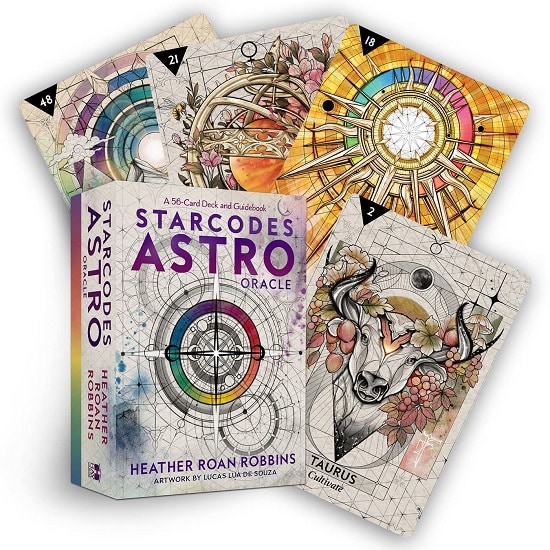 The Starcodes Astro Oracle Deck examines our relationship with celestial bodies and astrological archetypes, providing us with guidance and understanding. Each card has beautiful imagery and a keyword written on it, which allows you to explore the deck intuitively.
The Starseed Oracle Card Deck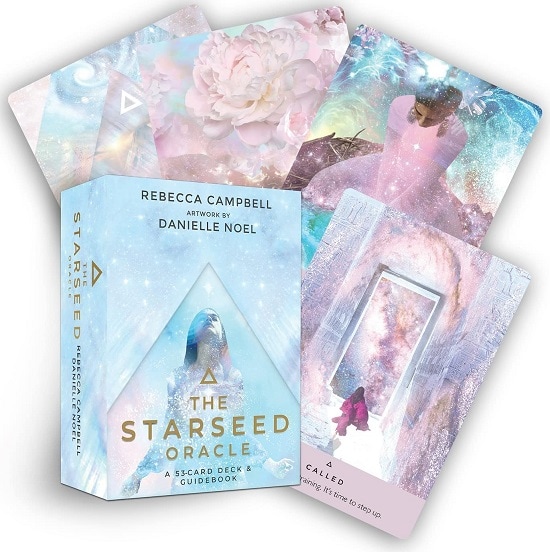 The Starseed Oracle Card Deck by Rebecca Campell works with the idea that we all have cosmic origins and helps us on our journey to connect with this. The gentle, pastel theme of this deck feels extremely peaceful, and the guidebook provides us with great information regarding our inner voice and cosmic energy.
Tarot in Space: Cosmic Zen Deck
So, this deck is on my 'to buy' list. Tarot in Space updates the traditional Tarot with a cosmic sci-fi edge, with the Suits of Cups becoming the Suit of Comets and the Wheel of Fortune becoming the Wheel of Flux.
If you like the extraterrestrial theme of the Mystic Martian Oracle Deck but want something a bit more traditional, this deck is for you!
FAQs
Question: Is the Mystic Martian Oracle Deck Suitable for Beginners?
Answer: Yes, the Mystic Martian Oracle Deck is perfect for beginners. With keywords on the cards and an easy-to-read guidebook, it's great for people who want to begin their spiritual journey.
Question: Is the Mystic Martian Oracle Deck Worth Buying?
Answer: Yes, the Mystic Martian Oracle Deck is worth buying. It is an affordable deck rich in information and beautiful artwork.
Question: Where Can I Buy the Mystic Martian Oracle Deck?
Answer: You can buy the Mystic Martian Oracle Deck from many online bookstores, such as Amazon.
Explore the Cosmic Energy within You with the Mystic Martian Oracle Deck
I am in love with this Oracle deck and, since buying it, have used it a lot. It is a one-of-a-kind deck with wonderful artwork and an extremely well-written, whimsical guidebook.
Get spacey today and unlock the alien within you! Farwell earthlings, we will speak soon…
Continue reading:
Celestial Bodies Oracle Deck Review
Step Into Unknown: The Wild Unknown Pocket and Fullsize Deck Review