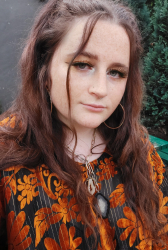 Latest posts by Lou Siday
(see all)
As a Tarot and Oracle fanatic, I am always super excited when I get my hands on a new deck. Oracle decks are fantastic tools that enhance our spiritual growth and connect with the universe, with each deck being unique with its own energy and purpose.
A few months ago, I got a copy of the Celestial Bodies Oracle deck and was immediately captivated by its bold designs and fascinating description. An Oracle deck designed to teach us all about astrology and numerology, Celestial Bodies is one of its kind.
But is it worth buying?
Bottom Line Up Front
At $130, the Celestial Bodies Oracle deck is overpriced for what it is. If you are a visual learner, it is a fun way of exploring astrology and how it impacts us. The cards are nice to work with and look great.
The information in the guidebook is useful and easy to understand. If you are new to astrology and numerology, it is a fantastic guide that helps us learn how these spiritual aspects connect with us. I also really like the questions and reflective exercises throughout.
However, if it is worth buying because of this is debatable. There is so much information out there for us to dive into, both online and in books, and the Celestial Bodies Oracle Deck doesn't really add much to this.
What is the Celestial Bodies Oracle Deck?
The Celestial Bodies Oracle Deck, published by Serpentfire, is not just an Oracle deck. It is a learning tool guiding us on our journey with astrology and numerology. It isn't a shuffle-and-draw kind of deck, which is unusual.
Instead, it asks us to pull the cards associated with us (i.e., from our birth chart or life path number) or what is going on around us (i.e., planets in retrograde and the lunar cycle) and reflect on their meanings.
The aim of the deck is to connect ourselves with what we wish to know. It allows us to learn how astrology and numerology impact us with intriguing imagery and an in-depth guidebook. I appreciate what the creators are trying to do with the deck, as it is an exciting and different way of learning about these spiritual topics.
Celestial Bodies Oracle Deck Review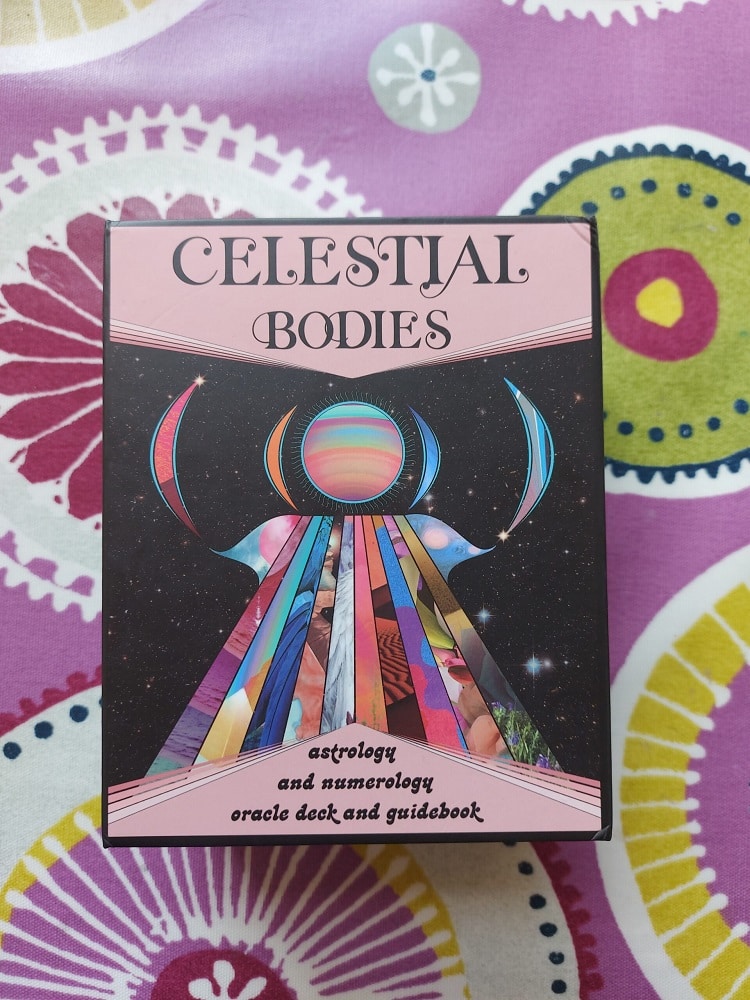 Despite having this deck for a while now, it took me some time to begin to use it. Perhaps I was overwhelmed by its size (I have the altar version of the deck, which is 118x147mm), or maybe I was hesitant to use a deck that wasn't shuffle-and-draw.
Whatever it was, the Celestial Bodies Oracle Deck sat on my altar for a few months before I took it out and started to work with it.
Honestly, this isn't a good sign. I am usually pretty excited when I get a new deck, throwing myself into the cards and taking my time getting to know them.
But what did I think about it once I opened the deck?
Initial Thoughts
The Celestial Bodies Oracle deck comes in a sturdy box with intriguing, cosmic imagery. The spacey, bold, and colorful design carries on when we open the box and are greeted with 83 cards and a 370-page guidebook.
Despite the size of the guidebook and cards daunting me at first, I soon became excited about diving into the deck and learning how to use it. I flicked through the cards, which are thin yet high in quality, and enjoyed looking at how the creators expressed each planet and sign.
It is an artsy deck of cards; however, the imagery reminds me a lot of the Muse Tarot deck by Chris-Anne. I love the Muse Tarot deck, so I was naturally enthralled by the cards in the Celestial Bodies Oracle Deck. But, because I associated the imagery with another deck, I felt it lost its unique edge.
The edges of the cards have a rainbow metallic glow, which is super pretty. I also like the design on the backs of them, which portray the nine planets in our solar system.
The Guidebook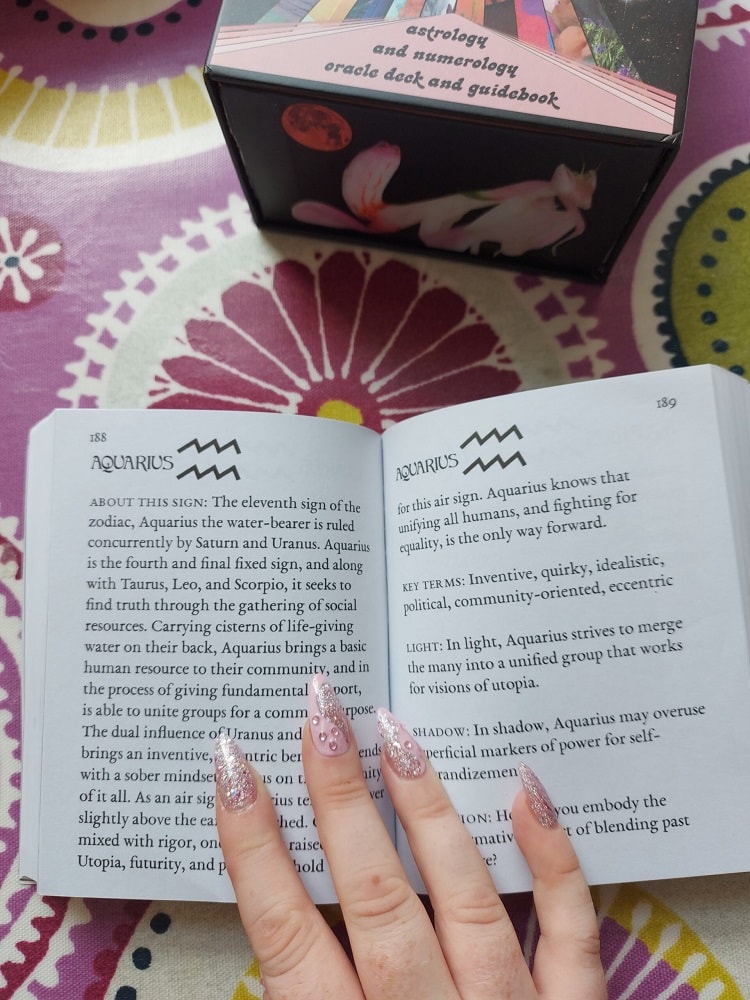 The guidebook in the Celestial Bodies Oracle deck is incredibly rich in detail and information. It is 370 pages long and has everything a beginner needs to know about astrology and numerology.
At the start of the guidebook, we are told how to use the deck. It provides different spreads we can perform that are unique to the deck and shows us how we can use it as a divination tool alongside other Tarot and Oracle decks.
The guidebook then discusses the different planets, houses, and signs. It explores how these aspects of the zodiac influence us and provides suggestions on reflections and questions we can think about regarding these different aspects.
After the astrology section, we move on to numerology. This is a small section of both the guidebook and the deck, and I feel it is stuck on and a bit unnecessary. The deck would have been just fine as an astrology one without the numerological cards and information.
Overall, I was impressed with the guidebook, and I feel I will use the guidebook more than I use the cards. It is a great go-to book for astrology, providing us with a place for reflection and discussion regarding how the planets and houses affect us.
The Cards
The imagery on the cards is fun and interesting and is a bit different from the usual astrology-related oracle decks. Instead of depicting the planet on the card or the astrological sign, the card shows us its energy and associations.
They all have a black background, with dark colors and shapes throughout the deck.
The cards are beautiful, but as we move into the numerology section, they get… boring. The numerological cards are pretty simple, depicting rainbow shapes that reflect the number. Again, I feel as if the numerology bit in the deck is just added on.
The cards aren't as expressive as the astrological ones. I would have liked to see visual interpretations of the numbers like the other cards. For example, the number 2 is associated with balance and cooperation, and I feel there was an opportunity to depict this on the cards.
Key Cards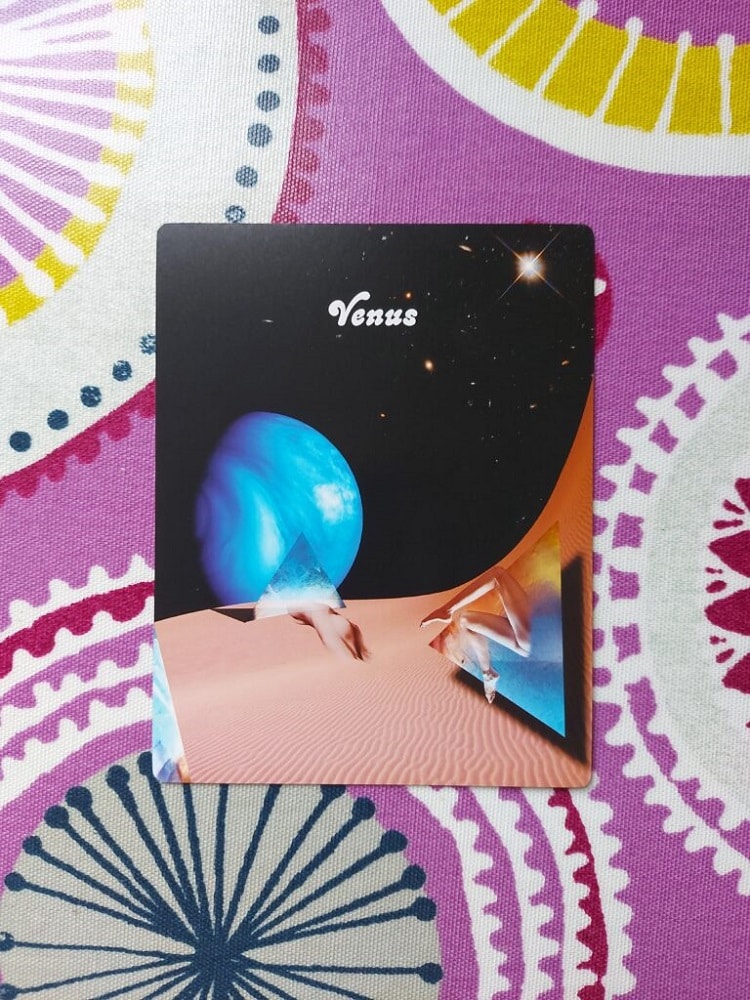 When reviewing new decks, I like to write about what cards stick out to me and why I like them. This lets me showcase the deck and why you might want to buy it.
When getting to know the Celestial Oracle Deck, there were a few cards that I connected with straight away. I really liked how the deck depicts the planet Venus. This planet relates to love, sensuality, and material goods, and we get this energy from the card with its depiction of bodies, sand, and planets.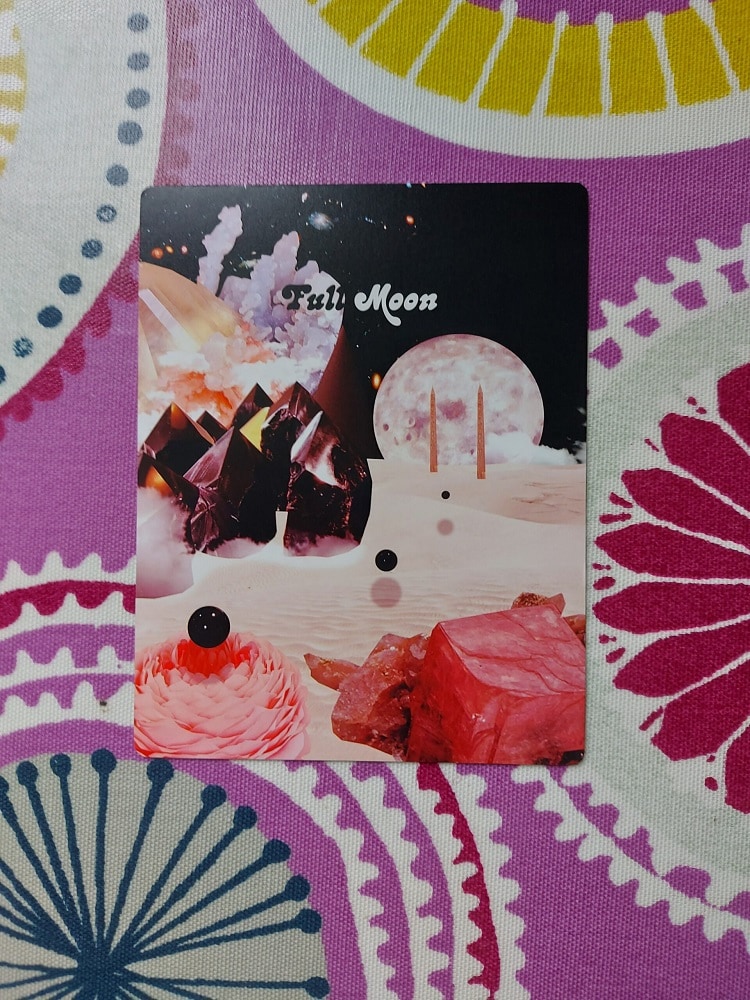 I also loved the card of the Full Moon. The Full Moon is a magical and sometimes overwhelming time, and the card really reflects this. There is so much going on during the Full Moon, and we are provided with an opportunity for growth, expansion, and manifestation.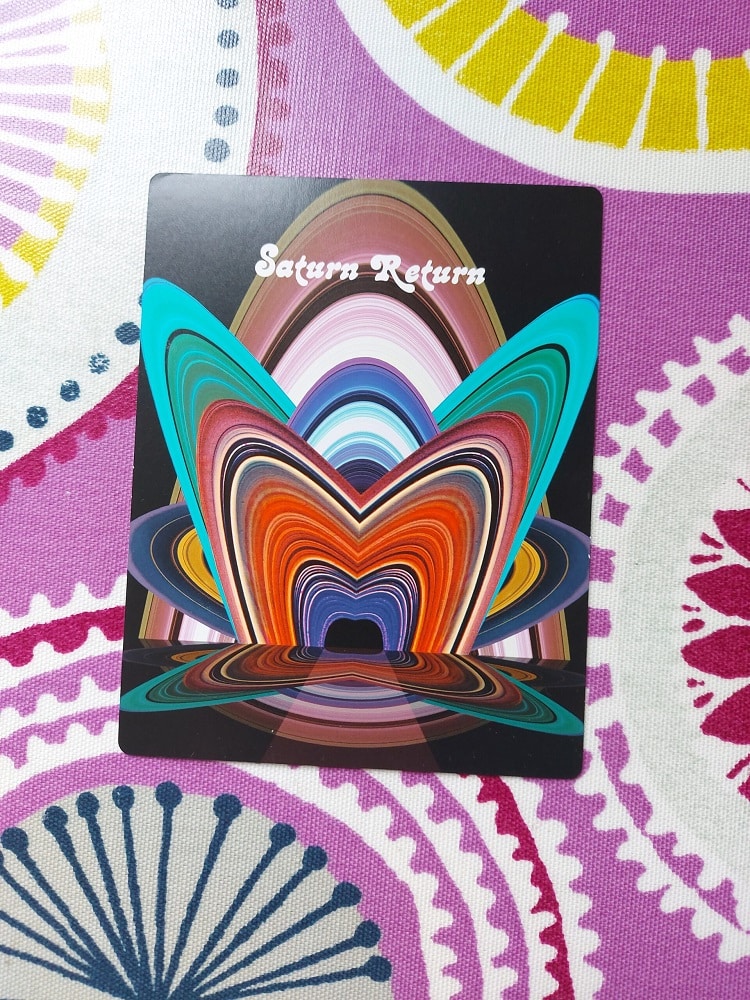 The Saturn Return card also intrigued me, as I hadn't heard this phrase before. I examined the card and loved the bold patterns and colors.
Then, I turned to the guidebook to learn more about what Saturn Return is and how it influences us. It is nice that working with the Celestial Bodies Oracle Deck opens us up to new information about the planets!
Using the Celestial Bodies Oracle Deck
Now it is time to use the Celestial Bodies Oracle deck and see what we can discover! I was going to do a full birth chart spread, but honestly, the cards are just too big for that, and it would be super overwhelming.
So, I decided to try a 'what is going on in the cosmos right now' spread. After checking online, I discovered that the Moon is in its Waning Crescent phase in Gemini. So, I pulled out the Waning Crescent card and the Gemini card.
After reflecting on the cards' visual aspects, I turned to the guidebook to further my knowledge. It was fun to reflect on both cards' questions and information, but I struggled to link them together.
After this spread, I decided to do a mini birth chart spread, focusing on one planet. I picked Venus, which, for me, is in Aquarius and the 11th House. So, I picked out these three cards and placed them before me.
I then read about what the 11th House represents, discovering that it relates to social gatherings and community. I then looked up Aquarius, learning that it is defined by inventiveness, free-thinking, and political thought.
Finally, I added Venus into the mix, discovering that Venus is the planet of passion, love, and sensuality.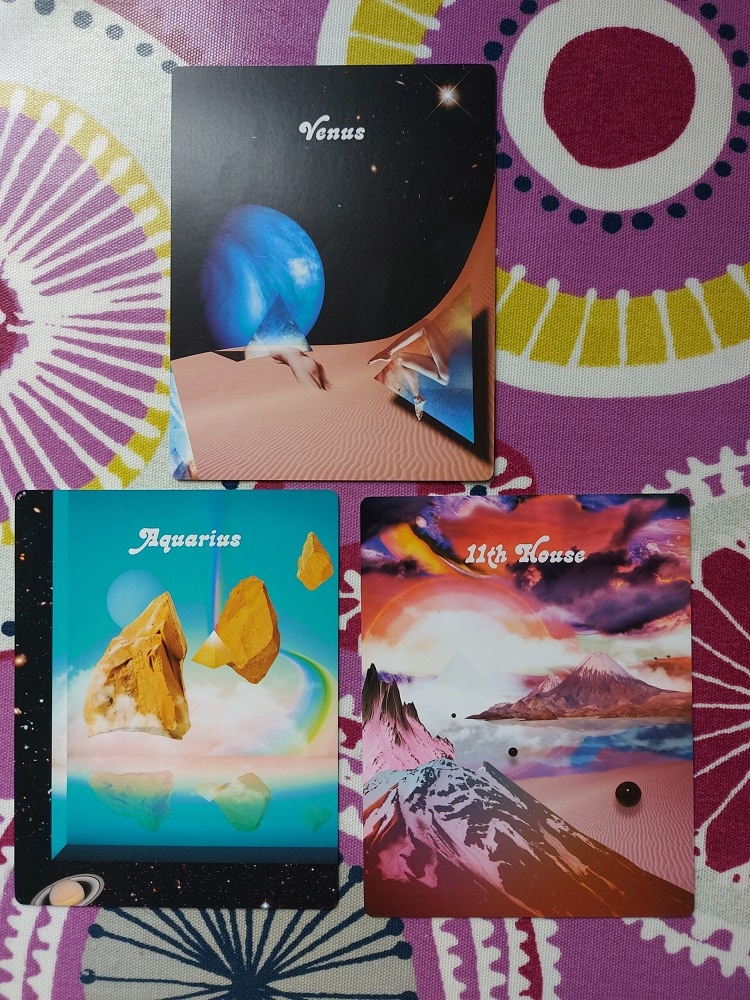 It was easy enough to link these together. Community and politics are important to me, providing me with many of my passions. I connect with others through my beliefs and ideals, and this is shown in my birth chart.
Overall Thoughts on the Celestial Bodies Oracle Deck
I won't lie; I was a bit torn regarding this deck. On the one hand, it is a unique and exciting way of learning about astrology and numerology. However, I was put off by how similar the imagery is to the Muse Tarot deck.
Maybe this is just me, but the style was too similar to an extremely famous deck that already exists, which undermines it.
Furthermore, the price for this is extremely high. It retails at $130 for the altar-size deck and $105 for the smaller version. Yes, there is a sale on the website right now, but still, that is a lot of money for an Oracle deck.
Of course, it is important to support artists who have worked so hard on their decks, but it can be difficult to do when there are other similar decks out there for less than half the price.
I will probably use the guidebook as a reference book, as there is a lot of good information in there. However, I am unsure if I will use the cards for spreads. I may pick out cards to place on my altar when certain astrological events are going on, as I do love the imagery.
Pros of the Celestial Bodies Oracle Deck
High quality
Fantastic guidebook with a lot of easy-to-understand information
The guidebook includes questions and suggestions for self-reflection
Beautiful, cosmic imagery
A visual way of learning about astrology and numerology
Cons of the Celestial Bodies Oracle Deck
Very expensive
Not a shuffle-and-draw deck, which may put some people off
Alternatives We Recommend
If you want to turn to Oracle decks to learn more about astrology, but the Celestial Bodies Oracle Deck isn't for you, there are others to check out.
Here are the alternatives we recommend:
Moonology Oracle Cards
This beautiful deck by Yasmin Boland examines how we can turn to the Moon and its cycles to gain insight and guidance. Each card depicts a Moon's phase and its astrological correspondences (i.e., Full Moon in Scorpio) and provides you with an associated mantra.
The Arcana of Astrology Oracle Deck and Guidebook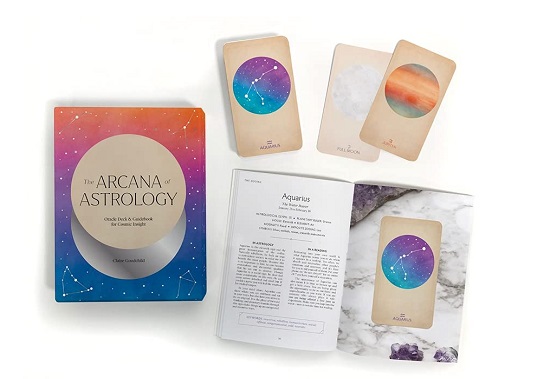 The Arcana of Astrology Oracle Deck is a fantastic deck to get to know astrology and connect with the planets and mythology. It includes a fantastic guidebook with tips and guidance for each card.
The Oracle of the Radiant Sun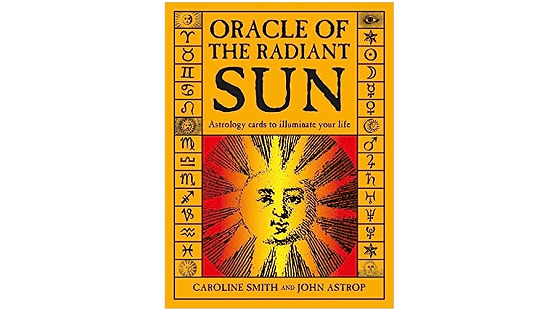 This beautiful deck is broken down into seven suits corresponding with the Sun, the Moon, Mercury, Venus, Mars, Jupiter, and Saturn. Within these suits are the 12 zodiac signs, with cards such as 'the Moon in Gemini.'
As each card has a keyword written on them, they are easy to work with intuitively and helps you get to know the links between the planets and the zodiac.
FAQs
Question: Is the Celestial Bodies Oracle Deck Worth Buying?
Answer: The Celestial Bodies Oracle Deck may be worth buying if you want to learn about astrology and numerology and how it influences your life.
Question: How Do You Use the Celestial Bodies Oracle Deck?
Answer: This deck isn't a shuffle-and-draw deck. Instead, you pull out specific cards based on your birth chart and astrological associations and events to reflect on their meanings.
Question: What is the Difference Between Oracle Decks and Tarot Decks?
Answer: Oracle decks do not follow as many rules as Tarot decks. They can be about anything and have as many cards as the creator wants them to have.
Will You Let the Celestial Bodies Oracle Deck Guide You?
This is an interesting Oracle deck, and I really respect what the creators want to achieve with it. It's a fantastic tool to help us develop our knowledge of astrology and numerology.
But, it is pretty expensive, putting me off recommending it for you to buy. However, it is totally up to you! If you feel pulled to the deck, it may be worth it.
Find more beautiful tarot decks below: